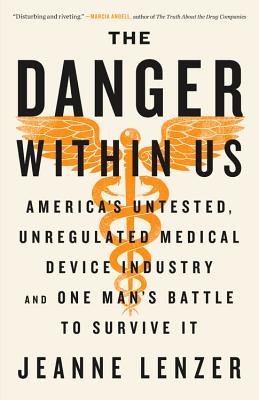 The Danger Within Us (Hardcover)
America's Untested, Unregulated Medical Device Industry and One Man's Battle to Survive It
Little, Brown and Company, 9780316343763, 336pp.
Publication Date: December 12, 2017
Other Editions of This Title:
Digital Audiobook (12/11/2017)
* Individual store prices may vary.
Description
Did you know...

Medical interventions have become the third leading cause of death in America.

An estimated 10 percent of Americans are implanted with medical devices -- like pacemakers, artificial hips, cardiac stents, etc.

The overwhelming majority of high-risk implanted devices have never undergone a single clinical trial.

In The Danger Within Us, award-winning journalist Jeanne Lenzer brings these horrifying statistics to life through the story of one working class man who, after his "cure" nearly kills him, ends up in a battle for justice against the medical establishment.

His crusade leads Lenzer on a journey through the dark underbelly of the medical device industry, a fascinating and disturbing world that hasn't been written about before. What Lenzer exposes will shock readers: rampant corruption, elaborate cover-ups, shameless profiteering, and astonishing lack of oversight, all of which leads to dangerous devices (from artificial hips to pacemakers) going to market and into our bodies.

In the vein of America's Bitter Pill and A Civil Action, The Danger Within Us is a stirring call for reform and a must-read for anyone who cares about the future of American healthcare.

"Before you get anything implanted in your body, read this book."-Shannon Brownlee, author of Overtreated
About the Author
Jeanne Lenzer is an award-winning medical investigative journalist and former Knight Science Journalism fellow. She is a longtime contributor to the The BMJ (formerly, the British Medical Journal), and her articles, reviews and commentary have appeared in the New York Times Magazine, Atlantic, The New Republic, Discover, Slate, Mother Jones and many other outlets.
Praise For The Danger Within Us: America's Untested, Unregulated Medical Device Industry and One Man's Battle to Survive It…
"One
of the best books in medicine I have read. A splendid, savage story about the
failings of modern device regulation that reads like a mystery, not a work of
medical non-fiction: It turns out to be both."—Vinay Prasad, Assistant Professor of Medicine, Oregon Health and Science University, and author of Ending Medical Reversal

"Jeanne
Lenzer has pulled off a brilliant literary hat trick; a page-turning tale of
one patient's odyssey, combined with hard-hitting investigative reporting and a
compelling call to arms to fix America's broken health care system. Before you
get anything implanted in your body, read this book."—Shannon Brownlee, author of Overtreated

"Lenzer's
gripping and carefully researched book addresses why America needs a New Deal
in health care. This book enlightens, enrages, and will surely help
advance that cause."—Bernard Lown, cardiologist, Emeritus Professor, Harvard School of Public Health and Nobel Peace Prize recipient

"In
this disturbing and riveting book, the indefatigable investigative reporter
Jeanne Lenzer tells the story of how millions of Americans are implanted with
medical devices with almost no proof that they are safe. Lenzer exposes the web
of commercial incentives governing their use, and the refusal of the
manufacturers and the FDA to take responsibility when things go wrong."—Marcia Angell, former editor-in-chief, the New England Journal of Medicine, and author of The Truth About the Drug Companies

"Jeanne
Lenzer's incisive investigation of one man's quest for medical justice - and
the regulatory failures behind it - is a must-read for anyone wanting to
understand the risks faced by all of us during routine procedures. And it
should be, for all of us, a call to action."—Deborah Blum, Pulitzer Prize-winning journalist and author of The Poisoner's Handbook

"Lenzer, a medical
investigative journalist, powerfully details some alarming reasons hospital
CEOs, insurance executives, and doctors become millionaires... Readers will be impressed with Lenzer's
profiles of doctors who decry unnecessary treatments and tests, decline to take
money for drug company sponsored talks, advocate disentangling money and
medicine, and promote 'doing as little as possible to patients and as much as
possible for patients.'"—Booklist (Starred Review)

"More
than a decade ago, longtime BMJ contributor Lenzer abandoned her career as an
emergency room physician associate to become an investigative medical journalist.
Her debut book, an inspired inquiry into the politics of the industry, is
startling and provocative . . . Reading like a cross between a riveting medical
thriller and 'a Kafka novel', the book is a powerful cautionary tale
. . . An impassioned exposé that uncovers a significant danger within the
contemporary health care industry."—Kirkus

"Lenzer makes an excellent, often disturbing case for 'a new
national attitude toward healthcare.'"—Publishers Weekly (Starred Review)

"Engrossing
and terrifying...Lenzer takes readers deep into the processes by which medical
devices are approved by the Food and Drug Administration (FDA). Thorough
research is skillfully interwoven with the story of Dennis Fegan, whose
struggle to expose the dangers of an implanted device that nearly killed him is
both gripping and emotionally affecting... Highly recommended."—Library Journal (Starred Review)

"Blazing a new trail
in medical research, Lenzer examines these medical devices and the industry
surrounding them...These well-researched findings show how medical devices and
implants may do more harm than good."—Shelf Awareness
Coverage from NPR
or
Not Currently Available for Direct Purchase