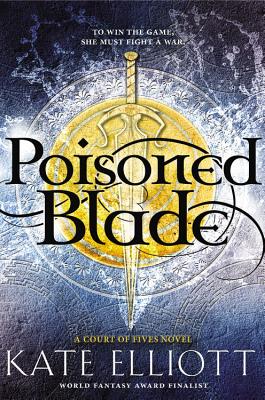 Poisoned Blade (Court of Fives #2)
Hardcover

* Individual store prices may vary.
Other Editions of This Title:
Digital Audiobook (8/15/2016)
Paperback (7/3/2017)
Prebound (7/3/2017)
Description
In this thrilling sequel to World Fantasy Award finalist Kate Elliott's bestselling young adult debut Court of Fives, a girl immersed in a high-stakes competition holds the fate of a kingdom in her hands.

Jessamy is moving up the ranks of the Fives--the complex athletic contest favored by the lowliest Commoners and the loftiest Patrons in her embattled kingdom. Pitted against far more formidable adversaries, success is Jes's only option, as her prize money is essential to keeping her hidden family alive. She leaps at the change to tour the countryside and face more competitors, but then a fatal attack on her traveling party puts Jes at the center of the war that Lord Kalliarkos--the prince she still loves--is fighting against their country's enemies. With a sinister overlord watching her every move and Kal's life on the line, Jes must now become more than a Fives champion....She must become a warrior.
Praise For Poisoned Blade (Court of Fives #2)…
Praise for Poisoned Blade:
A Locus Awards Top-Ten Finalist
"With strong characters and vivid worldbuilding that refuses to oversimplify individuals, cultures, and the opposing forces they represent, this sequel to Court of Fives (2015) blends emotional intelligence, passionate idealism, and realpolitik in a plot ending at the cliff's edge of revolutionary change. At once nuanced and thrilling--a worthy sequel."

—
Kirkus Reviews
"A worthy sequel, doubling down on the tension and politics and surpassing
Court of Fives
in suspense and depth of world-building.... a tense, dramatic adventure, raising the stakes and the potential for drastic consequences as the story barrels towards its conclusion."—
Barnes & Noble
"Jes makes for a worthy heroine, as bold and daring as she is endearing. One of the best things about this series is that the characters--heroes and baddies alike--are vividly real, their motives and emotions often fierce but always recognizable."
—
Booklist
"The main character is the classic 'strong female warrior' archetype...and will remind most people of Katniss Everdeen.... The book deals with issues of family loyalty, standing up for one's beliefs, and self-discovery.... A solid addition to a high school collection."
—
Voya
"Anyone who things Young Adult fiction can't successfully handle themes like a culture's endurance in defiance of colonialism, the myriad socio-economic factors leading toward revolution, or racial and/or gender inequality, needs to read these books."
—
Fantasy Literature
"Stellar description and pacing. [Elliott's] eye for detail is extraordinary, and descriptions of court life are very evocative."
—
Teenreads
"Kate Elliott adds to her fantastical Court of Fives series with
Poisoned Blade
, and fans won't be disappointed."—
Bustle
Praise for Court of Fives:
A New York Times Bestseller
An Andre Norton Award Nominee
An NPR Best Book of 2015
A Junior Library Guild Selection—
-
* "Jes will remind readers of fearless Katniss with her skill and strategy for games. But it's the fascinating descriptions of traditions, royal interactions, and, of course, the intensities of the Fives that will enthrall readers most of all. Let the games continue!"
—
Booklist, starred review
"A gripping, original plot; vivid, complicated characters; and layered, convincingly detailed worldbuilding. A compelling look at racial and social identity wrapped in a page-turning adventure."
—
Kirkus Review
"An imaginative journey.... Elliott creates an intricate and intriguing
story, conjuring a world of mysticism and centuries-old customs.
Jessamy's boldness and impulsiveness make her a striking heroine in a
male-dominated land."
—
Publishers Weekly
"A high fantasy novel that explores race, class, and gender struggles in a patriarchal society.... Jessamy is loyal and strong female protagonist who fights against injustice. This trilogy opener will be a hit with readers who love action-packed fantasy adventures."
—
School Library Journal
"Full of high-stakes adventure but also heartfelt musings on identity, family and colonization, this book presents a fantasy world that is refreshingly inspired by Greco-Roman and Egyptian cultures."
—
NPR
"Haunting. Epic. Impassioned. Layered. Breathtaking. This isn't just a novel; it is a coup d'état of the soul. Prepare to be ravished by Kate Elliott's
Court of Fives
."—
Ann Aguirre, New York Times bestselling author of the Razorland trilogy
"Kate Elliott's magic and mastery is better than ever.
Court of Fives
enchanted me from start to finish, with characters and worlds that lingered long after I turned the final page."—
Marie Lu, New York Times bestselling author of the Legend series and the Young Elites series
"Fast-paced, tense, and riveting. I couldn't put it down, and you won't be able to either!"
—
Tamora Pierce, author of the Tortall series and the Circle of Magic series
"This book is amazing. Kate Elliott combines everything I love best in a YA novel. Jes is a killer protagonist, tough and capable, but also lost in her upbringing and faced with impossible choices that test her character and her beliefs.... This book will not fail you."

—
Gail Carriger, New York Times bestselling author of the Parasol Protectorate series and the Finishing School series
Little, Brown Books for Young Readers, 9780316344371, 480pp.
Publication Date: August 16, 2016
About the Author
Kate Elliott is the author of more than twenty-five novels, including her New York Times bestselling young adult debut Court of Fives, Poisoned Blade, Buried Heart, and Black Wolves. She has also writtenthe Spiritwalker trilogy, the Novels of the Jaran, and the Crossroads trilogy, among others, and two of her books have been finalists for the Nebula Award and the World Fantasy Award. Kate was born in Iowa, raised in Oregon, and now lives in Hawaii. She invites you to visit her website at kateelliott.com or follow her on Twitter @KateElliottSFF.
or
Not Currently Available for Direct Purchase