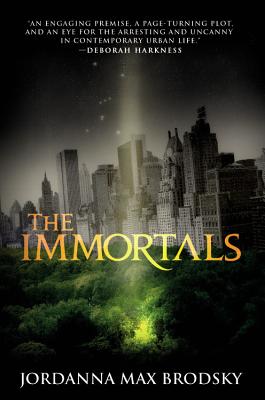 The Immortals (Olympus Bound #1) (Hardcover)
Orbit, 9780316347181, 464pp.
Publication Date: February 16, 2016
* Individual store prices may vary.
Description
"A lively re-imagining of classical mythology with an engaging premise, a page-turning plot, and an eye for the arresting and uncanny in contemporary urban life."
--Deborah Harkness, New York Times bestselling author of A Discovery of Witches
Manhattan has many secrets. Some are older than the city itself.


The city sleeps. Selene DiSilva walks her dog along the banks of the Hudson. She is alone -- just the way she likes it. She doesn't believe in friends, and she doesn't speak to her family. Most of them are simply too dangerous.

In the predawn calm, Selene finds the body of a young woman washed ashore, gruesomely mutilated and wreathed in laurel. Her ancient rage returns. And so does the memory of a promise she made long ago -- when her name was Artemis.


Jordanna Max Brodsky's acclaimed debut sets Greek Gods against a modern Manhattan backdrop.
Look out for the rest of the series:
Olympus Bound series
The Immortals
Winter of the Gods
Olympus Bound
About the Author
Jordanna Max Brodsky hails from Virginia, where she spent four years at a science and technology high school pretending it was a theater conservatory. She holds a degree in History and Literature from Harvard University. When she's not wandering the forests of Maine, she lives in Manhattan with her husband. She often sees goddesses in Central Park and wishes she were one.

Praise For The Immortals (Olympus Bound #1)…
"The Immortals is a lively re-imagining of classical mythology with an engaging premise, a page-turning plot, and an eye for the arresting and uncanny in contemporary urban life."—Deborah Harkness, New York Times bestselling author of A Discovery of Witches

"Brilliantly conceived and tautly plotted, The Immortals is a pulse thrumming, fascinating novel. Selene is a perfect heroine for our times."—Eliot Schrefer

"Imaginative
and fast-paced, The Immortals is pulse-pounding entertainment."—Kevin O'Brien, New York Times bestselling author of No One Needs to Know

"Brodsky's writing has claws...They sink in with the first word and don't let go until you are finished with the book."—Darynda Jones, New York Times bestselling author

"Irresistible...a page-turner that deftly weaves action, romance, and a dash of intellectual heft into one seamless whole."—Dustin Thomason, New York Times bestselling author

"Painstakingly researched, intellectually complex, and deeply rooted in the history and mythology of Ancient Greece, THE IMMORTALS is a richly imaginative, multi-layered tale that stimulates the heart and the mind in equal measure."—Ian Caldwell, New York Times bestselling author

"Plays with more modern mythology, employing New York's own secret places and storied history to great effect. This intelligent, provocative fantasy breathes exciting new life into old, familiar tales."—Publishers Weekly (starred review)

"This series launch is a wonderful choice for fans of Greek myths and urban fantasy readers looking for something different."—Library Journal (starred review)

"[D]one with great panache and intelligence: Brodsky knows her myth, and revels in depicting the erstwhile gods struggling with their fading powers and assuming, with varying degrees of success, the mantle of humanity."—Guardian on The Immortals

"If you want a modern day murder mystery, steeped in myth with a dash of magic, this is a must read . . . Ms. Brodsky is definitely an author to watch."—Fantasy Faction on The Immortals

"Bravo to Brodsky for developing such a complex tale ... One to watch!"—RT Book Reviews on The Immortals

"A fun ... treatment of myth and mystery."—Kirkus on The Immortals

"Brodsky's thriller feeds on the long-held love of Greek mythology in a reimagined, present-day world where gods and goddesses still walk among us."—Booklist

"Thrumming with life."—B&N.com
or
Not Currently Available for Direct Purchase