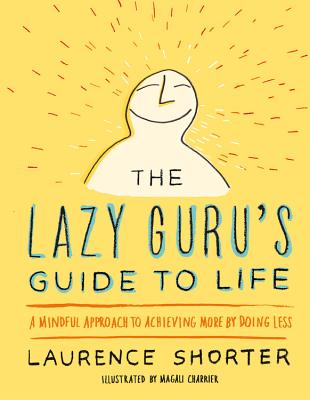 The Lazy Guru's Guide to Life
A Mindful Approach to Achieving More by Doing Less
Hardcover

* Individual store prices may vary.
Description
Are you stressed out, feel like you're in a creative rut, or are having trouble taming your inner control freak? Welcome to The Lazy Guru's Guide to Life, an innovative, inspiring, and illustrated guide to effortless and mindful self-improvement.

The concept of being lazy goes back thousands of years. It's what the Chinese sages call Wu Wei or "no trying," a natural way of being -- a flow state -- where the body is relaxed and attention is focused. So if your world seems like it's spinning too fast and can't be stopped, the Lazy Guru is here to show you how anyone can be effortlessly creative and return themselves to flow without years of meditation or therapy. Through a series of games and activities, Shorter provides readers with practical problem-solving skills; down-to-earth means for restoring inspiration, relaxation and creativity; and, above all else, peace of mind.
Hachette Books, 9780316348706, 256pp.
Publication Date: July 12, 2016
About the Author
Laurence Shorter is a British author, coach, and stand-up comedian. In his quest to attain true happiness, he has authored a bestselling book in the UK (The Optimist: One Man's Search for the Brighter Side of Life), trained as an astrologer, and traveled the world consulting to global organizations. He currently lives in a spiritual community outside London.
or
Not Currently Available for Direct Purchase