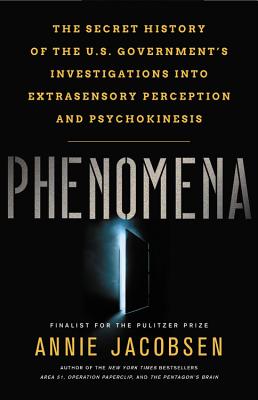 Phenomena (Hardcover)
The Secret History of the U.S. Government's Investigations into Extrasensory Perception and Psychokinesis
Little, Brown and Company, 9780316349369, 544pp.
Publication Date: March 28, 2017
Other Editions of This Title:
Digital Audiobook (3/27/2017)
Hardcover, Large Print (3/28/2017)
Paperback (1/30/2018)
CD-Audio (3/28/2017)
Compact Disc (3/28/2017)
Pre-Recorded Audio Player (5/1/2017)
* Individual store prices may vary.
Description
The definitive history of the military's decades-long investigation into mental powers and phenomena, from the author of Pulitzer Prize finalist The Pentagon's Brain and international bestseller Area 51.

This is a book about a team of scientists and psychics with top secret clearances.

For more than forty years, the U.S. government has researched extrasensory perception, using it in attempts to locate hostages, fugitives, secret bases, and downed fighter jets, to divine other nations' secrets, and even to predict future threats to national security. The intelligence agencies and military services involved include CIA, DIA, NSA, DEA, the Navy, Air Force, and Army-and even the Joint Chiefs of Staff.

Now, for the first time, New York Times bestselling author Annie Jacobsen tells the story of these radical, controversial programs, using never before seen declassified documents as well as exclusive interviews with, and unprecedented access to, more than fifty of the individuals involved. Speaking on the record, many for the first time, are former CIA and Defense Department scientists, analysts, and program managers, as well as the government psychics themselves.

Who did the U.S. government hire for these top secret programs, and how do they explain their military and intelligence work? How do scientists approach such enigmatic subject matter? What interested the government in these supposed powers and does the research continue? Phenomena is a riveting investigation into how far governments will go in the name of national security.


About the Author
Annie Jacobsen is the author of the New York Times bestsellers Area 51 and Operation Paperclip and the Pulitzer Prize finalist The Pentagon's Brain. She was a contributing editor at the Los Angeles Times Magazine. A graduate of Princeton University, she lives in Los Angeles with her husband and two sons.
Praise For Phenomena: The Secret History of the U.S. Government's Investigations into Extrasensory Perception and Psychokinesis…
Praise for Phenomena

One of The Washington Post's most anticipated books of 2017

One of USA Today's New and Noteworthy Picks!


"With Phenomena, Annie Jacobsen has once again produced an utterly absorbing and brilliantly reported chronicle that truly breaks new ground. This is a boundary-breaking story of mental phenomena-extra sensory perception techniques-that is truly a pleasure to read. A mind-bending triumph!"—Alex Kershaw, bestselling author of The Liberator and Avenue of Spies

"In her latest eye-opening work of investigative journalism, Jacobsen digs deeply into the rich vein of information gleaned from declassified U.S. government documents that catapulted her previous books, Area 51 (2011) and The Pentagon's Brain (2015), to best-seller status.... Jacobsen offers a smorgasbord of captivating and often-surprising facts unearthed from more than four decades of secret investigations... A fascinating peek at a little-seen side of national security."—Carl Hays, Booklist

"Compelling....This is an excellent read that gives evidence on both sides of the argument that extrasensory perception (ESP) and psychokinesis exist, complementing suchworks as W. Adam Mandelbaum's The Psychic Battlefield and Ann Finkbeiner's The Jasons. Highly recommended for those interested in the military and the paranormal."

—Library Journal (starred review)

"Jacobsen journeys into the realm where the paranormal and the bureaucratic meet.... she looks into the men-who-stare-at-goats investigations of the government, programs born of the Cold War and the need to combat the Red Menace on all fronts, including the extrasensory.... entertaining reading... The occultly inclined will by duly enchanted."—Kirkus

"Journalist Jacobsen continues her disturbing excavations of the inner workings of the American defense and intelligence establishment in this fascinating exposé of governmental research into 'anomalous mental phenomena'....Jacobsen artfully deals card after dutifully researched card in her enthralling reportage on one of America's most curious defense endeavors."—Publishers Weekly

"Richly researched.... Jacobsen shows that, in the face of inexplicable events, even 'the most pragmatic, commonsense thinkers found themselves uncertain.'"—The New Yorker

"Annie Jacobsen has written an entertaining narrative of the many salaried people in our government who have supported the exploration of psychic phenomena....Much of the information presented is already known, but Jacobsen has accomplished the gargantuan feat of bulldozing it all into one place. She has a keen eye for amusing anecdotes, and writes them up with convincing detail. More than that, Jacobsen has arranged her story in a kind of nonfiction picaresque novel."—Dick Teresi, New York Times Book Review

"Annie Jacobsen is back with a new tome that should entice anyone who doesn't mind thinking outside the box; or as referenced in her book, as if there is no box.... A well researched and fascinating tale.... It's everything you could possibly want"—Simon Constable, Forbes

"A nonfiction story with a sci-fi feel"—Time Magazine

"Gripping....It blew my mind."—Tom Ashbrook, WBUR's "On Point"

Praise for The Pentagon's Brain

"Annie Jacobsen's considerable talents as an investigative journalist prove indispensable in uncovering the remarkable history of one of America's most powerful and clandestine military research agencies. And she is a great storyteller, making the tantalizing tale of The Pentagon's Brain -- from the depths of the Cold War to present day -- come alive on every page."—Gerald Posner, author of God's Bankers

"Filled with the intrigue and high stakes of a spy novel, Jacobsen's history of DARPA is as much a fascinating testament to human ingenuity as it is a paean to endless industrial warfare and the bureaucracy of the military-industrial complex."—Kirkus Reviews

"A fascinating and unsettling portrait of the secretive U.S. government agency....Jacobsen walks a fine line in telling the story of the agency and its innovations without coming across as a cheerleader or a critic, or letting the narrative devolve into a salacious tell-all. Jacobsen's ability to objectively tell the story of DARPA, not to mention its murky past, is truly remarkable, making for a terrifically well-crafted treatise on the agency most Americans know next to nothing about."
—Publishers Weekly (starred review)

Praise for Operation Paperclip

"The most in depth account yet of the lives of Paperclip recruits and their American counterparts.... Jacobsen deftly untangles the myriad German and American agencies and personnel involved...more gripping and skillfully rendered are the stories of American and British officials who scoured defeated Germany for Nazi scientists and their research."—New York Times Book Review

"Important, superbly written.... Jacobsen's book allows us to explore these questions with the ultimate tool: hard evidence. She confronts us with the full extent of Paperclip's deal with the devil, and it's difficult to look away."—Matt Damsker, USA Today (4 stars)

"With Annie Jacobsen's OPERATION PAPERCLIP for the first time the enormity of the effort has been laid bare. The result is a book that is at once chilling and riveting, and one that raises substantial and difficult questions about national honor and security...This book is a remarkable achievement of investigative reporting and historical writing."—Boston Globe

"As comprehensive as it is critical, this latest expose from Jacobsen is perhaps her most important work to date.... Jacobsen persuasively shows that it in fact happened and aptly frames the dilemma.... Rife with hypocrisy, lies, and deceit, Jacobsen's story explores a conveniently overlooked bit of history."—Publishers Weekly (starred)

"Chilling, compelling, and comprehensive accounting.... Jacobsen's impressive book plumbs the dark depths of this postwar recruiting and shows the historical truths behind the space race and postwar US dominance. Highly recommended for readers in World War II history, espionage, government cover-ups, or the Cold War."—Library Journal (starred)
or
Not Currently Available for Direct Purchase