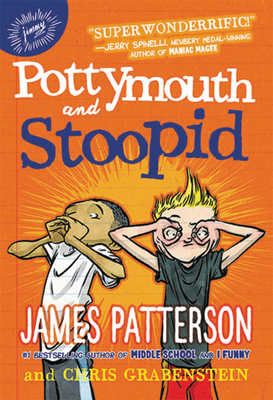 Pottymouth and Stoopid (Hardcover)
Jimmy Patterson, 9780316349635, 336pp.
Publication Date: June 12, 2017
* Individual store prices may vary.
Description
Bestselling author James Patterson's best book for boys in years Tired of being bullied, middle-school underdogs "Pottymouth" and "Stoopid" finally fight back with the power of funny. David and his best friend Michael were tagged with awful nicknames way back in preschool when everyone did silly things. Fast-forward to seventh grade: "Pottymouth" and "Stoopid" are still stuck with the names--and everyone in school, including the teachers and their principal, believe the labels are true. So how do they go about changing everyone's minds? By turning their misery into megastardom on TV, of course And this important story delivers more than just laughs--it shows that the worst bullying doesn't have to be physical...and that things will get better. A great conversation starter for parents to read alongside their kids
Official Notice to Parents: There is no actual pottymouthing or stupidity in this entire book (Psst, kids: that second part might not be entirely true.)
About the Author
James Patterson received the Literarian Award for Outstanding Service to the American Literary Community at the 2015 National Book Awards. He holds the Guinness World Record for the most #1 New York Times bestsellers, including Middle School, I Funny, and Jacky Ha-Ha, and his books have sold more than 350 million copies worldwide. A tireless champion of the power of books and reading, Patterson created a children's book imprint, JIMMY Patterson, whose mission is simple: "We want every kid who finishes a JIMMY Book to say, 'PLEASE GIVE ME ANOTHER BOOK.'" He has donated more than one million books to students and soldiers and funds over four hundred Teacher Education Scholarships at twenty-four colleges and universities. He has also donated millions to independent bookstores and school libraries. Patterson invests proceeds from the sales of JIMMY Patterson Books in pro-reading initiatives.