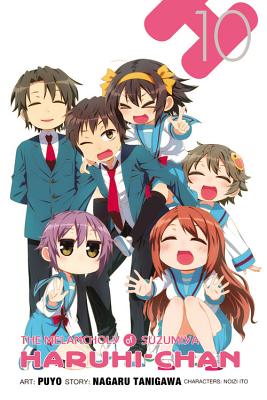 The Melancholy of Suzumiya Haruhi-chan, Vol. 10 (Paperback)
Yen Press, 9780316351911, 160pp.
Publication Date: December 15, 2015
Other Editions of This Title:
Paperback (10/26/2010)
Paperback (8/16/2011)
Paperback (1/20/2015)
Paperback (11/22/2011)
Paperback (11/20/2012)
Paperback (9/24/2013)
Paperback (10/28/2014)
Paperback (3/27/2012)
Paperback (12/19/2017)
* Individual store prices may vary.
Description
Huzzah! There are now ten volumes of Haruhi gags!
Between the SOS Brigade, the Sasaki Brigade, the Nagato household, and the members of the Agency, the tenth volume of the comedic misadventures of Haruhi and friends is more crowded than ever. Between dream interpretation, high school hijinks, and popularity contests, it's everything you would expect from Haruhi--and less, and more, and--well, you know. Long live Haruhi!
About the Author
Nagaru Tanigawa is a Japanese author best known for The Melancholy of Haruhi Suzumiya for which he won the grand prize at the eighth annual Sneaker Awards. Tanigawa is currently working on the tenth novel about Haruhi Suzumiya and the S.O.S. Brigade.