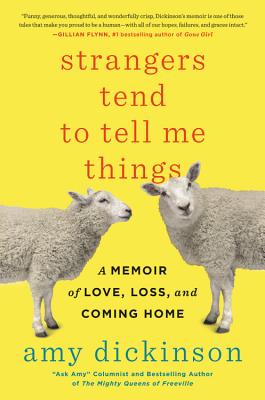 Strangers Tend to Tell Me Things (Hardcover)
A Memoir of Love, Loss, and Coming Home
Hachette Books, 9780316352642, 240pp.
Publication Date: March 14, 2017
Other Editions of This Title:
Digital Audiobook (3/13/2017)
Paperback (3/27/2018)
CD-Audio (3/14/2017)
Hardcover, Large Print (7/5/2017)
Compact Disc (3/14/2017)
* Individual store prices may vary.
Description
In Strangers Tend to Tell Me Things--her follow-up memoir to the NYT bestselling The Mighty Queens of Freeville--America's most popular advice columnist, "Ask Amy," shares her journey of family, second chances, and finding love.

By peeling back the curtain of her syndicated advice column, Amy Dickinson reveals much of the inspiration and motivation that has fueled her calling. Through a series of linked essays, this moving narrative picks up where her earlier memoir left off.

Exploring central themes of romance, death, parenting, self-care, and spiritual awakening, this touching and heartfelt homage speaks to all who have faced challenges in the wake of life's twists and turns. From finding love in middle-age to her storied experience with stepparenting to overcoming disordered eating to her final moments spent with her late mother, Dickinson's trademark humorous tone delivers punch and wit that will empower, entertain, and heal.
About the Author
Amy Dickinson writes the syndicated "Ask Amy" advice column, which replaced the Ann Landers column in 2003. "Ask Amy" appears in more than 150 newspapers in North America, including the LA Times, The Chicago Tribune, Newsday, The Boston Globe, the Denver Post, the St. Louis Post Dispatch and the Washington Post. She currently lives in Freeville, NY.
Praise For Strangers Tend to Tell Me Things: A Memoir of Love, Loss, and Coming Home…
"Funny, generous,
thoughtful, and wonderfully crisp, Dickinson's memoir is one of those tales
that make you proud to be a human--with all of our hopes, failures, and graces
intact."—Gillian Flynn, #1 New York Times bestselling author of Gone Girl

"Dickinson deftly recounts [her story] truthfully but without
trespassing on family members' privacy...Her warm and generous spirit
makes a reader feel as though they've been invited in for hot cocoa on a cold day."—Booklist (starred review)

"Amy Dickinson has written a simply wonderful memoir.
It is courageously honest and touching, but most of all, hilarious and
laugh-out-loud funny. She tells us what it is like to be human, to love and to
lose and keep going, no matter what. This book is a life-affirming love letter
to small town America and the true meaning of family and community. I couldn't
have loved it more!"—Fannie Flagg, New York Times bestselling author of Can't Wait to Get to Heaven

"[An] honest, funny memoir...especially potent
when it comes to the blending of families...[a book] that won't
disappoint."—Real Simple

"A wonderful memoir of
what family and home mean in these complicated times. Amy Dickinson will
captivate you with her wit, wisdom, and honesty."—Delia Ephron, author of Siracusa

"Wryly sincere and poignant...Dickinson remains an engagingly chatty,
witty, and relatable writer with sage insights."—Kirkus Reviews

"This
book is a truth machine. A laugh machine. An I-needed-that-kick-in-the-ass
machine. Strangers Tend to Tell Me Things
is absolute proof that the best stories don't just entertain us; they reveal
us. And lift us. Wherever you are in your life, you need this book."—Brad Meltzer, #1 New York Times bestselling author of Heroes for My Daughter

"This is awkward, because the characters in this
book are real people, but I'm going to say it anyway: I love the people in this
book. Jane! Bruno and the daughters! And Amy, who is very
tough on herself, and funny and wise; I especially love her because she is a
wonderful writer. Plus, she sings in the church
choir. Plus, there is a line on p. 169 that makes me
laugh every time I think of it. Strangers Tend to Tell Me Things is
a terrific memoir."—Jane Hamilton, bestselling author of A Map of The World

"Poignant and revealing."—Bustle, Best Nonfiction Books of the Month

"Dickinson makes
you believe in the ageless gift of love....In Strangers Tend to Tell Me
Things, she is...making room for us to make our own mistakes, to leave
the house with our hair unbrushed, to fall in love in a rush, to fall off the
tightrope during that awkward blending family stage, and then to climb back on,
quietly triumphant."—Beth Kephart, The Chicago Tribune

"'Real life doesn't always reveal itself as neatly
as a question sent in to an advice columnist,' Dickinson admits. But the
heartfelt honesty of her entertaining narrative--rife with contemporary dramas
to which many readers will relate--makes for a compelling, hopeful portrait of
a woman coming-of-middle-age with wit, aplomb and authenticity."—Shelf Awareness

"You can't go home again. But you should consider
moving to Amy Dickinson's hometown. The Village of Freeville may not have a
Starbucks but it's got Venti grace, kindness, and wisdom."—Mo Rocca, CBS Sunday Morning

"Amy Dickinson's Strangers Tend to Tell Me Things is
a very funny, whip-smart, charming, and addictively engaging memoir. I
felt myself wanting to jump into the pages and be with all of Amy's
people, and of course Amy. The wisdom she is well known for is present
on every page without knocking you over the head. This is a book you
will want to read and give to the people you love (and maybe the people
you aren't so crazy about)."—Julie Klam, New York Times bestselling author of You Had Me at Woof
or
Not Currently Available for Direct Purchase