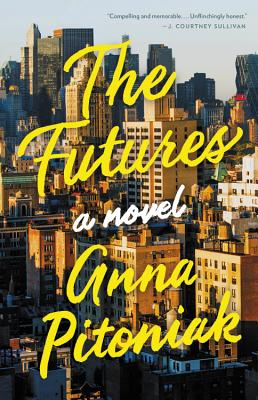 The Futures
Hardcover

* Individual store prices may vary.
Other Editions of This Title:
Digital Audiobook (1/16/2017)
Paperback (1/2/2018)
Compact Disc (1/17/2017)
Compact Disc (1/17/2017)
Description
In this dazzling debut novel about love and betrayal, a young couple moves to New York City in search of success-only to learn that the lives they dream of may come with dangerous strings attached.

Julia and Evan fall in love as undergraduates at Yale. For Evan, a scholarship student from a rural Canadian town, Yale is a whole new world, and Julia -- blond, beautiful, and rich -- fits perfectly into the future he's envisioned for himself. After graduation, and on the eve of the great financial meltdown of 2008, they move together to New York City, where Evan lands a job at a hedge fund. But Julia, whose privileged upbringing grants her an easy but wholly unsatisfying job with a nonprofit, feels increasingly shut out of Evan's secretive world.

With the market crashing and banks failing, Evan becomes involved in a high-stakes deal at work -- a deal that, despite the assurances of his Machiavellian boss, begins to seem more than slightly suspicious. Meanwhile, Julia reconnects with someone from her past who offers a glimpse of a different kind of live. As the economy craters, and as Evan and Julia spin into their separate orbits, they each find that they are capable of much more -- good and bad -- than they'd ever imagined.

Rich in suspense and insight, Anna Pitoniak's gripping debut reveals the fragile yet enduring nature of our connections: to one another and to ourselves. The Futures is a glittering story of a couple coming of age, and a searing portrait of what it's like to be young and full of hope in New York City, a place that so often seems determined to break us down -- but ultimately may be the very thing that saves us.

"The next great New York novel."-Town & Country

"A story that feels familiar yet wholly original, like every heartbreak ever."-Marie Claire

"Pitoniak's precise and incisive powers of observation give us a book with startling grace notes ... As in earlier, seminal novels about similar 20-something cohorts-among them Jay McInerney's Bright Lights, Big City, Bret Easton Ellis's American Psycho and Sylvia Plath's The Bell Jar-the city is another mirror character, a puzzle the protagonists must solve as they come to grips with their own lives."-NPR.org
Praise For The Futures…
"An emotional page-turner."
—Cosmopolitan

"Boy meets girl. They fall in love and everything's picture perfect. Until the financial crisis hits and boy gets involved in a shady deal at work. This read is The Big Short meets Serendipity."—theSkimm

"The smart, fast-paced book calls to mind a period when bright young things moved to New York to work for Goldman Sachs and not Google ... Part of a larger conversation about coming of age that includes novels like Adelle Waldman's The Love Affairs of Nathaniel P. and Claire Messud's The Emperor's Children."—Town & Country

"An especially good [novel]...about the things you believe in when you're young, and what breaks your heart along the way."
—Refinery29, "One of the 2017 Books We're Most Excited About"

"[A] debut novel written by and for the literary millennial ... Pitoniak maintains her keen eye for the universal insecurities facing her generation today, from romantic uncertainties and the relative benefits and downsides of hedge fund and nonprofit jobs to the emotional effort it requires to negotiate the predetermined facts of one's upbringing with the person one chooses to become."—Harper's Bazaar, "13 Books You Need to Read in January"

"Wall Street meets Girls."
—Elle Canada

"Acutely drawn ... We were transported back to our younger selves and that universal feeling of trying to make sense of an uncertain future ahead ... Already looking forward to what Anna Pitoniak will write next."—goop

"Pitoniak's debut focuses on that time of life that is at turns both exhilarating and terrifying: right after getting out of college, when you're forced to confront who you are and who you want to be, when you know life is just beginning, but you're also starting to feel like many of your options are fading away."—Nylon, "Best New Books of 2017"

"Following in the footsteps of classic debut novels like Rona Jaffe's The Best of Everything and Jay McInerney's Bright Lights, Big City, Pitoniak charts a tumultuous period in New York City history that transforms a group of recent college grads in ways they never anticipated. As in Kristopher Jansma's latest, Why We Came to the City, also set in the heady days of 2008, Pitoniak's ingenuous youths are helpless against the risk and potential they perceive lurking around each corner."
—Village Voice

"The Futures stands out for its beautiful writing, emotional depth and evocative feel."
—New York Post

"St. Elmo's Fire for millennials."
—Bustle

"Pitoniak's inspired debut centers on two recent college grads who move to New York City together during the 2008 recession and watch their relationship change drastically."—InStyle

"The Futures takes place on the cusp of the 2008 market crash, and so perfectly encapsulates that time of life when everything was just beginning, when you had no idea who you were or where you were going."—Popsugar

"Pitoniak's assured debut explores the cost of realizing-and misinterpreting-one's dreams ... Navigating terrain-love and youth, college and city life-that's often oversimplified, Pitoniak eschews cliche for nuanced characterization and sharply observed detail. Evan and Julia ring true as 20-somethings, but Pitoniak's novel also speaks to anyone who has searched among possible futures for the way back to what Julia calls 'the person I had been all along.'"—Publishers Weekly

"The Futures transports us to that post-college moment when it seems like you have all the options in the world but no clue about which ones to choose. Pitoniak weaves an unflinchingly honest tale of two people trying to navigate expectations and learning to live with their own mistakes. A compelling and memorable debut."—J. Courtney Sullivan, New York Times bestselling author of The Engagements

"Anna Pitoniak perfectly captures the confusion and heartbreak of those post-college years, when even the strongest among us falter in the face of our own desires. The Futures reminded me of Brightness Falls, Jay McInerney's great novel of New York, for Pitoniak, like McInerney, possesses an instinctual understanding of the mechanisms that make the city run and a knack for embracing her characters' thornier sides. Utterly enjoyable."—Joanna Rakoff, author of My Salinger Year

"Pitoniak keeps the pace moving at a steady clip ... Pitoniak's well-plotted, character-driven, interior-focused novel captures the knowable angst of the unknowable possibilities of modern young adulthood."—Booklist

"Pitoniak expertly captures both the excitement and the oppressive darkness of being young and at sea in New York City, the unsettingly thin line between freedom and free fall ... Deeply empathetic-and always engaging. A bittersweet coming-of-age drama and a portrait of an era."—Kirkus

"Tender and wise, The Futures feels like a true story. Pitoniak's voice is stylish and authentic, and perfect for exploring this rich territory: youth and love and New York City."—Karen Thompson Walker, New York Times bestselling author of The Age of Miracles

"Mesmerizing ... The novel's alternating structure is hypnotic. Pitoniak is an absolute ventriloquist, completely inhabiting the voices of the two protagonists--their ambitions, anxieties, pettiness, sadness, and great love for one another. I couldn't put it down."—Sunil Yapa, author of Your Heart is a Muscle the Size of a Fist

"The Futures is a love story and so much more. It captures the heartaches and exhilarations of early adulthood with a keen eye, a big heart, superb writing and an artfully intricate plot. This is a book for people of all ages looking for a place in the world, and Anna Pitoniak is a young novelist with some serious writing chops."—Meg Mitchell Moore, author of The Admissions

"Anna Pitoniak's debut novel, The Futures, is the perfect cocktail of smart prose, heartwarming characters, and unmatched savvy about modern city life. Like The Love Affairs of Nathaniel P. or A Fortunate Age, this book will amaze and elate you."—Kristopher Jansma, author of Why We Came to the City

"Pitoniak is a sure-footed, fluid writer ... Her low-key, confessional style is well-suited to her focus: the anxiety that attends the transition from college to the work force, from structure to structureless."—Globe & Mail

"A charming story and damn fine debut. Tightly told, entirely readable ... An engaging story with elegant language and a cast of strong off-suit characters who temper the two-person narrative perfectly ... Pitoniak's honest portrayal honours both better-known and under-told truths of life after graduation."—National Post

"Pitoniak ratchets up the suspense as she explores love and big finance ... [With] savvy plotting and nimble shifts in perspective ... Pitoniak inhabits both characters convincingly, displaying an uncanny ability to convey their dissimilar and sometimes clashing impressions of the same events."—Toronto Star

"[The Futures] is about a couple that moves to New York after college. Just like everyone else, the love/hate relationship with this town is real. Either this book will have me canceling my return ticket, or falling in love with the city all over again."—Vogue.com
Lee Boudreaux Books, 9780316354172, 320pp.
Publication Date: January 17, 2017
About the Author
Anna Pitoniak is the author of The Futures and Necessary People. She worked for many years in book publishing, most recently as a Senior Editor at Random House. She grew up in Whistler, British Columbia, and now lives in New York City.
or
Not Currently Available for Direct Purchase