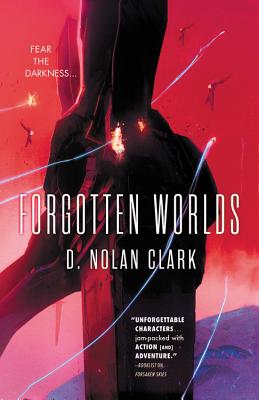 Forgotten Worlds (The Silence #2) (Paperback)
Orbit, 9780316355773, 624pp.
Publication Date: April 18, 2017
* Individual store prices may vary.
Description
"Unforgettable characters and is jam-packed with action [and] adventure... one readers will not want to miss." --- Booklist
"Gripping writing, a brilliantly realised future culture and sympathetic characters . . . an entertaining and compelling read."--- SFX Magazine
The sequel to D. Nolan Clark's epic space adventure Forsaken Skies.
The battle is over. But the war has only just begun.
Aleister Lanoe has won a stunning victory against the alien armada that threatened Niraya, but it's not enough to satisfy his desire for vengeance. He won't rest until he's located the armada's homeworld and reduced it to ashes.
Yet his personal vendetta will have to wait. Lanoe now faces a desperate race against time, and the merciless Centrocor corporation, if he's to secure the Earth's future - and discover the truth he seeks.
The Silence
Forsaken Skies
Forgotten Worlds
Forbidden Suns
About the Author
D. Nolan Clark is a pseudonym for an acclaimed author who has previously published several novels in different genres.
Praise For Forgotten Worlds (The Silence #2)…
No less intriguing and action-packed than its predecessor. Here, sci-fi tropes such as AI and space aliens are turned into something entirely thoughtful and original.—RT Book Reviews

"Unforgettable characters and is jam-packed with action [and] adventure... one readers will not want to miss."—Booklist on Forsaken Skies

"About as exciting an action story set in space as any this reviewer has seen in print in quite some time. It is worth the read... a terrific and thrilling novel."—SciFi Magazine on Forsaken Skies

"Gripping writing, a brilliantly realised future culture and sympathetic characters . . . an entertaining and compelling read."—SFX Magazine on Forsaken Skies