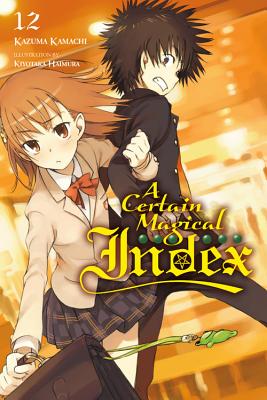 A Certain Magical Index, Vol. 12 (light novel) (Paperback)
Yen On, 9780316360029, 192pp.
Publication Date: August 22, 2017
* Individual store prices may vary.
Description
Though he gave his all during the festival to save Academy City, Touma still spectacularly lost his bet with Mikoto. Now he's a slave to her every order until she's completely satisfied! But that's the least of his worries--a jealous Kuroko just might kill him, Little Misaka is about to explode, Index is nowhere to be found, and then there's this girl who seems totally lost... Meanwhile, Accelerator is busy settling into his new life when he notices Last Order is missing. Fearing the worst, the former villain launches a frantic search only to find a starving girl in a white nun's habit...
About the Author
Kazuma Kamachi is a Japanese light novel author and creator of the massively popular series, A Certain Magical Index, its sequel, A Certain Magical Index: New Testament, and a manga adaptation, as well as two spin-off manga series, A Certain Scientific Railgun and A Certain Scientific Accelerator.