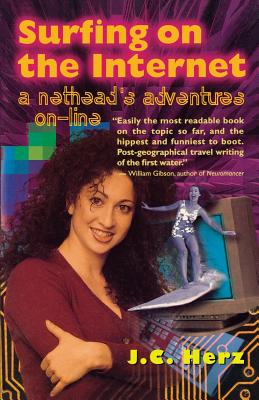 Surfing on the Internet
A Nethead's Adventures On-Line
Paperback

* Individual store prices may vary.
Description
In secret, underground, an amazing new world has taken shape, an alternate universe where technical communications sit alongside bulletin boards devoted to TV sitcoms, popular music, and every imaginable sexual proclivity. The Internet has its own language, its own rituals, its own code of ethics, and even its own ways of punishing outsiders. Let the newbie beware! Surfing on the Internet is a fearless excursion through this remarkable new world, in the company of one of the most inventive young nonfiction writers at work today. Fueled by Fruity Pebbles and caffeine, J. C. Herz, a digital Dian Fossey loose in the jungle of Net life, embarks on an on-line odyssey. Beginning with worldwide message boards that feature tips for phreaking (phone tapping) and plots to assassinate Barney the purple dinosaur, she brings to life the anarchic sprawl of the Net, exploring the flames (personal tirades), the aliases (one guy she meets has 158), the Net cities and virtual saloons where the digerati congregate.No corner of the Net is beyond the reach of her curiosity, and some of those corners turn out to be pretty dark. Sex on-line has its limitations, for instance (although the cross-gender possibilities are intriguing). There are the out-and-out nuts who stretch even the most liberal free-speech ethos. And there's the chilling case of Kieran, the Internet ghost whose only off-line visitors for months are the people who deliver takeout food to his apartment. When last seen, J. C. Herz is checking into an Internet addicts support group - meeting on-line, of course. Surfing on the Internet is a romp through the frontier of the twenty-first century, and J. C. Herz is a brilliant and daredevil guide.Don't log on without it.
Back Bay Books, 9780316360098, 336pp.
Publication Date: February 1, 1996