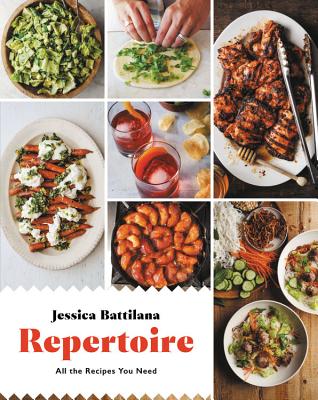 Repertoire
All the Recipes You Need
Hardcover

* Individual store prices may vary.
Description
Simple, stunning recipes for home cooks, from the writer of the Repertoire column for the San Francisco Chronicle.

Home cooks don't need dozens of cookbooks or hundreds of recipes. They just need one good book, with about 75 trustworthy, versatile, and above all, delicious recipes that can stand alone or be mixed-and-matched into extraordinary meals.

That's what Repertoire is: Real recipes, from real life, that really work.

After nearly two decades in the kitchen and writing about food, this is the way San Francisco Chronicle writer Jessica Battilana really cooks at home. These are her best recipes, the ones she relies on the most -- for a quick weeknight supper, a special dinner party, when a friend drops by for a drink and a snack, for the chocolate cake that never fails. The knowledge, freedom, and flexibility that comes from cooking these recipes is all you really need in the kitchen.

With a salad for every season, pantry pastas, many meatballs, chewy cookies, and more, Repertoire puts the perfect dish for every occasion within reach.
Praise For Repertoire: All the Recipes You Need…
One of the Best Books of the Year -Boston Globe, Houston Chronicle

One of the 10 Cookbooks Our Readers Couldn't Live Without—Food52

"When I flipped through Jessica's new cookbook, Repertoire, I found the sorts of comforting, intimate recipes I love."—New York Times Magazine

"Repertoire is about getting into the grove of things and dinner recipes that become members of the family, they show up at the table so often... a collection of real life, instant crowd-pleasers, with some process photos that help see you through."—Bon Appetit

"Repertoire is a magical book of insanely delicious keeper recipes you can trust with your life. Guard it like it's made of gold. This is more than a gorgeous cookbook: it's a beeline to a better life, one that's delicious, stylish, and tons of fun. You'll get so much more out of these recipes than you put into them. But Jessica's best trick isn't her stunning apple tart or amazing garlic butter chicken. It's how she helps you make her repertoire your own, turning you into a more confident, improvisational cook along the way."—Samin Nosrat, New York Times bestselling author of Salt, Fat, Acid, Heat

"Everyone needs a small cookbook stuffed cover-to-cover with go-to recipes. Repertoire has zero fluff. None. You will open this book and automatically put every single recipe on your to-cook list, including light summer dinners, hearty winter feasts and lazy weekend breakfasts. And bless Battilana for including a recipe for Negronis and Potato Chips (which is exactly what it sounds like). Sometimes, that's just what does the trick."—Houston Chronicle

"I'd like to think Jessica Battilana and I are kindred spirits. Neither of us cooks separate meals for our kids, but we both believe in the sanity-saving power of a customizable bowl of noodles. We enjoy Negronis, full-fat dairy, and Sunday worship at the farmer's market. And we strive to write recipes that tell a story while teaching something new. In Repertoire, Jessica does even more than that: she inspires you to cook beyond her recipes, giving you the confidence to build your own repertoire. Her knack for empowering home cooks makes this book sing."—Vivian Howard, New York Times bestselling author of Deep Run Roots

"I may have to steal some of Jessica Battilana's clever ideas and add to my own repertoire. Her celebration of ingredients and approachable cooking techniques are what every home cook needs in their box of tricks."—Yotam Ottolenghi, New York Times bestselling author of Jerusalem

"A treasure trove of delicious tried-and-true recipes for the home cook--a gift for anyone who wants to add to their own repertoire."—Melissa Hamilton and Christopher Hirsheimer, James Beard Award-winning authors of Canal House Cooks Every Day

"Repertoire is a modern-day Joy of Cooking. Every kitchen should have one on the shelf! Jessica's techniques suit our busy lifestyles and please our palates, delivering satisfying results through simple techniques. Use this book when you are planning a party, cooking a weeknight dinner, or hanging with your family. You can't go wrong with Negronis and potato chips or the fancy toasts, and every birthday should feature Jessica's coconut cream cake."—Amanda Freitag, author of The Chef Next Door

"Ingredient-based cooking, tinged with global flavors yet not fussy, is my favorite kind of cooking. Jessica Battilana's Repertoire is truly a collection of things that I'd like to make (and eat)... and that are destined to become part of my repertoire. With this book, they'll be part of yours, too!"—David Lebovitz, author of L'Appart and My Paris Kitchen

"Like your favorite skillet or the spatula that fits perfectly in your hand, Repertoire is a kitchen staple that you'll always want nearby. It's a delicious collection of greatest hits that are primed to become your new favorite go-tos. (And it's got hot dog fried rice!)"—Molly Yeh, author of Molly on the Range

"Repertoire is a treasure trove of realistic recipes for real cooks. Packed with helpful tips and clear instructions, and gloriously illustrated with both how-to photography and finished dishes, it's a comprehensive and inspiring must-have guide for the home cook. To a fellow La Varenne alumna, in the words of our mutual mentor, Anne Willan, I say, 'Well done!'"—Virginia Willis, James Beard Award-winning author of Lighten Up, Y'all

"San FranciscoChronicle food columnist Battilana delivers 75 classic recipes in this valuable cookbook, arguing that home cooks don't need a collection of hundreds of recipes to be well-rounded... [Repertoire is] accessible and promises to boost home cooks' confidence."—Publishers Weekly
Little, Brown and Company, 9780316360340, 240pp.
Publication Date: April 3, 2018
About the Author
Jessica Battilana writes the "Repertoire" column for the San Francisco Chronicle and is the author of Corn, from Short Stack Editions. The coauthor of several other cookbooks, her work has appeared in Martha Stewart Living, the New York Times, the Wall Street Journal, Gastronomica, Saveur, Sunset, and multiple editions of The Best Food Writing. A Vermont native, she lives in San Francisco with her wife and children.
or
Not Currently Available for Direct Purchase