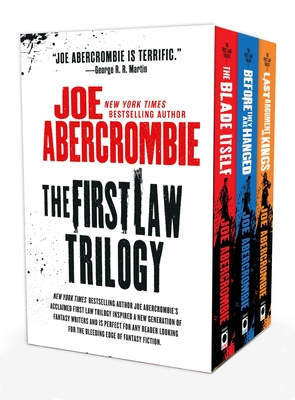 The First Law Trilogy (Paperback)
Orbit, 9780316361194, 1680pp.
Publication Date: November 15, 2016
* Individual store prices may vary.
Description
The complete First Law trilogy from New York Times bestseller and master of grimdark fantasy, Joe Abercrombie.
"The finest epic fantasy trilogy in recent memory." - Junot Diaz
Murderous conspiracies rise to the surface, old scores are ready to be settled, and the line between hero and villain is sharp enough to draw blood. Unpredictable, compelling, wickedly funny, and packed with unforgettable characters, the First Law trilogy is noir fantasy with a real cutting edge.
This boxed set includes: THE BLADE ITSELF, BEFORE THEY ARE HANGED, THE LAST ARGUMENT OF KINGS.



For more from Joe Abercrombie, check out:

Novels in the First Law world
Best Served Cold
The Heroes
Red Country
Sharp Ends: Stories From the World of the First Law
About the Author
Joe Abercrombie is the New York Times bestselling author of Red Country and the First Law trilogy: The Blade Itself, Before They Are Hanged, and Last Argument of Kings. He is a full time writer, and occasional freelance film editor, who lives in Bath, England with his wife and three children.
Praise For The First Law Trilogy…
"Pointed, driven, and sharp."—Locus on Red Country

"Magnificent, richly entertaining"—Time on The Heroes

"Imagine The Lord of the Rings as directed by Kurosawa."—Lev Grossman, Wall Street Journal on The Heroes

"[Abercrombie has] begun breaking his own rules. And succeeding wildly at it. ... [R]arely has Abercrombie had so much fun while rollicking through his colorful cast's foibles and witty dialogue - and rarely has he dished out so much straight-for-the-heart poignancy."—The A.V. Club

"New, fresh, and exciting."—The Independent (UK)

"Exhilarating... Abercrombie's knack for wit and grit holds your attention throughout, and his eye for character means that there's heart as well as muscle."—SFX (UK)

"Abercrombie writes fantasy like no one else."—Guardian (UK)