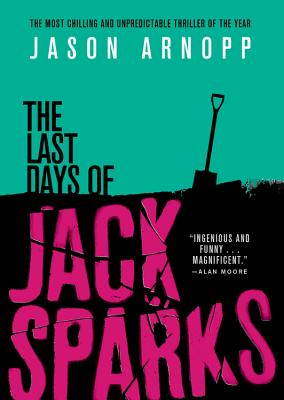 The Last Days of Jack Sparks
Hardcover

* Individual store prices may vary.
Other Editions of This Title:
Digital Audiobook (9/12/2016)
Paperback (4/4/2017)
Description
"Ingenious and funny . . . Magnificent." -- Alan Moore, creator of Watchmen and V for Vendetta

Jack Sparks died while writing this book.
It was no secret that journalist Jack Sparks had been researching the occult for his new book. No stranger to controversy, he'd already triggered a furious Twitter storm by mocking an exorcism he witnessed.

Then there was that video: forty seconds of chilling footage that Jack repeatedly claimed was not of his making, yet was posted from his own YouTube account.
Nobody knew what happened to Jack in the days that followed -- until now.

"Wow. Seriously hard to put down." -- M. R. Carey, author of The Girl With All the Gifts
Praise For The Last Days of Jack Sparks…
"Takes a frenetic and self-obsessed modern world in its confident stride... gives us ingenious and funny diabolism, repurposed for the 21st Century. A magnificent millennial nightmare."
—
Alan Moore, creator of Watchmen and V for Vendetta
"Wow. Seriously hard to put down . . . Chilling and utterly immersive."
—
M. R. Carey, author of The Girl With All the Gifts
"Jack Sparks is a tremendously fascinating, entertaining, and an entirely contemporary movie character. His journey into the supernatural and his clashes with those forces and with himself are hilarious, disturbing, exciting and surprising as hell. I couldn't put the book down and I believe it will be a blast for audiences to experience the movie version."
—
Ron Howard
"This is one of those books where I'm sad when I'm not reading it. It manages the rare feat of being both horrific and hilarious, which makes me insanely jealous of Arnopp and has me considering how to kill him and consume his mighty power."
—
Chuck Wendig, New York Times bestselling author
"Wittier than the lovechild of Stephen Fry and Charlie Brooker; scarier than watching
The Exorcist
in an abandoned asylum. Fast, furious, original and most importantly, terrifying."—
Sarah Lotz, author of The Three
"This is
The Omen
for the social media age."—
Chris Brookmyre, author of the Jack Parlabane thrillers
"Original, clever, scary and funny...It kept me gripped and guessing from page one."
—
Rebecca Levene, author of The Hollow Gods series
"A breath of fresh air, vivid and essential."
—
John Higgs, author of Stranger Than We Can Imagine
"I always suspected Jason Arnopp was a genius, and now, having read his first novel, I know I was right. Jack Sparks is an extraordinary literary creation, clever and awful, loveable and cruel and his story is so terrifying and believable that I could barely bring myself to turn off my lights at bedtime."
—
Lisa Jewell, international bestselling author
"Funny, creepy and totally nuts."
—
Paul Tremblay, author of A Head Full of Ghosts
"Devour it in one sitting."
—
Australian Way
"
The Last Days of Jack Sparks
was an absolute blast - thoroughly enjoyed it!"—
Adrian Selby, author of Snakewood
"A darkly comic, genuinely unnerving, incredibly well-executed horror novel."
—
B&N
"Savagely humorous and very spooky modern morality tale."
—
Daily Mail
"Bizarre, funny, and at times downright creepy, Arnopp's debut is a worthy entry in the horror field."
—
Booklist
Orbit, 9780316362269, 400pp.
Publication Date: September 13, 2016
About the Author
Jason Arnopp is a British author and scriptwriter. His background is in journalism: he has worked on titles such as Heat, Q, the Word, Kerrang!, SFX, and Doctor Who Magazine. He is the author of The Last Days of Jack Sparks, has written comedy for Radio 4 and official tie-in fiction for Doctor Who and Friday The 13th.