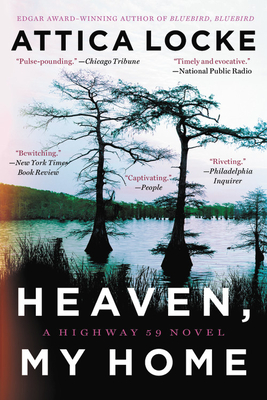 Heaven, My Home (A Highway 59 Novel #2)
Paperback

* Individual store prices may vary.
Other Editions of This Title:
Digital Audiobook (9/16/2019)
Hardcover (9/17/2019)
Library Binding, Large Print (12/18/2019)
Compact Disc (9/17/2019)
Description
In this "captivating" crime novel (People), Texas Ranger Darren Mathews is on the hunt for a missing child -- but it's the boy's family of white supremacists who are his real target.
9-year-old Levi King knew he should have left for home sooner; now he's alone in the darkness of vast Caddo Lake, in a boat whose motor just died. A sudden noise distracts him - and all goes dark.

Darren Mathews is trying to emerge from another kind of darkness; after the events of his previous investigation, his marriage is in a precarious state of re-building, and his career and reputation lie in the hands of his mother, who's never exactly had his best interests at heart. Now she holds the key to his freedom, and she's not above a little maternal blackmail to press her advantage.

An unlikely possibility of rescue arrives in the form of a case down Highway 59, in a small lakeside town where the local economy thrives on nostalgia for ante-bellum Texas - and some of the era's racial attitudes still thrive as well. Levi's disappearance has links to Darren's last case, and to a wealthy businesswoman, the boy's grandmother, who seems more concerned about the fate of her business than that of her grandson.

Darren has to battle centuries-old suspicions and prejudices, as well as threats that have been reignited in the current political climate, as he races to find the boy, and to save himself.

A Best Book of the Year
New York TimesHouston ChronicleNPRWall Street JournalMilwaukee Journal-SentinelBook PageFinancial TimesKirkusSheReadsSunday TimesLitHubGuardianBook RiotSouth Florida Sun SentinelLonglisted for the Orwell Political Fiction Book Prize
Praise For Heaven, My Home (A Highway 59 Novel #2)…
"Timely and evocative."—NPR "Fresh Air"

"Captivating."—People

"Bewitching story and luscious language . . . . The story has legs, the characters have character, and the dialogue has a wonderful regional tang. But it's Locke's descriptive language that gets me."—New York Times

"Atmospheric . . . Ms. Locke, a canny storyteller, ties up enough strands to satisfy readers, while leaving enough loose ends to make us eager for Ranger Mathews's next adventure in the Lone Star State."—Tom Nolan, Wall Street Journal

"Locke's beautifully written crime fiction (which also includes "Pleasantville," "Black Water Rising," and "The Cutting Season") have a remarkable immediacy--you breathe with the characters and walk in their paths."—Seattle Times

"Pulse-pounding."—Chicago Tribune

"Locke skillfully packs Heaven, My Home with realistic and, at times, uncomfortable situations as she depicts complicated characters. In Darren, Locke has fearlessly shaped a character that constantly walks a tightrope of being a good man with a quest for justice and being an extremely flawed person. . . . [Locke] once again excels in her superior storytelling."—Oline Cogdill, Associated Press

"With her usual aplomb, Locke tackles history and its all-too-real emotional fallout in this splendid follow-up."—Boston Globe

"[Locke] has proved that there's demand for stories about black characters. . . . Her books, categorized as mystery or crime, are also unabashedly about black experiences, examining the legacy of black history in the context of modern politics and culture. The crime she really concerns herself with is an existential one: the legacy of America's original sin. The protagonists in her novels are mostly black men, and she writes with the authenticity of a lived experience."—Madhulika Sikka, Washington Post

"Riveting."—Philadelphia Inquirer

"Attica Locke has gained a reputation as a marquee literary chronicler of Texas and the South, particularly the parts and people that usually go unnoticed, and one of the hallmarks of her fiction is the insightful way she explores how black and white people can live almost entirely different experiences inside the same time and place. . . . [Heaven, My Home] is a thrilling mystery, yes, but it's also a powerful meditation on what it means to be human in these frightening times."—Texas Observer

"In this scalp-prickling encore to her Edgar-winning Bluebird, Bluebird, Locke brings back intrepid Texas Ranger Darren Matthews . . . a gumbo of race and class prejudices captured in vivid detail."—O Magazine

"Attica Locke's novel is masterful. It's a quick read, not in the sense that it is short, but that it goes - and goes fast. It's a page-turner in every way."—San Francisco Chronicle

"HEAVEN, MY HOME may be complex, but it's worth every blistering word Locke puts on the page. . . . One of the most affecting mysteries of the year."—Los Angeles Times

"Over two books, Mathews has proved a richly realized character."—Andrew Dansby, Houston Chronicle

"Heaven, My Home is a propulsive and compelling novel [with] passages of gorgeous lyricism, with loving, elegiac evocations of Texas set alongside extended meditations on displacement, reconciliation and forgiveness, and on what 'home' means. Locke suggests that being black in America has meant a constant, disorienting search for terra firma, fighting to claim some piece of the 'fields and prairies that we once tilled until our backs broke and bled", and that this feeling has returned with terrible urgency, or perhaps that it never left.'"—Guardian [UK]

"[Locke is] the most celebrated African-American writer of crime fiction. Although her books are about the black experience in the US, they are universal in scope."—Financial Times [UK]

"This is a beautifully and instantly gripping crime novel. . . . Locke is one of the emerging stars of crime fiction."—Booklist, starred review

"In addition to her gifts for tight pacing and intense lyricism, Locke shows with this installment of her Highway 59 series a facility for unraveling the tangled strands of the Southwest's cultural legacy and weaving them back together with the volatile racial politics and traumatic economic stresses of the present day...Locke's advancement here is so bracing that you can't wait to discover what happens next along her East Texas highway."—Kirkus, starred review

"Locke makes the complex backstory accessible. This one's another Edgar contender."—Publishers Weekly, starred review

"Few suspense novelists display a better grip of political and racial divides than Attica Locke, and she spins a hell of a good story as well, introducing characters and locales you will want to visit again and again."—BookPage (starred review)

"Locke's new novel is a mystery ripe for this age. . . . What makes Locke's mysteries so good is her ability to conjure up a mood with vivid prose. Her depiction of Texas is so evocative you can practically hear the beer cans cracking open and smell the swamp water."—Buzzfeed

"Both a fascinating, smartly plotted mystery and a pertinent picture of the contemporary United States, Heaven, My Home is refreshing, dour and thrilling all at once. Readers will be anxious for more of Ranger Darren Mathews. This scintillating murder mystery, set in Trump-era East Texas, with a black main cast and racial concerns, is gripping, gorgeously written and relevant."—Shelf Awareness

"Locke is brilliant at creating tense mysteries where the setting is as alive, and important, as the characters without distracting-but rather enhancing-the mystery element. You get history, a great mystery, smart twists, rich characters, and a deep exploration of the justice-and injustice-system of our country."—BookRiot

"Locke is adept at making her crime fiction transcend and become a powerful tool of social commentary, writing about race relations in the Deep South today."—Philip Cu-Unjieng, Metro Style

"Here, antebellum sympathies abound, and the current political landscape in which the novel is set makes this a heartfelt read on race relations in the south."—Sheena Kamal, CrimeReads
Mulholland Books, 9780316363396, 304pp.
Publication Date: August 25, 2020
About the Author
ATTICA LOCKE is the author of the 2018 Edgar Award winner Bluebird, Bluebird; Pleasantville, which won the 2016 Harper Lee Prize for Legal Fiction and was long-listed for the Baileys Women's Prize for Fiction; Black Water Rising, which was nominated for an Edgar Award; and The Cutting Season, a national bestseller and winner of the Ernest J. Gaines Award for Literary Excellence. She is also a television writer and producer, most recently for When They See Us and the upcoming adaptation of Little Fires Everywhere. A native of Houston, Locke lives in Los Angeles with her husband and daughter.