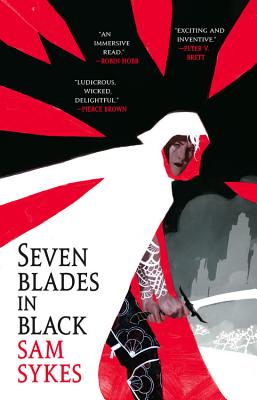 Seven Blades in Black (Paperback)
Orbit, 9780316363433, 608pp.
Publication Date: April 9, 2019
* Individual store prices may vary.
Description
Acclaimed author Sam Sykes returns with a brilliant new epic fantasy that introduces an unforgettable outcast magician caught between two warring empires.
Among humans, none have power like mages. And among mages, none have will like Sal the Cacophony. Once revered, now vagrant, she walks a wasteland scarred by generations of magical warfare.
The Scar, a land torn between powerful empires, is where rogue mages go to disappear, disgraced soldiers go to die and Sal went with a blade, a gun and a list of names she intended to use both on.
But vengeance is a flame swift extinguished. Betrayed by those she trusted most, her magic torn from her and awaiting execution, Sal the Cacophony has one last tale to tell before they take her head.
All she has left is her name, her story and the weapon she used to carved both.
Vengeance is its own reward.
For more from Sam Sykes, check out:
The Affinity for Steel Trilogy
Tome of the Undergates
Black Halo
The Skybound Sea
Bring Down Heaven
The City Stained Red
The Mortal Tally
God's Last Breath
About the Author
Sam Sykes is the author of the acclaimed Bring Down Heaven trilogy, a vast and sprawling story of adventure, demons, madness and carnage. He lives in Arizona.
Praise For Seven Blades in Black…
"Insouciant, unrepentant and irrepressible adventures in a powder keg of a city. And that's just how the story begins."—Robin Hobb on The City Stained Red

"Action fantasy with soul -- albeit a small, dirty, funny soul."—Brent Weeks on The City Stained Red

"Sam Sykes continues to reinvent the fantasy adventuring party in a vibrant world of rude magic and good intentions gone bad. Bold and exuberant, never cynical, Sykes fights the good fight on behalf of rich fantasy that nonetheless refuses to apologize for being kick-ass fun."—Scott Lynch on The City Stained Red

"Sykes has put the fun back in fantasy with fantastic creatures and a lovable crew of malcontents. The City Stained Red is like David Eddings meets Conan the Barbarian."—Brian McClellan on The City Stained Red

"Excitement, vivacity, and sly wit... simply impossible not to enjoy."—RT Book Reviews (4.5 Stars) on The City Stained Red

"An entertaining blend of classic adventure and inventive inspiration."—Juliet E. McKenna, author of The Thief's Gamble, on The City Stained Red

"Playful language, distinctly drawn characters, and a cavalcade of action."—SF Signal on The City Stained Red