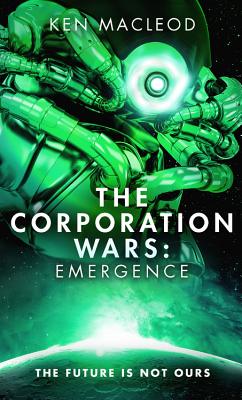 The Corporation Wars (Mass Market)
Emergence (Second Law Trilogy #3)
Orbit, 9780316363747, 416pp.
Publication Date: September 26, 2017
* Individual store prices may vary.
Description
Ken MacLeod concludes the Corporation Wars trilogy in this action-packed science fiction adventure told against a backdrop of interstellar drone warfare, virtual reality, and an A.I revolution.
The enemy is out in the open. The Reaction has seized control of a resource-rich moon. Now it's enslaving conscious robots - and luring the Corporations into lucrative deals.
Taransay is out in the jungle. Her friends are inside a smart boulder on the slope of an active volcano. The planet is super-habitable - for its own life, not hers. But soon, the alien infestation growing on her robot body is the least of her problems.
Carlos is out of patience. With the Reaction arming for conquest, the Corporations trading with the enemy and the Direction planning to stamp out the rebel robots and their allies for good, he has to fight fire with fire.
Seba is out of time. Deep inside the enemy stronghold, the free robots have to spark a new revolt before the whole world falls in on them.
As battle looms, the robots must become their own last hope.
The Corporation Wars
The Corporation Wars: Dissidence
The Corporation Wars: Insurgence
The Corporation Wars: Emergence
About the Author
Ken MacLeod is the author of twelve previous novels, five of which have been nominated for the Arthur C. Clarke Award, and two which have won the BSFA Award. Ken MacLeod is married with two grown-up children and lives in West Lothian.
Praise For The Corporation Wars: Emergence (Second Law Trilogy #3)…
"Dissidence is the novel that's direct yet still brims with ideas, politics and memorable characters, and... keeps things moving with the pace of an airport thriller.... MacLeod's most entertaining novel to date."
—SFX Magazine


"[The Corporation Wars] is a kind of action-packed Dirty Dozen or Suicide Squad scenario . . . . MacLeod does many astonishing things here. He
creates viable, believable multiplex interactions among so many different sets
of characters, human and robot. His detailing of the non-human way of thinking
and speaking employed by the freebots is fun and exemplary . . . . He shows a
keen hand with action sequences. And there is a generous amount of humor to
leaven the otherwise dire and deadly consequences of the multi-front war."

—Locus on The Corporation Wars: Dissidence

"[The Corporation Wars] hits the main vein of conversation about locks on artificial intelligence and living in simulations and exoplanetary exploitation and drone warfare and wraps it all into a remarkably human, funny, and smartly-designed yarn. It is, in fact, a king-hell commercial entertainment... It rips along on rockets."
—Warren Ellis on The Corporation Wars: Dissidence


"Descent is politically engaged, brimming with smart ideas and
shot through with a mordant wit. The novel is dedicated to the memory of
MacLeod's friend Iain M. Banks, and one feels that the future of
Scottish SF is in good hands."—Financial Times

"Ken MacLeod's novels are fast, funny, and sophisticated. There can never be enough books like these: he is writing revolutionary SF."—Kim Stanley Robinson

"Science fiction's freshest new writer . . . MacLeod is a fiercely intelligent, prodigiously well-read author who manages to fill his books with big issues without weighing them down."—Salon

"[The Corporation Wars] is a tasty broth of ideas taking in virtual reality, artificial intelligence, the philosophy of law and disquisitions on military ethics."—The Herald (Glasgow)

"For my money, Ken MacLeod is the current champion of the very
smartest kind of New Space Opera... every variation on his themes produces
something worth re-reading."
—Locus

"MacLeod manages big Ideas (political and futurological) and propulsive action without short-changing either side of that classic science-fictional tension-of-opposites."—Locus
or
Not Currently Available for Direct Purchase