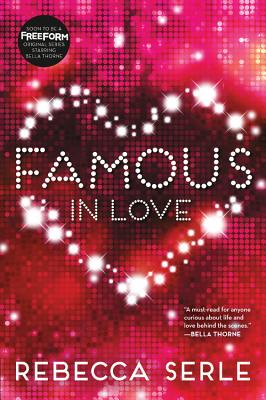 Famous in Love (Paperback)
Poppy, 9780316366359, 352pp.
Publication Date: September 15, 2015
Other Editions of This Title:
Paperback (3/21/2017)
* Individual store prices may vary.
Description
When Paige Townsen gets plucked from high school obscurity to star in the movie adaptation of a blockbuster book series, her life changes practically overnight. Within a month, Paige has traded the quiet streets of her hometown for a bustling film set on the shores of Maui, and she is spending quality time with her costar Rainer Devon, one of People's Sexiest Men Alive. But when troubled star Jordan Wilder lands the role of the other point in the movie's famous love triangle, Paige's crazy new life begins to resemble her character's.
In this exciting tale of romance and drama, both on-and offscreen, Paige must adjust to a crazy new life without the daily support of her friends and family, while figuring out who she is--and who she wants--as the whole world watches.
About the Author
Rebecca Serle is the co-creator of the Famous in Love television show, as well as the author of When You Were Mine and The Edge of Falling, and is an obsessive lover of all things teen entertainment-a trait she tracks straight back to the WB, and Pacey Witter. She grew up in Maui and Los Angeles, and now lives in Manhattan. She can be found on Twitter @RebeccaASerle.
Praise For Famous in Love…
Praise for Famous in Love:
—
Bella Thorne, actor and author of Autumn Falls
"The first-person, present-tense narration highlights Paige's internal conflict, with step-by-step descriptions of swoony kisses for romance-loving readers. This frothy but not frivolous drama is wish fulfillment for any teen who wants to feel the thrill of celebrity and love."—
Kirkus Reviews
"Serle establishes a glamorous premise in a gorgeous setting, as well as an enticing romance-within-a-romance framework."—
Publishers Weekly
"
Famous in Love
is so fun, fresh, and delectable, I'm hooked. More, please. And
soon
."—
National Book Award finalist Deb Caletti, author of Honey, Baby, Sweetheart
"Fantasy becomes reality in this exhilarating love story you won't want to put down."—
Susane Colasanti, bestselling author of When It Happens
"With just the right mix of celebrity fantasy and real-girl relatability, this clever Hollywood romance packs more plot twists than the book-to-film blockbusters that inspired it."—
Megan McCafferty, bestselling author of Sloppy Firstsand Jessica Darling's It-List
"I could not put down this book! Loved, loved, loved it. So much romance, so much Hollywood gossip, so much fun."—
Sarah Mlynowski, bestselling author of Ten Things We Did (and Probably Shouldn't Have)