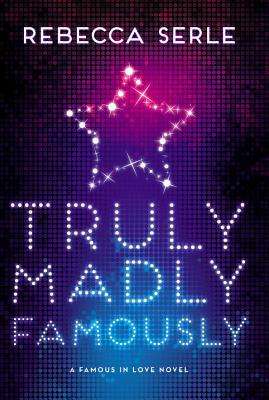 Truly Madly Famously (Famous in Love #2) (Hardcover)
Poppy, 9780316366403, 320pp.
Publication Date: October 13, 2015
* Individual store prices may vary.
Description
Soon to be a series on Freeform, formerly ABC Family, starring Bella Thorne.

"A must-read for anyone curious about life and love behind the scenes."--Bella Thorne, actor and author of Autumn Falls, on Famous in Love
Lights, camera, love!
After being plucked from obscurity, Hollywood's newest It Girl, Paige Townsen, has a blockbuster film to her name and Rainer Devon on her arm. But being half of the world's most famous couple comes with a price. No matter where Paige goes, someone is always watching. Soon she finds herself dodging photographers; hiding her feelings for her other costar, Jordan Wilder; and weathering tabloid scandals that threaten to tear her and Rainer apart--and end her career as quickly as it began.
As she navigates her new L.A. life in this exciting sequel to Famous in Love, Paige finds that she doesn't know who to trust: Old friends could be betraying her secrets, and new friends are keeping secrets of their own.
About the Author
Rebecca Serle is the author of Famous in Love, When You Were Mine, and The Edge of Falling and is an obsessive lover of all things pop culture. She grew up in Maui and Los Angeles, and now lives in Manhattan.
Praise For Truly Madly Famously (Famous in Love #2)…
Praise for Truly Madly Famously:
"This follow-up to Famous in Love (2014) stands alone, and teenagers interested in a look behind the Hollywood curtain will be as thrilled as existing fans."
—
BooklistPraise for Famous in Love:
—
Bella Thorne, actor and author of Autumn Falls
"The first-person, present-tense narration highlights Paige's internal conflict, with step-by-step descriptions of swoony kisses for romance-loving readers. This frothy but not frivolous drama is wish fulfillment for any teen who wants to feel the thrill of celebrity and love."—
Kirkus Reviews
"Serle establishes a glamorous premise in a gorgeous setting, as well as an enticing romance-within-a-romance framework."—
Publishers Weekly
"
Famous in Love
is so fun, fresh, and delectable, I'm hooked. More, please. And
soon
."—
National Book Award finalist Deb Caletti, author of Honey, Baby, Sweetheart
"Fantasy becomes reality in this exhilarating love story you won't want to put down."—
Susane Colasanti, bestselling author of When It Happens
"With just the right mix of celebrity fantasy and real-girl relatability, this clever Hollywood romance packs more plot twists than the book-to-film blockbusters that inspired it."—
Megan McCafferty, bestselling author of Sloppy Firsts and Jessica Darling's It-List
"I could not put down this book! Loved, loved, loved it. So much romance, so much Hollywood gossip, so much fun."—
Sarah Mlynowski, bestselling author of Ten Things We Did (and Probably Shouldn't Have)