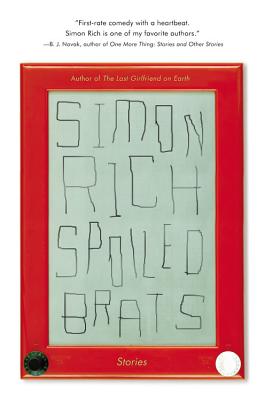 Spoiled Brats (Hardcover)
Stories
Little, Brown and Company, 9780316368629, 224pp.
Publication Date: October 14, 2014
Other Editions of This Title:
Digital Audiobook (10/13/2014)
Paperback (5/26/2015)
Compact Disc (10/14/2014)
Compact Disc (10/14/2014)
* Individual store prices may vary.
Description
Twenty years ago, Barney the Dinosaur told the nation's children they were special. We're still paying the price.

From "one of the funniest writers in America"* comes a collection of stories culled from the front lines of the millennial culture wars. Rife with failing rock bands, student loans, and participation trophies, Spoiled Brats is about a generation of narcissists-and the well-meaning boomers who made them that way.

A hardworking immigrant is preserved for a century in pickle brine. A helicopter mom strives to educate her demon son. And a family of hamsters struggles to survive in a private-school homeroom.

Surreal, shrewd, and surprisingly warm, these stories are as resonant as they are hilarious.

*Jimmy So, Daily Beast


About the Author
Simon Rich is the author of The Last Girlfriend on Earth, What in God's Name, Ant Farm, Free-Range Chickens, and Elliot Allagash. His work appears frequently in The New Yorker. He lives in Brooklyn, New York.
Praise For Spoiled Brats: Stories…
A Slate Best Book of 2014

"I can't recommend any Simon Rich book - especially this one - highly enough. From the hyper-competitive rituals of Scrabble players to the laments of a grieving, widowed hamster in an elementary school classroom, each story in Spoiled Brats opens with a brilliant comedic perspective that only gets funnier, more fascinating, more surprising, and more insightful from there. First-rate comedy with a heartbeat, this is one of my favorite books from one of my favorite authors."—B.J. Novak, author of One More Thing: Stories and Other Stories and star of "The Office"

"Simon Rich is a comedic shape shifter, adopting the plights of hamsters and hipsters alike, and Spoiled Brats is vividly hilarious in the way Woody Allen and Donald Barthelme are vividly hilarious. Simon Rich is also much taller in real life than you'd think. Like the reverse of an actor."—Sloane Crosley, author of I Was Told There'd Be Cake and How Did You Get This Number

"Laugh-out-loud funny. [Rich] can conjure authentic, from-the-abdomen laughter on almost every page. He stacks surrealism on top of slick satire on top of pure childish silliness in such a brilliant and condensed way, there are sometimes three laugh-out-loud moments within the same paragraph... This collection of stories isn't simply the funniest book of the year. It might just make us think about the spoiled brats we've become."—The Guardian (UK)

"I hate Simon Rich, the person. I love Simon Rich, the writer. This book is my favorite one of his yet."—Charles Yu, author of Sorry Please Thank You

"From the author who brings new meaning to laugh-out-loud, comes a collection of stories about a generation of narcissists and their parents, who only had the best intentions. Rich's uproarious stories will undoubtedly have you nodding in agreement."—Harper's Bazaar

"A mix of gentle surrealism and smiley satire, the stories are bright, witty, occasionally tart, and just the right side of sappy... Just as most of Woody Allen's prose is given depth by his terror of death, so, as the title suggests, Spoiled Brats attacks the privileged excesses of liberal America in a fashion akin to what we used to call anatomizing their follies."—Telegraph (UK)

"Hilarious characters... every story rings true."—Library Journal

"Spoiled Brats might just be the funniest book of the year."—Harper's Bazaar

"What you can expect from Rich's writing is to be transported to a place that is at its core, fundamentally familiar, but at the same time, utterly confusing. It's like entering your childhood home through a secret passage no one ever told you about. It's these different approaches that make Rich's writing so enjoyable, because his stories are absurd without being entirely fantastical. They are relatable, more than anything."—MTV.com

"Simon Rich, in his new collection, Spoiled Brats, is in the Blazing Saddles phase of his writing career... As hilarious a portrait as you'll find of the self-involved, easily outraged, post-post-post-post-ironic world into which we've dumped the next generation... As solid a piece of comic writing as I've read in a long time."
—New York Times Book Review


"Ridiculous in the very best way... Spoiled Brats mocks its protagonists without being mean; we find ourselves sympathizing and relating with these characters even as we laugh at them. Straight-up cynicism feels a little cruel, but Rich stays away from that, and his stories make the same old tropes feel fresh and funny and new again... Spoiled Brats is undeniably funny, but its real genius is that, like the best comedy, it encourages introspection as well."
—Bookpage

"Smartly funny and occasionally self-lacerating."
—Chicago Tribune


"Spoiled Brats is brilliant, original, hilarious... An anthology as endlessly clever as it is hysterical...throughout the book, Rich displays brilliance and hilarity you won't soon forget. It's easily the funniest, most original read I've found in a while, and it comes with a dollop of insight to boot. I could bore you with more superlatives, but why bother? there's no chance of buyer's remorse on a book this enjoyable."
—Associated Press


"Just lovingly nails everything repellent and beautiful about millennials."—Patton Oswalt
or
Not Currently Available for Direct Purchase