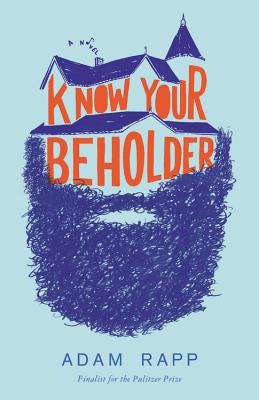 Know Your Beholder
A Novel
Hardcover

* Individual store prices may vary.
Other Editions of This Title:
Digital Audiobook (3/2/2015)
Paperback (2/16/2016)
Compact Disc (3/3/2015)
Compact Disc (3/3/2015)
Description
From a Pulitzer Prize finalist comes a hilarious and heartbreaking novel about a musician climbing back from rock bottom.

As winter deepens in snowbound Pollard, Illinois, thirty-something Francis Falbo is holed up in his attic apartment, recovering from a series of traumas: his mother's death, his beloved wife's desertion, and his once-ascendant rock band's irreconcilable break-up. Francis hasn't shaved in months, hasn't so much as changed out of his bathrobe-"the uniform of a Life in Default"-for nine days.

Other than the agoraphobia that continues to hold him hostage, all he has left is his childhood home, whose remaining rooms he rents to a cast of eccentric tenants, including a pair of former circus performers whose daughter has gone missing. The tight-knit community has already survived a blizzard, but there is more danger in store for the citizens of Pollard before summer arrives. Francis is himself caught up in these troubles as he becomes increasingly entangled in the affairs of others, with results that are by turns disastrous, hysterical, and ultimately healing.

Fusing consummate wit with the seriousness attending an adulthood gone awry, Rapp has written an uproarious and affecting novel about what we do and where we go when our lives have crumbled around us. Sharp-edged but tenderhearted, Know Your Beholder introduces us to one of the most lovably flawed characters in recent fiction, a man at last able to collect the jagged pieces of his dreams and begin anew, in both life and love. Seldom have our foibles and our efforts to persevere in spite of them been laid bare with such heart and hope.
Praise For Know Your Beholder: A Novel…
"More often than any book I can easily recall, Rapp's novel had me laughing like a fool, embarrassing myself each time I unthinkingly brought it out in public. Perhaps more surprisingly, that humor felt entirely natural--born organically from the idiosyncrasies of the characters themselves rather than foisted on them... Rapp mostly dredges comedy from Francis' peculiar ways of seeing the world and from the mundanely weird people who populate it."—NPR

"Rapp's novel is surprisingly high-spirited, comic without diminishing the emotional depth of his motley crew. That''s largely thanks to Rapp's gift for figurative language."—Washington Post

"Rapp is such a skillful and evocative writer he can make magic out of the ordinary stuff of daily life... Know Your Beholder has a surprisingly satisfying finish on multiple levels.. It's nothing less than masterful."—Cleveland Plain Dealer

"Know Your Beholder is funny and sad, smart and moving, dark and hopeful. Adam Rapp writes with a lyrical acumen and wit that are not just impressive, but immensely engaging."—Jonathan Tropper, New York Times bestselling author of This Is Where I Leave You and One Last Thing Before I Go

"Know Your Beholder is a message from the heart and from the beard, a message from the new weird America to every guy who's ever spent too much time in his bathrobe and every women who's ever considered what that guy would look like if he actually got himself together and shaved. Adam Rapp knows about laughing to keep from crying. He's a melancholy Lenny Bruce of the sentence and his imagination is never less than intense."—Hari Kunzru%2C author of the national bestseller The Impressionist

"Adam Rapp's Know Your Beholder is a wry, big-hearted novel that captures the contradictions of the American present--with its good intensions, self-deceptions, grand ambitions, and crippling fears."—David Bezmozgis%2C Giller Prize finalist and author of The Betrayers

"Adam Rapp is an exciting and fearless writer. From the dark places of the soul he mines equal parts pain and light. In Know Your Beholder, he has fully and unapologetically rendered each of his characters-men and women alike, both good actors and bad. This rueful and immensely entertaining novel is his best work yet, a transfixing study of the heart's resilience and the complicated beauty of living that provides the kind of consolation that only our greatest fictions can."—A. M. Homes%2C New York Times bestselling author of The Mistress's Daughter and May We Be Forgiven

"With Know Your Beholder,Adam Rapp has ascended into the upper ranks of American fiction. His narrator, Francis Falbo, is an unforgettable crooner of heartwreck and hilarity, and the narrative itself is woven of uncommon tenderness and beauty as the dreams of the past meet the ghosts in their present."
—William Giraldi%2C author of Hold the Dark and Busy Monsters

"Know Your Beholder is hilarious and deeply sad, often at the same time. Such an eerie beauty permeates this tale--with its haunting descriptions of houses, people, music, tornado storms, agoraphobic terror, lost children, lost minds--that when you finish you feel you've awakened from one of the narrator's strange, heartbreaking dreams, filled with a kind of inexplicable, overwhelming love."—Brad Watson%2C National Book Award finalist for The Heaven of Mercury

"A profound tale about how a life is taken apart and rebuilt. Throughout, readers are treated to the beautifully written and emotive back-story of Francis... the entire project comes together beautifully, and I highly recommend it. Rapp's exploration of exceedingly dark topics plays off as an anthem to sticking it out through hellish times."—Washington Independent Review of Books

"Rapp's insights are deeply empathetic, and his way with detail is heartbreaking."—The A.V. Club

"Rapp's novel of perseverance and salvation is humble and hilarious."—O%2C The Oprah Magazine

"This novel's humor... cuts deep and feels earned. Beholder reflects the wisdom and wear of a talented writer who has now lived long enough to ruefully laugh at life--and even at himself."—Milwaukee Journal Sentinel

"[The narrator Francis] Falbo's darkly humorous agitation and unfiltered ruminations are just a few of the many reasons readers will find themselves enchanted."
—Publishers Weekly

"Insightful... [A] profound account of 'all the things we must survive.'"—Kirkus

"Know Your Beholder is a humorous and thought-provoking revelation of a troubled soul . . . Rapp's tale is an immersing page-turner [that] highlights the inherent humor that lies underneath a life in shambles."—Frank Valish, Under the Radar
Little, Brown and Company, 9780316368919, 352pp.
Publication Date: March 3, 2015
About the Author
An acclaimed filmmaker and playwright, Adam Rapp was a Pulitzer Prize finalist for his play Red Light Winter and is the recipient of the Benjamin H. Danks Award from the American Academy of Arts and Letters, among other honors.

In addition to his numerous plays, he is the author of the novel The Year of Endless Sorrows and several YA novels, including Under the Wolf, Under the Dog, a finalist for the Los Angeles Times Book Prize. He lives in New York City.