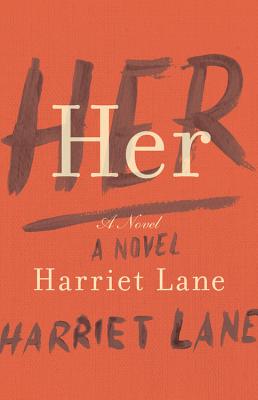 Her
A Novel
Hardcover

* Individual store prices may vary.
Other Editions of This Title:
Digital Audiobook (1/5/2015)
Paperback (10/6/2015)
Description
You don't remember her -- but she remembers you.

Two different women; two different worlds. On the face of it, Emma and Nina have very little in common. Isolated and exhausted by early motherhood, Emma finds her confidence is fading fast. Nina is sophisticated and assured, a successful artist who seems to have it all under control. And yet, when the two women meet, they are irresistibly drawn to each other. As the friendship develops, as Emma gratefully invites Nina into her life, it emerges that someone is playing games-and the stakes could not be higher.

What, exactly, does Nina see in Emma? What does she want? And how far will she go in pursuit of it?

A gripping novel about friendship and identity, about the wild hopes and worst fears of parenthood, about the small and easily forgotten moments that come to define a life, Her is unputdownable-compelling and hauntingly discomfiting.
Praise For Her: A Novel…
"A gripping, chilling, powerful novel of unintended consequences and undeserved retributions, youthful innocence and middle-aged regret, parental guilt and filial obligation, all played out on the dangerous edge of rationality."—Chris Pavone, author of The Expats

"Compelling and chilling. Like all good thrillers, HER creeps up on you. You can't stop lapping up the rich domestic details, the astute observations about modern motherhood and female friendship, but you're skittish, aware of the growing shadow. What happened in the past? Which one is the psychopath? The end will make you yelp."—Christina Schwarz, author of Drowning Ruth

"Never have I seen the angst and vulnerability of early motherhood so vividly portrayed. Harriet Lane explores the "tyranny of domesticity" and the almost primitive bonds that link women to their children and also to other mothers. HER is at once funny and terrifying. I read it in one sitting and when I was finally able to put it down, my heart was pounding."—Ann Leary, author of The Good House

"This book knocked the breath out of me in the very best sense. HER is mesmerizing, nail-biting, deeply atmospheric and, ultimately, haunting. Harriet Lane has crafted an intoxicating interplay between friendship and betrayal, mothering and memory, vulnerability and opportunity. Watching the story unfold is like watching the perfect storm gather at sea and roll in toward the coast. The creeping sense of inevitability, combined with warning signals that foretell something dangerously wrong, adds up to a suspense novel that's all kinds of right."—Koren Zailckas, author of Smashed: Story of a Drunken Girlhood

"In her captivating new novel, HER, Harriet Lane crafts a tale of suspense that seeps slowly and inevitably between the cracks of two otherwise ordinary lives. Writing with a quiet confidence and an eye for the most perfect details, Ms. Lane lures her readers into the lives of Nina and Emma, two women at opposite ends of raising a family. Ms. Lane finds the extraordinary in the ordinary, and this gift will keep readers enthralled until the novel's thrilling end."—Lori Roy, author of Bent Road and Until She Comes Home

"A spellbinding book. Think of Virginia Woolf under the influence of Claude Chabrol. Just beneath the smooth, beautiful sentences lies a world alive with terror."—Tom McNeal, author of To Be Sung Underwater

"Lane is a brilliant observer of the intricacies of the everyday.... As seductive as it is chilling, HER is quality literary fiction meets psychological thriller, the devil of which is in the detail."—Lucy Scholes, Guardian (UK)

"Early contender for book of the year. Another triumph from Harriet Lane."—Erin Kelly

"With chilling precision, Lane narrates the re-entwining of these two women's lives through domestic details. Afternoon teas, disastrous shopping trips, cluttered homes and even well-populated playgrounds begin to seep with danger. And the net inexorably tightens. A domestic thriller of the first order."—Kirkus (starred review)

"A gracefully written psychological thriller about friendship wielded as a weapon.... Like Nina herself, the novel is subtle, deliberate, chillingly effective, and hauntingly sad."—Publishers Weekly

"Lane gradually pulls the threads of her story tighter and tighter...the ambiguity of her characterization is excellent, and your loyalties shift. Acutely observed, it's also a meditation on parental legacy, motherhood, and not always believing that the grass is greener on the other side."—Jessie Burton, author of The Miniaturist, for Self.com

"In her sophomore novel, Lane continues to channel Alfred Hitchcock by way of Bridget Jones.... Expect to turn pages at a rapid pace and compile a comprehensive list of anyone you might have wronged."—Dujour

"Chilling, suspenseful and shrewd about friendship's mix of love and envy, HER captivates right up to its shocking denouement."—People, "Book of the Week"

"Suspenseful, boundary-pushing, and very difficult to put down."—Vendela Vida, author of Let the Northern Lights Erase Your Name and The Lovers

"Lane writes searingly about the strain of minding young children and the fears and frustration involved in parenting... the overall creepy factor is high-a tense read for fans of the intellectual psychological thriller."—Library Journal

"A chilling novel of predator and prey."—More

"HER is a lean, mean exacting machine, a champion-racing car with a perpetually thrumming engine-261 pages never spun so fast, so far. Putting friendship, jealousy, and the pitfalls of self-involvement under a microscope, it reveals how astonishingly differently the same situations can be perceived - or even noticed - by different people."—Boston Globe

"Takes the girl-on-girl revenge arc to thrilling and sophisticated new heights. It's an understated psychological thriller, both heart-racingly fast-paced and as taut and suave as the two stylish North London women around whom the story orbits.... Warning: This affecting novel may force you to momentarily question all the female relationships in your life."—Caroline Goldstein, Bustle

"Harriet Lane is a fantastic writer.... HER thrives in its psychological investigations. The cost of the past, the way we tell stories, and the fascinating power dynamics, resentments, memories and fleeting hopes of these women as they negotiate their lives is wonderfully executed."—Jennifer Gilmore, Los Angeles Times

"A small jewel of a suspense novel."—Sherryl Connelly, Daily News

"Keeps the reader perpetually on edge."—Kevin Nance, Chicago Tribune

"Icicle-sharp.... This is psychological bait-and-switchery to put on the shelf alongside Patricia Highsmith and Georges Simenon."—Jan Stuart, New York Times Book Review

"Lane does motherhood noir-the noir of nurseries with nightlights and tense twilit bedrooms-as well as anybody."—Marion Winik, Newsday

"HER takes a deep dive into the nature of domesticity and asks what womanhood and motherhood mean to the modern woman. What is demanded of them? What do they want for themselves? How does female friendship come into the fore?"—Brooke Wylie, Examiner

"A thrilling, chilling tale.... Lane's keen eye for the intricacies of female relationships - the confidences and competition that so often co-exist in them, for better and worse - extends to the mother-daughter bond, as complicated here as it is inextricable.... The final, heart-stopping sequence in HER juxtaposes a mother's love and fear with a daughter's displaced sense of betrayal and rage. What binds Nina and Emma in the end is desperation, a quality that pulses just beneath Lane's measured, nuanced writing until it slaps us - as it does Emma - in the face, leaving us breathless."—Elysa Gardner, USA Today

"Summon[s] a true sense of erotic menace."—Megan O'Grady, Vogue

"A chilling masterpiece... HER ends with a scene that is so stunningly horrifying it could give you nightmares."

—Vick Mickunas, Dayton Daily News

"[An] addictive tale of female friendship."—Lynsey Eidell, Glamour

"Through measured prose and crisp, penetrating descriptions, Lane unfurls a chilling tale that begs you to peek at the last page-if only you could pull yourself away from the present."—Isabella Biedenharn, Entertainment Weekly (Rated 'A')

"Brilliant.... As the number of pages left in HER dwindles, you may find yourself wondering if Lane has given herself enough room to wrap the story up satisfactorily. Trust me, she has."—Dennis Drabelle, Washington Post

"The end...is perfectly executed, leaving you at the most excruciating moment possible-when a horrible thing is about to happen and there is nothing you, or any of characters, can do to stop it, save read as fast as you can until the words run out at that last, crucial moment."—Leigh Newman, Oprah.com

"[Lane] joins the ranks of a new generation of female suspense novelists...who are redefining contemporary crime fiction with character-driven narratives that defy genre conventions."—Alexandra Alter, New York Times

"Slowly, methodically, Lane peels back the layers of what seems to be-and what seems to have been-to reveal how a small slight fueled an all-encompassing need for revenge."—Connie Nelson, Star Tribune

"[A] meticulously observed domestic drama."—New Yorker

"Suffice it to say that this is a book that eventually will strike terror not just in Emma, but in any reader who has ever found herself in a friendship that seems too good to be true.... HER is suspenseful, chilling and scary as all get-out."—Linda Wolfe, FabOverFifty.com

"Wickedly sharp.... A brilliant novel."—Donna Marchetti, Cleveland Plain Dealer
Little, Brown and Company, 9780316369879, 272pp.
Publication Date: January 6, 2015
About the Author
Harriet Lane has worked as an editor and writer at Tatler and the Observer. She has also written for the Guardian, the Telegraph and Vogue. She is the author of two novels, Her and Alys, Always. She lives in north London with her husband and two children.
or
Not Currently Available for Direct Purchase