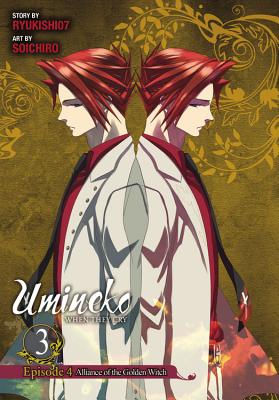 Umineko WHEN THEY CRY Episode 4 (Paperback)
Alliance of the Golden Witch, Vol. 3
Yen Press, 9780316370448, 528pp.
Publication Date: January 20, 2015
Other Editions of This Title:
Paperback (7/23/2019)
Paperback (4/30/2019)
Paperback (2/26/2013)
* Individual store prices may vary.
Description
One by one, the attendants of the Ushiromiya family gathering are killed under what can only be described as supernatural circumstances. Even Kyrie, the strongest proponent of logic and reason, is convinced by the vicious parade of witches and demons she has witnessed. Battler and Maria have yet to be tested for their suitability as family head, but the greater test for Battler will be whether or not his logical stance can hold out against the seemingly undeniable tide of the witch's magic...
About the Author
Soichiro is the artist behind Umineko When They Cry Episode 4: Alliance of the Golden Witch and Rose Guns Days Season 1. Ryukishi07 leapt into the spotlight with HIGURASHI NO NAKU KORO NI which was originally conceived as a series of visual novels and later adapted into the popular manga and anime franchise.