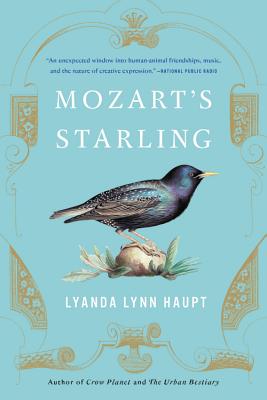 Mozart's Starling
Paperback

* Individual store prices may vary.
Other Editions of This Title:
Digital Audiobook (4/3/2017)
Description
On May 27th, 1784, Wolfgang Amadeus Mozart met a flirtatious little starling in a Viennese shop who sang an improvised version of the theme from his Piano Concerto no. 17 in G major. Sensing a kindred spirit in the plucky young bird, Mozart bought him and took him home to be a family pet. For three years, the starling lived with Mozart, influencing his work and serving as his companion, distraction, consolation, and muse.

Two centuries later, starlings are reviled by even the most compassionate conservationists. A nonnative, invasive species, they invade sensitive habitats, outcompete local birds for nest sites and food, and decimate crops. A seasoned birder and naturalist, Lyanda Lynn Haupt is well versed in the difficult and often strained relationships these birds have with other species and the environment. But after rescuing a baby starling of her own, Haupt found herself enchanted by the same intelligence and playful spirit that had so charmed her favorite composer.

In Mozart's Starling, Haupt explores the unlikely and remarkable bond between one of history's most cherished composers and one of earth's most common birds. The intertwined stories of Mozart's beloved pet and Haupt's own starling provide an unexpected window into human-animal friendships, music, the secret world of starlings, and the nature of creative inspiration. A blend of natural history, biography, and memoir, Mozart's Starling is a tour de force that awakens a surprising new awareness of our place in the world.
Praise For Mozart's Starling…
"This hard-to-put-down, charming blend of science, biography, and memoir illuminating the little-known story of the composer and his beloved bird is enlivened by the immediacy of Haupt's tales of Carmen, and brimming with starling information, travelogues, and historical details about Mozart's Vienna."—Booklist (Starred Review)

"Weaving together cheerful memoir, natural history, and biography, the author celebrates her 'insatiably social' pet starling, Carmen; investigates Mozart's experience with his avian companion... and offers intriguing details about starling behavior."—Kirkus Reviews

"Stories of [Carmen's] upbringing interspersed with details about Mozart, his family and career are both delightful and interesting."—Seattle Times

"Charming and highly readable."—St. Louis Post-Dispatch

"Mozart's Starling is a delightful, enlightening, breathless flight through the worlds of Carmen and Star, two European starlings who join their human counterparts in exploring life and music and nature, helping to shed light on the connection between humans and birds -- those of us bound to terra firma, and those who are free to soar."—Garth Stein, author of The Art of Racing in the Rain and A Sudden Light

"Mozart's Starling sparkles with imagination, emotion, and insight. Common birds, who too many consider vermin, have great gifts to share. Thank you, Lyanda Lynn Haupt, for showing us the delight and magic of a starling."—Sy Montgomery, author of Birdology and The Soul of an Octopus

"Lyanda Lynn Haupt raised a starling of her own to see if the tale of Mozart and his starling could be true. Her experience brings the legend of musician and bird into our present world where science rules. Yet even today, the song of the starling, but a minute in length, lies at the very limits of human comprehension. Read the book and you will learn why."—David Rothenberg, author of Why Birds Sing and Survival of the Beautiful

"A brave thing it is to write a love-song to starlings, in a conservation culture inclined not only to struggle with exotic species, but to demonize them. But Lyanda Haupt has done just that--not as apologist for wildlings in North America, but as celebrant of an utterly extraordinary, beautiful, and deeply engaging animal in and of itself. In prose as lovely as birdsong and as clear and sharp as the cool air itself, she has given starlings--hers, Mozart's, the whole species--the kind of loving and rigorous Life that every kind of creature deserves but very few get. I thought of Gerald Durrell, Konrad Lorenz, and Jane Goodall, none of whom I loved reading more. The story of Carmen, Star, and their humans is as riveting as a good novel, and I learned as much about Mozart as about birdsong and birdbrains. I enjoyed Mozart's Starling immensely, and I challenge anyone to read it and still treat starlings inhumanely. Lucky is the bird that finds its Papagena."—Robert Michael Pyle, author of Through a Green Lens and Mariposa Road

"By raising up her own pet starling, Lyanda Lynn Haupt reveals something that music historians have missed -- how daily life with a bird impacted Mozart during his most productive period. By sharing this delightful tale with the rest of us, she also reveals the unexpected quirks and charms of a species too often dismissed as a pest. Mozart's Starling is pure pleasure."—Thor Hanson, author of The Triumph of Seeds

"Haupt's is an informative and entertaining book of a well-versed ornithologist/ naturalist who adopted a five-day old starling chick into the family. Starlings are well known for their vocal ingenuity that had entranced not only Wolfgang Amadeus Mozart, but also biologists and linguists. The bird that had entranced Mozart entranced Haupt as well, and in part for the same reasons. Starlings and humans are both highly social and vocal, providing an opportunity for mutual bonding and cross-species communication. Indeed, there is debate whether Mozart was influenced by his starling or vice versa. Haupt's adventure with the starling that became a companion and bond-mate prompted a classic adventure into the nature of the bird, music, and Mozart's relationships. This highly readable account is a success at several levels, and is bound to become a classic."—Bernd Heinrich, author of Mind of the Raven and One Wild Bird at a Time

"Haupt's book entertainingly entwines two tales: what is both known and surmised about the life of Mozart and his pet starling, and the actual facts-of-life about living with such a creature. Both tales are engaging, and a naïve reader will learn quite a bit, whether Haupt is discussing musical history, avian behavior, or the sometimes unexpected influences they have upon each other. Someone with an already strong love of Mozart and interest in birds will come away with an even deeper appreciation of both."—Irene M. Pepperberg, PhD, research associate, Harvard University, and author of Alex & Me

"I've long been a fan of Lyanda Lynn Haupt's writing but in Mozart's Starling she wings it to another level. From the few but beguiling wisps that have come down about the pet starling that Mozart harbored for a couple of years, Haupt soars through a wide-ranging meditation on music, mimicry, language, Viennese manners and mores, avian behavior, perception of time and space, and the skein of spirit that connects humans to the creatures around them, including the much reviled starling. The rescue and rearing of her own pet starling, Carmen, by turns harrowing and hilarious, is a deeply satisfying emotional counterpoint. I came away utterly convinced that Mozart was himself starling-like in his mischievous, quicksilver, sometimes raunchy, sometimes celestial genius. This volume sent me outside with a song in my heart and a glint in my eye as I surveyed the sky for the magic Haupt conjures up on every page."—David Laskin, author of The Children's Blizzard and The Family

Praise for Crow Planet

"A completely charming and informative book on the pleasures of keeping one's eyes open."—David Sedaris

"In a lyrical narrative that blends science and conscience, Haupt mourns the encroachments of urbanization, but cherishes the wildness that survives."—Liesl Schillinger, New York Times

"With her sensitivity, careful eye and gift for language, Haupt tells her tale beautifully...immersing us in a heady hybrid of science, history, how-to and memoir."—Erika Schickel, Los Angeles Times

Praise for The Urban Bestiary

"An eloquent natural history of urban wildlife, and an insightful rumination on how the human animal has/should/might relate to what Haupt calls the 'new nature'...Many writers have been defining this new nature for at least a decade. And Haupt makes a significant contribution to that conversation."—Boston Globe

"The challenge of our time is the movement from rural villages to big cities where nature seems gone. Haupt's brilliant book restores nature in our lives and uplifts that relationship with stories full of wonder, awe and love."—David Suzuki, author of The Sacred Balance: Rediscovering Our Place in Nature
Little, Brown Spark, 9780316370905, 288pp.
Publication Date: May 15, 2018
About the Author
Lyanda Lynn Haupt has created and directed educational programs for Seattle Audubon, worked in raptor rehabilitation in Vermont, and as a seabird researcher for the Fish and Wildlife Service in the remote tropical Pacific. She is the author of Pilgrim on the Great Bird Continent and Rare Encounters with Ordinary Birds (winner of the 2002 Washington State Book Award).

Her writing has appeared in Image, Open Spaces, Wild Earth, Conservation Biology Journal, Birdwatcher's Digest, and the Prairie Naturalist. She lives in West Seattle with her husband and daughter.