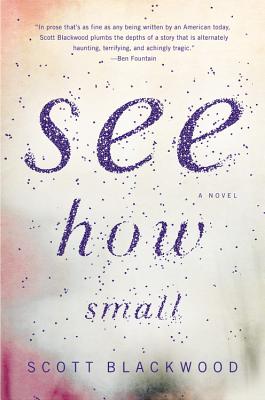 See How Small (Hardcover)
A Novel
Little, Brown and Company, 9780316373807, 224pp.
Publication Date: January 20, 2015
Other Editions of This Title:
Digital Audiobook (1/19/2015)
Paperback (9/15/2015)
Pre-Recorded Audio Player (1/20/2015)
* Individual store prices may vary.
Description
A riveting novel about the aftermath of a brutal murder of three teenage girls, written in incantatory prose "that's as fine as any being written by an American author today." (Ben Fountain)

One late autumn evening in a Texas town, two strangers walk into an ice cream shop shortly before closing time. They bind up the three teenage girls who are working the counter, set fire to the shop, and disappear. SEE HOW SMALL tells the stories of the survivors--family, witnesses, and suspects--who must endure in the wake of atrocity. Justice remains elusive in their world, human connection tenuous.

Hovering above the aftermath of their deaths are the three girls. They watch over the town and make occasional visitations, trying to connect with and prod to life those they left behind. "See how small a thing it is that keeps us apart," they say. A master of compression and lyrical precision, Scott Blackwood has surpassed himself with this haunting, beautiful, and enormously powerful new novel.
About the Author
Scott Blackwood is the author of two previous books of fiction, In the Shadow of Our House and We Agreed to Meet Just Here, and the recipient of a Whiting Writers' Award. He's also the author of The Rise and Fall of Paramount Records, a book of narrative nonfiction. A long-time resident of Austin, Texas, Blackwood now lives in Chicago and teaches fiction writing in the MFA program at Southern Illinois University.
Praise For See How Small: A Novel…
"A genre-defying novel of powerful emotion, intrigue, and truth.... Reminiscent of Alice Sebold's The Lovely Bones and based on a similar, still-unsolved 1991 case in Austin, Tex., Blackwood explores the effects of senseless crime on an innocent, tightly knit community, using deft prose to mine the essence of human grief and compassion."—Publishers Weekly (starred)

"Horrible deaths of the innocent, and the various means and tactics by which the living manage to go on in the aftermath of unsolved horror, form the heart of Scott Blackwood's haunted and haunting novel, See How Small. His prose is crisp and his narrative approach is fresh and inventive, calmly pushing forward, with characters rendered so convincingly you think about sending cards of condolence or calling with advice on the investigation."—Daniel Woodrell, author of Winter's Bone and The Maid's Version

"See How Small is superb. In prose that's as fine as any being written today, Scott Blackwood plumbs the depths of a story that is alternately haunting, terrifying, and achingly tragic. Blackwood illuminates the human condition even as he breaks our hearts."—Ben Fountain, author of Billy Lynn's Long Halftime Walk

"Scott Blackwood is a wizard, and in See How Small he puts his skills to dazzling use as he anatomizes a town and a crime. Best of all is the deep empathy he brings to his characters, innocent and guilty, wise and confused; all of them are given the grace of his understanding. A vivid and astonishing novel."—Margot Livesey, author of The Flight of Gemma Hardy

"See How Small is the sort of book that is so good, it's difficult to even talk about it. You want to just place it in people's hands and say, 'Shhhhhhh, just slow down and read this.' Blackwood takes the most devastating story imaginable and lifts it-heart and soul-into something transcendent."—Peter Orner

"Similar...to Alice Sebold's The Lovely Bones, this lyrical, abstract, and less sentimental novel by Blackwood...may haunt literary fiction readers long after the unsettling ending."—Library Journal

"The novel has much to say about the mysteries of the human psyche, the far-reaching effects of violence, and the disparate ways grief works on people."—Booklist

"Emotionally layered."—Chicago Magazine

"A brilliant, heartbreaking meditation on grief, parenthood and time.... [G]rounded by piercing details and a palpable sense of place.... This novel is surreal, emotional and nuanced."—Adam Morgan, BookPage

"A rich tapestry of human failing and hopeful striving."—Shelf Awareness

"Mesmerizing.... In lyrical, often dreamlike prose, Blackwood illuminates the nature of grief and the connections among the living and the dead."—Kim Hubbard, People

"Compassionately examines the fragile psyches of the individuals left behind in the haunting wake of murder. Instead of a decisive close to a horrific crime, there is only remembrance; and in the case of this thought-provoking novel, remembrance fused with literary invention and at times even grace."—S. Kirk Walsh, New York Times

"Fans of HBO's The Leftovers may find this book appealing, because both offer grim looks at the aftermath of life-altering events."—Megan McLachlan, Pittsburgh Post-Gazette

"[A] slender, elegiac novel.... [that] traces the lingering tendrils of a small-town tragedy."—Tricia Springstubb, Cleveland Plain Dealer

"Small things keep us apart, and sometimes those same small things keep us together, at least whenever that's possible. It's a kind of paradox that Blackwood explores with compassionate eyes, beautifully poetic writing and artistic fearlessness. See How Small is a brutal, necessary and near perfect novel."—Michael Schaub, NPR's Best Books of 2015

"Strikingly creepy.... Blackwood is an excellent stylist."—Kirkus

"Blackwood's novel is short in length but expansive in ambition, capturing the ways in which characters scarred by the crime react to having their lives torn apart.... It achieves something significant by conferring dignity to the victims: the girls whose lives were cut decades short and the families who were left behind to stumble in the aftermath."—Sean Kinch, Chapter16

"In this radiant retelling, rather than connecting the dots...the author trains his brilliant microscope on each one, enabling us instead to glimpse infinite possibilities."—Gina Webb, Atlanta Journal Constitution

"Lyrical and elegiac."—Amy Gentry, Chicago Tribune

"Through rapid-fire chapters...Blackwood explores the ways we use story and memory to help ourselves cope with devastating loss and trauma.... Throughout this stirring narrative sweep constant fires.... A powerful telling."—David Duhr, Dallas Morning News

SEE HOW SMALL

"The greatest novels are somehow more than just novels. They challenge their readers and ferry them through madness toward unknown and undiscovered places.... See How Small is just such a book.... With beautiful language and sometimes surreal passages, [Blackwood] delves into the various characters connected to the deaths of the young women.... A tour de force. It is both epic and intimate."—William Jensen, Texas Books in Review

"A thoughtful portrait of a grieving town."—Joumana Khatib, New York Times Book Review
or
Not Currently Available for Direct Purchase