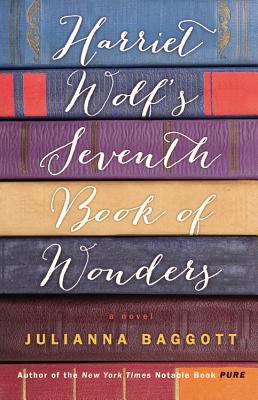 Harriet Wolf's Seventh Book of Wonders
A Novel
Hardcover

* Individual store prices may vary.
Other Editions of This Title:
Digital Audiobook (8/17/2015)
Compact Disc (8/18/2015)
Compact Disc (8/18/2015)
Library Binding, Large Print (1/1/2016)
Description
"A mesmerizing tale of star-crossed love and of the dark secrets in a fracturing family . . . This novel is so full of wonders that it leaves you haunted, amazed, and, like every great read, irrevocably changed." -- Caroline Leavitt, New York Times bestselling author of Pictures of You

The reclusive Harriet Wolf, revered author and family matriarch, has a final confession: a love story. Years after her death, as her family comes together one last time, the mystery of Harriet's life hangs in the balance. Does the truth lie in the rumored final book of the series that made Harriet a world-famous writer, or will her final confession be lost forever?

Harriet Wolf's Seventh Book of Wonders tells the moving story of the unforgettable Wolf women in four distinct voices: the mysterious Harriet, who, until now, has never revealed the secrets of her past; her fiery, overprotective daughter, Eleanor; and her two grown granddaughters -- Tilton, the fragile yet exuberant younger sister, who's become a housebound hermit, and Ruth, the older sister, who ran away at sixteen and never looked back.

When Eleanor is hospitalized, Ruth decides it's time to do right by a pact she made with Tilton long ago: to return home and save her sister. Meanwhile, Harriet whispers her true life story to the reader. It's a story that spans the entire twentieth century and is filled with mobsters, outcasts, a lonesome lion, and a home for wayward women. It's also a tribute to her lifelong love of the boy she met at the Maryland School for Feeble-minded Children.

Harriet Wolf's Seventh Book of Wonders, Julianna Baggott's most sweeping and mesmerizing novel yet, offers a profound meditation on motherhood and sisterhood, as well as on the central importance of stories. It is a novel that affords its characters that rare chance we all long for -- the chance to reimagine the stories of our lives while there's still time.
Praise For Harriet Wolf's Seventh Book of Wonders: A Novel…
"Family secrets make for ripe hunting grounds for novelists. In this evocative book, those secrets hide mystery after mystery, like a set of Russian nesting dolls . . . Baggott switches narrative perspective among the Wolf women as they struggle with their individual issues, and you'll grow to care for them all. No spoilers, but we'll say this: Baggott knows how and when to reveal answers for the ultimate emotional punch."—Entertainment Weekly

"Many things are hidden in Julianna Baggott's intricate, tenderhearted novel about a writer, her children, and a legacy of loss . . . The narrative Baggott has built might be described as a post-and-beam structure, a framework of sturdy supports locked into place with no nails, just fine, firm dovetail joints.Within it, the four women who make up Harriet's family alternately tell their stories, giving us a variety of perspectives on her 'gappy grasp of the world" . . . As distinctively twisted as these characters' lives are, they still touch our own in ways that can be unexpectedly playful . . . By the end of Harriet Wolf's Seventh Book of Wonders, much comes out of hiding. Healing cascades down the generations. Harriet's 'truthful kind of lie' turns out to be a gift to her daughter [Eleanor] . . . Eleanor and her daughters will all find a new ending to their story, and remind Baggott's readers of a gorgeous truth: 'The world is astonishing, mainly because of its persistence.'"
—Dominique Browning, New York Times Book Review

"[Recent] mania for literary treasures provides the perfect moment for Julianna Baggott's new novel, Harriet Wolf's Seventh Book of Wonders. In a daring bit of whimsy, Baggott has imagined what it would be like to have written a phenomenally popular series, a collection of novels that everyone has read....the chapters narrated in Tilton's fairy-like voice are the novel's most interesting and creative. Baggott conveys her fragmentary understanding of what's happening as she responds to the literal meaning of everything anyone says to her. This is easy to get wrong; the risk of mocking a young woman with special needs is high here, but Baggott captures Tilton's oddness and charm with real affection. Hearing her internal voice, we can tell that she enjoys a rich imagination, seeded long ago be her famous grandmother....As a novel about learning to love and forgive, Harriet Wolf's Seventh Book of Wonders offers some sweet moments of reconciliation."—Ron Charles, Washington Post

"Some novels are a lot bigger inside than out. Case in point: Harriet Wolf's Seventh Book of Wonders....[which] signals a quantum leap....It took Baggott eighteen years to write, and that's believable. This sprawling tale covers the entire twentieth century and multiple literary styles. It is not dense, however, and it can be enjoyed by readers who know nothing of deconstruction or semiotics....Readers will be reminded of the work of John Irving (especially Cider House Rules) with touches of F. Scott Fitzgerald....One thing is certain: Nobody will be bored." —Wilmington Star-News

"The bond between mothers and daughters spans all the way down to granddaughters in The Seventh Book of Wonders. It's a beautiful tale of how secrets in a family harm us, but they can also create us, protect us, and help us to grow."—Samantha Darby, Romper (17 Books to Build a Stronger Mother-Daughter Relationship)

"Julianna Baggott can do anything with words. Anything, I tell you... Wonders is deliberately, playfully strange. It has been made scrumptious with oddities of every conceivable sort....Baggott takes the time to speak truly-about love, about books, about fame, about what it is to be alive."
—New York Journal of Book

"Julianna Baggott's devoted readers have long known that she is a genius who can do whatever she wants. But with Harriet Wolf's Seventh Book of Wonders she has somehow outdone herself. This novel, about a woman who is stuck telling and living a family story that someone else has written and whose ending has been (maybe) lost forever, reminds me of the best work by the great Steven Millhauser: brainy, self-aware, tender, full of loss, but also full of grace and wonder. This is Julianna Baggott's best book, which is one way of saying it's one of the best books you'll read this year, or any other."—Brock Clarke, author of the national bestseller An Arsonist's Guide to Writers' Homes in New England

"Dazzling and ambitious, Julianna Baggott's gorgeously written new novel explores the miracles born out of desperation of three generations of women, all set against an astounding sweep of twentieth-century history. Harriet Wolf's Seventh Book of Wonders is a mesmerizing tale of star-crossed love and of the dark secrets in a fracturing family, but it is also a profound meditation on stories themselves: how they create and trap us, how they protect us, and how, even amid great tragedy, they can sometimes make us bloom. This novel is so full of wonders that it leaves you haunted, amazed, and, like every great read, irrevocably changed."—Caroline Leavitt, New York Times bestselling author of Pictures of You

"Julianna Baggott's very winning Harriet Wolf's Seventh Book of Wonders is only incidentally about a lost masterpiece, a marriage bound by string, and a lunatic literary family. Dig deeper and it's about mothers and daughters and the conflicts and compromises that amount to love."—Joshua Ferris, Man Booker Prize finalist for To Rise Again at a Decent Hour

"Julianna Baggott's richly imagined new novel is filled with laughter and heartbreak, and--most wonderfully--with the bright, pained release of stories, which flutter from these pages like living birds."—Elizabeth Graver, author of The End of the Point, long-listed for the 2013 National Book Award

"All stories worth telling are love stories, a character says in Harriet Wolf's Seventh Book of Wonders. This novel about a famous writer's lost manuscript, the complex legacy of family secrets, and--yes--a love story that unfolds across generations is inventive, playful, and deeply affecting."
—Christina Baker Kline, #1 New York Times bestselling author of Orphan Train

"An utterly original tale told in four distinct voices, Harriet Wolff's Seventh Book of Wonders is an exhilarating melange of heartrending loss, hilarity, and enchantment. Julianna Baggott has indeed created a book of wonders."—Mira Bartok, author of National Book Critics Circle Award winner and New York Times bestseller The Memory Palace

"A narrative that delivers a powerful sense of the meaning of motherhood and the bonds between sisters."—Barbara Hoffert, Library Journal

"Julianna Baggott's latest novel refuses to be confined to only one genre. Harriet Wolf's Seventh Book of Wonders is a captivating multigenerational family saga, a love story, and a mystery-tinged with a bit of fantasy . . . Baggott's mesmerizing tale of the resilient ties of motherhood and the bonds between sisters will resonate with a wide variety of readers."
—Bookpage

"Moments of heartbreak balance moments of hilarity in Baggott's ambitious portrait of a family created from equal parts secrecy and love."—Kirkus

Praise for Pure:

"Pure is not just the most extraordinary coming-of-age novel I've ever read, it is also a beautiful and savage metaphorical assessment of how all of us live in this present age. This is an important book by one of our finest writers." --Robert Olen Butler, Pulitzer Prize winner

"A great gorgeous whirlwind of a novel, boundless in its imagination. You will be swept away."--Justin Cronin, New York Times bestselling author of The Passage

Praise for The Madam

"A poet has transformed a piece of history into a luminous and epic piece of literature; it's as if John Irving and Djuna Barnes had collaborated, each bringing to the page the fiery best of their various gifts, the dark and lyrical and bizarre and sexual and comical and violent and mysterious and supremely heart-breaking spectacle of wide, wild lives rendered vividly before our eyes."—Antonya Nelson

"Beautifully rendered, this story is as brave and unique and full of surprises as the madam portrayed within it."—Elizabeth Strout, winner of the Pulitzer Prize

"Few writers of the twenty-first century can rival the verve, the energy and the sheer delight in language of Julianna Baggott. Profoundly different from anything she has done before, The Madam is an extraordinary novel which will open a whole new phase of what already looks like a brilliant career."—Madison Smartt Bell

Praise for The Miss America Family

"Julianna Baggott enjoys living on the knife edge between hilarity and heartbreak and that makes her a writer after my own heart."—Richard Russo, winner of the Pulitzer Prize

Praise for Girl Talk

"For Baggott, cosmic irony is always in the details, the absurd gap between self-knowledge and behavioral excess ... [Her] brand of witty psychological observation is dark and corrosive... [she] has the knack for finding the oxymoronic in any situation."—New York Times Book Review
Little, Brown and Company, 9780316375108, 336pp.
Publication Date: August 18, 2015
About the Author
Julianna Baggott is the author of numerous novels, including Pure, which was a New York Times Notable Book in 2012. Her poems have been reprinted in Best American Poetry, and her essays have appeared in the New York Times Book Review, the Washington Post, the Boston Globe, and on NPR's All Things Considered. She teaches at the College of the Holy Cross and in Florida State University's College of Motion Picture Arts.
or
Not Currently Available for Direct Purchase