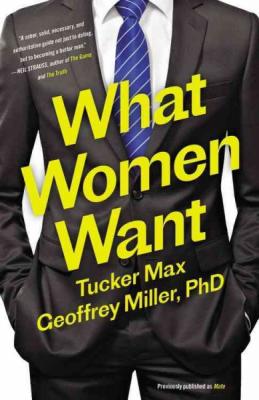 What Women Want (Paperback)
Little, Brown and Company, 9780316375337, 384pp.
Publication Date: September 6, 2016
Other Editions of This Title:
Digital Audiobook (9/14/2015)
CD-Audio (9/22/2015)
Hardcover (9/15/2015)
* Individual store prices may vary.
Description
The #1 bestselling pioneer of "fratire" and a leading evolutionary psychologist team up to create THE dating book for guys.

Whether Tucker Max and Geoffrey Miller did their research in bars or in the lab, they both got a serious look at how women view relationships. MATE uses the best science to go behind the curtain and reveal what women really want in the worlds of sex and dating. Based on breakthroughs in evolutionary psychology, sexuality, behavior genetics, and animal communication, MATE is the book for guys whether they are looking to hook up or find and keep the one.

MATE pulls from hundreds of studies to show what really works on the dating scene. From revealing attractive traits to suggesting strategies for choosing careers with the best mating markets, MATE is an evidence-based, seriously funny playbook for becoming as sexually attractive and romantically successful as possible.
About the Author
Tucker Max is the author of I Hope They Serve Beer In Hell, which was a #1 New York Times bestseller and has over 2 million copies in print worldwide, and Assholes Finish First and Hilarity Ensues, which both have over a million copies in print worldwide.

Geoffrey Miller, Ph.D., is a tenured professor of evolutionary psychology at University of New Mexico, and the author of The Mating Mind and Spent.


Praise For What Women Want…
"Every single page has interesting information. A great resource."—Dr. Drew Pinsky, host of the Loveline radio show and Dr. Drew On Call on HLN

"The most unexpected book of the year: World-famous evolutionary psychologist meets world-famous drunken asshole. The result: A sober, solid, necessary, and authoritative guide not just to dating, but to becoming a better man."—Neil Strauss, author of New York Times bestseller The Game and The Truth

"I wish I could teleport a copy of Mate back in time and give it to my 13-year-old self, and then instruct him to read it once a year for the next decade."—Jake Seliger, author and founder of The Story's Story

"From the very beginning, this book plays it straight. It's about becoming a better person and creating positive, fulfilling relationships. This isn't a book with a predatory, pickup artist mindset."—Aubrey Marcus, founder of Onnit Fitness and the Aubrey Marcus Podcast

"A fascinating look at mating and dating from the perspective of a guy who gained fame for doing the former.... Miller's academic influence gives it some much needed credibility."—Adam Kovac, AskMen.com