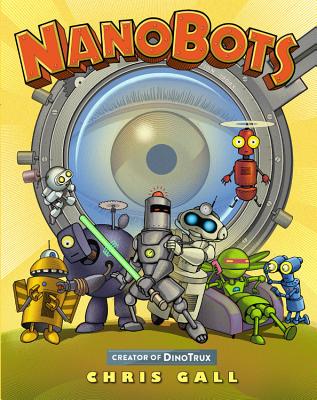 NanoBots (Hardcover)
Little, Brown Books for Young Readers, 9780316375528, 40pp.
Publication Date: August 23, 2016
* Individual store prices may vary.
Description
Introducing a team of robots powerful enough to change the world--and yet smaller than the dot at the end of this sentence!
A boy inventor creates the ultimate in high-tech superheroes that could one day save the world--but they have some smaller problems to take on first! NanoBots are tiny. They're almost too small to see, but they can each do a unique and important job: Medibot makes sure their Inventor never catches a cold.... Chewbots gobble up that gum the Inventor trampled into the carpet... Binobot scans the scene of a crime for clues the Inventor could never see... and Seekerbots explore to meet microscopic new creatures.
These bots and their high-tech friends sure make the inventor's life easier, but when the most AWESOME robot in town is in real trouble, they must band together and prove that sometimes the SMALLEST helpers can be the BIGGEST heroes! Includes fun facts about real nanotechnology in the backmatter.
About the Author
Chris Gall is the award-winning author and illustrator of Dinotrux, a Publishers Weekly Best Children's Book which inspired a Netflix original TV series, and the other books in the series, including Dinotrux Dig the Beach and Revenge of the Dinotrux. His other picture books include Dog vs. Cat, Awesome Dawson, Substitute Creacher, and America the Beautiful, another Publisher's Weekly Best Children's Book. He lives in Tucson, Arizona.
Praise For NanoBots…
Praise for Nanobots:
A 2017 Children's Choice Book Awards Finalist
*"Gall leads fans of his
Dinotrux
(2009) into microscopic realms....[A] rousing robo-romp."—
Booklist, starred review
*"Exploding with energy and humor...a pleasing amalgamation of imagination, STEM concepts, and superhero-style storytelling perfect for group reads and small group sharing."—
School Library Journal, starred review

"Action oriented with a sci-fi feel, this will have robot-obsessed readers clamoring for more."—
Kirkus ReviewsPraise for Dinotrux Dig the Beach:
"Children will love seeing their own seaside activities... carried out by the Dinotrux.... Fans of the earlier books will want to accompany the Dinotrux on this beach adventure."
—
School Library Journal
"A masterful combination of childish enthusiasm and rough, tough machines.... sure to have listeners in stitches and looking for more dino fun. Readers won't want to wait to find out where the Dinotrux will go next."—
Kirkus Reviews
Praise for Revenge of the Dinotrux:
* "Gall's dinosaur/machine mash-ups are, once again, the star of the show, commanding attention (and generating laughs) in every action-filled, rust-toned scene."—
Publishers Weekly, starred review
"Young fans of all things big and noisy will make trax for this dynamic dino-diversion."
—
Kirkus ReviewsPraise for
Dinotrux
:
* "Comically overheated narration... fire-roasted settings and hilariously
imagined creatures."—
Publisher's Weekly, starred review
*
"This title will be hard to keep on the shelves."—
School Library Journal, starred review
*
"Dinotrux ruled their world, now they're likely to rule this one too.
Bellow on!"—
Kirkus Reviews, starred review