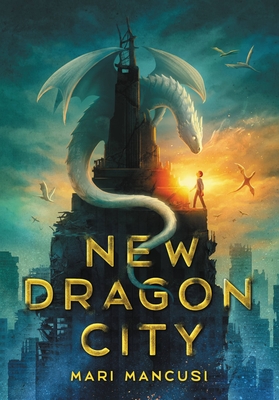 New Dragon City
Hardcover

* Individual store prices may vary.
Other Editions of This Title:
Digital Audiobook (10/3/2022)
Compact Disc (10/4/2022)
MP3 CD (10/4/2022)
Description
Set off on a high-stakes, action-packed adventure in this story about friendship, survival, and fighting for ones you love, perfect for fans of Wings of Fire and How to Train Your Dragon. 
No one predicted the dragon apocalypse. The dragons came suddenly and decimated the world as we knew it, including New York City. Now, three years later, Noah, his hardcore survivalist father, and a ragtag group of survivors are barely scraping by in this new reality. Kids scavenge not only for materials in abandoned homes but also for leftover books at the library. Adults spend their time establishing a make-shift society and defending their shelter... with any means available. At least for the few months the dragons are hibernating, until it's no longer safe aboveground.
Noah has seen the damage these creatures can do firsthand. When it comes to dragons: It's kill or be killed. But a chance encounter between Noah and a young dragon causes him to question everything he thought he knew. With rumors spreading that there's a group of survivors living in harmony with dragons instead of hiding underground, Noah teams up with his fire-breathing ally to find out if peace between humans and dragons is really possible. But the division runs deeper than scales versus skin because trying to follow his heart might just cost Noah his family too. If Noah and his father can't see eye to eye, can he really get humans and dragons to?  
Praise For New Dragon City…
"An entertaining, flashy novel centering family and interspecies friendship."—Publishers Weekly

"This fast-paced adventure provides an inventive take on the postapocalyptic novel…New Dragon City shows that things are not always what they seem."—Booklist

"A heartwarming, hopeful dragon-filled journey through family life and the importance of finding common ground."—Kirkus

Praise for Dragon Ops: "Even reluctant readers are likely to find something to keep them engaged... A fun, fast-paced read for video game fans, adventurers, and fantasy readers. Highly recommended."—School Library Journal

"With this adventure, Mancusi (Geeks and the Holy Grail) employs common gaming tropes, interweaving fantasy and mundane elements to create a world that feels familiar and yet enjoyably dangerous. The concepts–rogue AIs, theme parks gone haywire–may be well visited, but Mancusi successfully delivers a sense of urgency to her entertaining tale."—Publishers Weekly

Praise for The Once and Future Geek:

"A highly imaginative twist on the legend of King Arthur, complete with time travel, programming, and fierce friendships, The Camelot Code is the perfect pick for tweens who love medieval lore and geek culture in equal measure!"—Christina Soontornvat, author of The Changelings series

"Dashes of romance, bullying, social anxiety, family stresses, commentary on middle school social structure, and bits of history and Arthurian lore all combine to create a thought-provoking adventure story... Blending elements of several genres, this story will be appealing to many different types of readers."—School Library Journal

"Parents of gamers, Austin author Mari Mancusi's newest may just lure your screenager away from the headset...It's a twisty, fast-paced adventure that melds the real-life consequences of Jumanji with a mashup of the best medieval and high-tech details."—The Austin American-Statesman
Little, Brown Books for Young Readers, 9780316376686, 352pp.
Publication Date: October 4, 2022
About the Author
Mari Mancusi always wanted a dragon as a pet. Unfortunately, the fire insurance premiums proved a bit too large and her house a bit too small, so she chose to write about them instead. As a former Emmy Award-winning TV news producer, she now works as a full-time author, having published over two dozen books for kids, teens, and adults. When not writing, Mari enjoys traveling, cosplay, watching cheesy (and scary) horror movies, and playing video games. A graduate of Boston University, she lives in Austin, Texas, with her husband, Jacob, daughter, Avalon, and their two dogs.