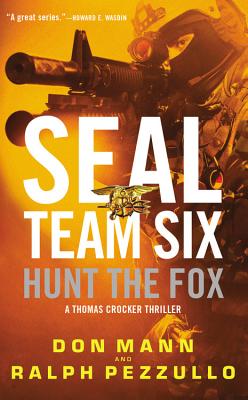 SEAL Team Six (Mass Market)
Hunt the Fox (A Thomas Crocker Thriller #5)
Mulholland Books, 9780316377515, 336pp.
Publication Date: March 29, 2016
Other Editions of This Title:
Digital Audiobook (5/21/2018)
Digital Audiobook (5/12/2014)
Digital Audiobook (6/25/2012)
Digital Audiobook (5/11/2015)
Hardcover (8/13/2019)
Mass Market (4/30/2019)
Mass Market (10/28/2014)
Hardcover (5/22/2018)
Compact Disc (8/13/2019)
Hardcover (5/12/2015)
Mass Market (11/20/2012)
Hardcover (6/26/2012)
CD-Audio (11/20/2012)
CD-Audio (6/26/2012)
Compact Disc (8/13/2019)
Mass Market (8/25/2020)
Pre-Recorded Audio Player (6/26/2012)
* Individual store prices may vary.
Description
In war-torn Syria, the heroes of the SEAL Team Six series defuse an ISIS warlord's explosive plot.

On the way to a meeting with a CIA source in Istanbul, Chief Warrant Officer Crocker noticed he's being tailed. He suspects the men tracking his movements are members of Syria's intelligence agency, the Mukhabarat - their presence a sign of the region's increasing volatility.

Syria's government is unraveling, with ISIS dangerously in the mix. Mohammad al-Kazaz, aka the Fox, leads the most threatening of the ISIS factions. The Fox has obtained a shipment of chemical weapons that would bring devastation to an already crumbling region. Crocker and his squad must set off deep into enemy territory with limited intel, no chance of rescue, and only one shot at saving thousands of lives.
About the Author
Don Mann (CWO3, USN) is the author of the national bestseller Inside SEAL Team Six and a former Navy SEAL. He lives in Virginia.

Ralph Pezzullo is a New York Times bestselling author and award-winning playwright, screenwriter and journalist. His books include Jawbreaker (with CIA operative Gary Berntsen) and Zero Footprint (with military contractor Simon Chase).
Praise For SEAL Team Six: Hunt the Fox (A Thomas Crocker Thriller #5)…
PRAISE FOR THE SEAL TEAM SIX SERIES:
The pace is relentless, and the inside knowledge of how the SEALs operate again gives this series its appeal. . . . For action fans, Crocker continues to deliver."
—
Booklist
"Pulse-pounding reads filled with the kind of knowing, immersive detail that can only come from someone with real-life experience in the field. A great series."—
Howard E. Wasdin, New York Times best-selling author of SEAL Team Six: Memoirs of an Elite Navy SEAL Sniper
"A riveting and accurate description of how special operations units actually conduct counterterrorist operations in the field. . . . If you are interested in reading a suspenseful, action-filled novel written by the 'real deal' instead of some amateur wanna-be, pick up this book, or any of those in the SEAL Team Six series."—
James Blount, former supervisor at the Central Intelligence Agency
or
Not Currently Available for Direct Purchase