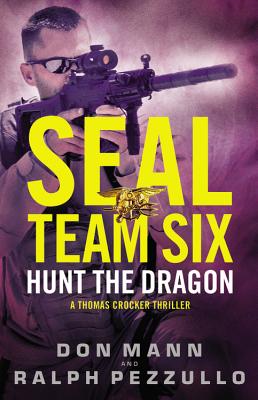 SEAL Team Six (Hardcover)
Hunt the Dragon (A Thomas Crocker Thriller #6)
Mulholland Books, 9780316377539, 304pp.
Publication Date: May 17, 2016
Other Editions of This Title:
Digital Audiobook (5/16/2016)
* Individual store prices may vary.
Description
The North Korean government is days away from realizing its nuclear ambitions and only the heroes of SEAL Team Six can stop it.
Chief Warrant Officer Thomas Crocker of SEAL Team Six's Black Cell is in Las Vegas after conducting a training exercise in the desert with new members of the team. Lounging by the pool at Caesar's Palace, he witnesses an argument between hotel security guards and three Asian men in corporate attire that quickly turns physical. Giving chase, he soon corners the businessmen, who claim to be Chinese diplomats under the protection of diplomatic immunity. Except the men don't respond when the head of hotel security--Crocker's old friend--addresses them in Mandarin.
That night, someone hacks into the Nevada Power Company system, and Las Vegas goes completely dark. The businessmen set their hotel suite on fire and escape amidst the chaos. At the same time, James Dawkins, a brilliant scientist with top-secret clearance, disappears from a conference in Geneva and wakes to find himself in a North Korean bunker with instructions to solve an engineering problem that will enable North Korea to launch nuclear attacks on its enemies worldwide.
Chasing a trail of evidence that takes them from U.S. soil to international waters to China and North Korea, Crocker and the rest of SEAL Team Six find themselves in the middle of an international plot with dangerous geopolitical ramifications. The North Korean government will stop at nothing to realize its long-held nuclear ambitions--but it'll have to get through some of America's most highly trained warriors first.
About the Author
Don Mann (CWO3, USN) is the author of the national bestseller Inside SEAL Team Six and a former Navy SEAL. He lives in Virginia.
Ralph Pezzullo is a New York Times bestselling author and award-winning playwright, screenwriter and journalist. His books include Jawbreaker (with CIA operative Gary Berntsen) and Zero Footprint (with military contractor Simon Chase).
Praise For SEAL Team Six: Hunt the Dragon (A Thomas Crocker Thriller #6)…
"The authors gives nuance and depth to Crocker's character . . . The conclusion is satisfying, with Crocker going entertainingly superhuman. . . . For the Tom Clancy/Dale Brown genre fan, Mann and Pezzullo provide enough excitement to while away a weekend."—
Kirkus Reviews
PRAISE FOR THE SEAL TEAM SIX SERIES:
"The pace is relentless, and the inside knowledge of how the SEALs operate again gives this series its appeal. . . . For action fans, Crocker continues to deliver."
—
Jeff Ayers
,
Booklist
"Pulse-pounding reads filled with the kind of knowing, immersive detail that can only come from someone with real-life experience in the field. A great series."—
Howard E. Wasdin
,
New York Times best-selling author of SEAL Team Six: Memoirs of an Elite Navy SEAL Sniper
"A riveting and accurate description of how special operations units actually conduct counterterrorist operations in the field. . . . If you are interested in reading a suspenseful, action-filled novel written by the 'real deal' instead of some amateur wanna-be, pick up this book, or any of those in the SEAL Team Six series."—
James Blount, former supervisor at the Central Intelligence Agency
or
Not Currently Available for Direct Purchase