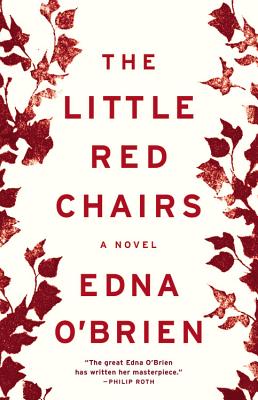 The Little Red Chairs (Hardcover)
Little, Brown and Company, 9780316378239, 320pp.
Publication Date: March 29, 2016
Other Editions of This Title:
Digital Audiobook (3/28/2016)
Paperback (12/6/2016)
Compact Disc (3/29/2016)
Library Binding, Large Print (10/1/2016)
Compact Disc (3/29/2016)
Pre-Recorded Audio Player (5/1/2016)
* Individual store prices may vary.
Description
A fiercely beautiful novel about one woman's struggle to reclaim a life shattered by betrayal from the 2018 winner of the PEN/Nabokov Award for Achievement in International Literature.

One night, in the dead of winter, a mysterious stranger arrives in the small Irish town of Cloonoila. Broodingly handsome, worldly, and charismatic, Dr. Vladimir Dragan is a poet, a self-proclaimed holistic healer, and a welcome disruption to the monotony of village life. Before long, the beautiful black-haired Fidelma McBride falls under his spell and, defying the shackles of wedlock and convention, turns to him to cure her of her deepest pains.

Then, one morning, the illusion is abruptly shattered. While en route to pay tribute at Yeats's grave, Dr. Vlad is arrested and revealed to be a notorious war criminal and mass murderer. The Cloonoila community is devastated by this revelation, and no one more than Fidelma, who is made to pay for her deviance and desire. In disgrace and utterly alone, she embarks on a journey that will bring both profound hardship and, ultimately, the prospect of redemption.

Moving from Ireland to London and then to The Hague, The Little Red Chairs is Edna O'Brien's first novel in ten years -- a vivid and unflinching exploration of humanity's capacity for evil and artifice as well as the bravest kind of love.
About the Author
Edna O'Brien is the author of The Country Girls trilogy, The Light of Evening, The Love Object, and many other acclaimed books. Born and raised in the west of Ireland, O'Brien has lived in London for many years.
Praise For The Little Red Chairs…
"A remarkable novel.... Extraordinary and unsettling."
—
James Wood, New Yorker
"[An] extraordinary articulation of the lingering effects of trauma.... In the end, what leaves one in humbled awe of
The Little Red Chairs
is O'Brien's dexterity, her ability to shift without warning - like life - from romance to horror, from hamlet to hell, from war crimes tribunal to midsummer night's dream. And through it all, she embeds the most perplexing moral challenge ever conceived.... At a time when our best writers are such delightfully showy stylists, O'Brien...practices a darker, more subtle magic. Surprise and transformation lurk in even the smallest details, the most ordinary moments."—
Ron Charles, Washington Post
"Boldly imagined and harrowing.... Here, in addition to O'Brien's celebrated gifts of lyricism and mimetic precision, is a new, unsettling fabulist vision that suggests Kafka more than Joyce....A work of meditation and penance."—
Joyce Carol Oates, New York Times Book Review, "Editors' Choice"
"O'Brien achieves a tone at once mythical and contemporary, archetypal and particularized, and does wonderful things with voice and tense....
The Little Red Chairs
has much to recommend it: beautiful writing, immense ambition, a vivid cast of supporting characters, and a rigorous humanitarian ethos."—
Priscilla Gilman, Boston Globe
"The great Edna O'Brien has written her masterpiece."
—
Philip Roth
"One of [O'Brien's] best and most ambitious novels yet.
The Little Red Chairs
is personal and political; charming and grotesque; a novel of manners and a novel of monsters.... O'Brien's undiminished gifts as a storyteller draw us in and then awaken us to the limits of our own blinkered vision, the fragility of our own safe havens."—
Maureen Corrigan, NPR
"
The Little Red Chairs
is a daring invention set at the bloody crossroads where worlds collide: savage, tender and true."—
John Banville
"Edna O'Brien is both brilliant and brave. This book astonished me."
—
Ann Patchett
"Reading
The Little Red Chairs
reaffirms a belief I've held since I first read Ms. O'Brien's work: She is, quite simply, a master."—
Kevin Powers
"Edna O'Brien's
The Little Red Chairs
is a gem of a novel, a text to treasure."—
Nuruddin Farah
"A memorable work of art for our unsettled times.... [O'Brien's] prose is as lyrically arresting as ever, her vision as astute, and as delicate.
The Little Red Chairs
is notable for its interweaving of the near-mythical and the urgent present, and for its unflinching exploration of the complex and lasting effects of human brutality.... At once arduous and beautiful,
The Little Red Chairs
marries myth and fact in a new form that journeys, as we do now, from Cloonoila to The Hague, from fairy­tale to contemporary
agon
."—
Claire Messud, Financial Times
"Provocative, moving, masterly.... O'Brien has a way of hypnotizing the reader."
—
Fiona Wilson, Times (UK)
"A spectacular piece of work, massive and ferocious and far-reaching.... Holding you in its clutches from first page to last, it dares to address some of the darkest moral questions of our times while never once losing sight of the sliver of humanity at their core.... It's impossible not to be knocked out by the sly perfection of O'Brien's prose."
—
Julie Myerson, Guardian, "Best Books of 2015"
"O'Brien's writing in this rich, wrenching book can be both lyrical and hard-edged, which suits a world where pain shared or a tincture of kindness can help ease the passage from losses."
—
Kirkus Reviews (starred review)
"O'Brien retains every element of her gorgeous writing [in] her new novel.... Dark fairy-tale threads give the story a magic-realism effect, but ultimately...the author's twenty fourth book is starkly realistic. O'Brien speaks to contemporary political violence in a suitably audible voice."
—
Brad Hooper, Booklist (starred review)
"Slyly terrifying."
—
Vogue
"Intoxicating.... O'Brien takes up her signature themes--close-knit communities, love and hate for the homeland, the plight of women, loss and desire, victimhood, romantic love--and casts their compassionate reach far beyond Ireland.... [
The Little Red Chairs
] asks the kinds of questions only a novel could dare; like a great novel must, it leaves many of them unanswered."
—
Kseniya Melnik, O Magazine
"A tour de force on the atrocities we humans commit and fall prey to, as well as an exploration of suffering and the curative power of story."
—
Natalie Serber, San Francisco Chronicle
"Brilliant"
—
Kate Mulgrew
"Powerful.... With her inimitable storytelling genius, O'Brien explores the nature of evil."
—
Jane Ciabattari, BBC
"This 18th novel from O'Brien delivers noble truths as well as atrocities.... [Her] mastery of symbolism and natural description remain unmatched in modern fiction."
—
John G. Matthews, Library Journal (starred review)
"[This] may be the fiercest work of [O'Brien's] estimable career."
—
Robert Weibezahl, BookPage
"O'Brien captures an extraordinary and almost holy innerness in each of her characters, however minor, and then plants those characters amidst the terrible velocity, the terrible pull of world events. O'Brien is truly at her best when she describes the private corners of minds, those quiet and wild corners, our meditative and our inspired selves, the self that Virginia Woolf called 'a wedge-shaped core of darkness, something invisible to others.'"
—
Annalisa Quinn, NPR
"One of those cases where the tidal wave of hype is justified.... A book you are a bit better for having read, and how many novels can you say that about anymore?"
—
Alex Balk, Awl
"A tense page turner and a timely one."
—
Billy Heller, New York Post
"A capacious novel full of exquisitely rendered miniatures.... O'Brien has long been recognized as a gifted short story writer and here she employs her gift for closely observed moments in the service of a novel that is deeply intimate but global in its vision."
—
Tom Beer, Newsday
"O'Brien is a masterful stylist, and her descriptions of the natural world, especially the countryside around Cloonoila, are striking in their precision and beauty."
—
Norah Piehl, Bookreporter
"Engrossing, beautifully written, and offers the reader much to think about.... O'Brien is a superb storyteller."
—
Corinna Lothar, Washington Times
"O'Brien has done more than many governments by giving voice to the dispossessed in this novel of remembrance."
—
Susan Balee, Pittsburgh Post-Gazette
"Unashamedly rich and thrilling to read.... It's breathtaking, a fusion of joy, loss and brutality."
—
Ron Rosenbaum, Smithsonian Magazine
"A brilliant pastiche of voices, tenses, perspectives."
—
Catherine Holmes, Post and Courier
"It's hard to believe that an 85-year-old can still write books big in size and scope with such vitality, grace and precision, but that's exactly what O'Brien does..... [She] has created characters so multifaceted and vivid that they don't become stereotypical as this masterwork evolves from love story into engaging political novel about real-world tyrants."—
Joseph Peschel, Raleigh News and Observer
Coverage from NPR
or
Not Currently Available for Direct Purchase