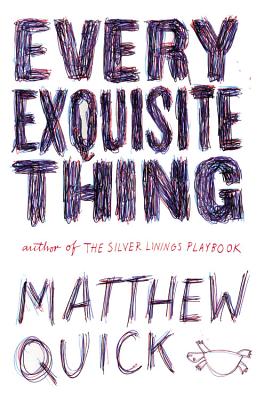 Every Exquisite Thing (Hardcover)
Little, Brown Books for Young Readers, 9780316379595, 272pp.
Publication Date: May 31, 2016
Other Editions of This Title:
Digital Audiobook (5/30/2016)
Compact Disc (5/10/2016)
CD-Audio (5/31/2016)
* Individual store prices may vary.
Description
Nanette O'Hare is an unassuming teen who has played the role of dutiful daughter, hardworking student, and star athlete for as long as she can remember. But when a beloved teacher gives her his worn copy of The Bubblegum Reaper--a mysterious, out-of-print cult classic--the rebel within Nanette awakens.

As she befriends the reclusive author, falls in love with a young but troubled poet, and attempts to insert her true self into the world with wild abandon, Nanette learns the hard way that rebellion sometimes comes at a high price.

A celebration of the self and the formidable power of story, Every Exquisite Thing is Matthew Quick at his finest.

About the Author
Matthew Quick (aka Q) is the New York Times bestselling author of The Silver Linings Playbook, The Good Luck of Right Now, and three young adult novels, Sorta Like a Rock Star, Boy21, and Forgive Me, Leonard Peacock. His work has been translated into thirty languages, and has received a PEN/Hemingway Award Honorable Mention. The Weinstein Company and David O. Russell adapted The Silver Linings Playbook into an Academy Award winning film. Q lives in North Carolina with his wife, novelist/pianist Alicia Besette. His website is matthewquickwriter.com.
Praise For Every Exquisite Thing…
"Every Exquisite Thing lives up to the hype...You're going to wish you could follow Quick's awesome heroine Nanette for another 500 pages or so when you get to the end."—Bustle.com

* "The author's beautifully written first-person narrative captures the thoughts and feelings of a sensitive eighteen-year-old girl struggling against the shallowness she sees around her....All of the elements of this novel work together to make this an outstanding coming-of-age story."—VOYA, starred review

* "Quick continues to excel at writing thought-provoking stories about nonconformity.... [and] paints a compelling portrait of a sympathetic teenager going through the trial-and-error process of growing up."—Publishers Weekly, starred review

* "Like the many anticonformity books before it, this will find a dedicated audience among teen readers."—School Library Journal, starred review

"Quick's story will speak to teenage eccentrics: loners, rebels, and creative types; the kind to follow Booker's suggestions to read Bukowski and Neruda; those ripe for transformation."—Horn Book

"A strong, well-written female protagonist sets this coming-of-age novel apart."—Kirkus Reviews

"Quick creates beautifully well-rounded characters, particularly Nanette, whose first-person narrative, rich with wry observations and a kaleidoscope of meaningful emotions, offers great insight into the mind of a teen on a sometimes sluggish, spiraling path toward sorting herself out."—Booklist

"[Quick] will give readers lots to chew on as they join Nanette in sorting out angst from general privileged malaise."—The Bulletin of the Center for Children's Books
Do you think Nanette would have rebelled against her lifestyle if she had not read The Bubblegum Reaper?
Nanette feels pressure and expectations from teammates, parents, and coaches to play the role of the good girl, and to receive academic/athletic scholarships for college even though she doesn't actually enjoy soccer. Booker tells Nanette, "Just because you're good at something doesn't mean you have to do it." Why is it hard for Nanette, and people in general, to "quit"? How can expectation and pressure take the joy out of something that was once enjoyable?
The idea of "weirdness" continually comes up in the book. Mr. Graves calls Nanette a fellow "cafeteria avoider" and calls them both "weirdos". Nanette describes the cover of The Bubblegum Reaper as "weird." Booker calls Nanette "weird and lonely" and he says he is too. And when Shannon uses the word "weird", it means "bad." What is it that characters like Shannon think is bad about being "weird"? What do characters like Booker and Mr. Graves think about being "weird"? How does weirdness connect to the characters in the novel who are introverts and/or people who feel isolated?
The characters in Every Exquisite Thing seem to fall into two categories: those who don't fit into conventional society and those who want to fit in. What characters do you see who don't fit in? What characters try to fit in, and how do they try?
If Nanette could magically change to be more like Shannon, and to like soccer, and to fit in better, do you think she would do it?
Nanette realizes the path she is on is not of her own choosing: "I knew I was privileged, but what good was that if I still didn't get to make my own choices?" She begins to reevaluate what she wants, but once she acts differently, she begins not only a journey of self-discovery, but also what might be considered self-sabotage. At what point does Nanette become unsure of her rebellion and the direction she's headed?
How were Nanette and Alex effected differently by reading The Bubblegum Reaper?
"Then he said the seven words that would change my life forever. 'Would you like to be my friend?'" Why did Booker want to be Nanette's friend, and write Alex letters, and play matchmaker? Was he really a recluse? What does Booker want in his life?
What do you think about Nanette's lack of female friends and confidants? How does this change when she meets June? What reservations does she still hold with June until the end of the book?
The characters who read The Bubblegum Reaper identify with a certain character. Which character did you identify with in Every Exquisite Thing? Or did you identify with more than one for different points of your life?
Do you see Nanette as a strong female character? What did you want to tell her as you were following her journey?
June tells Nanette, "Sometimes you just have to pick a direction and make mistakes." Why do you think this is so hard for Nanette to do? Why is this hard for people to do in our society in general?
Booker tells Nanette, "Far too often, people are woefully predictable", and Nanette comes to question historical traditions such as graduation ceremonies, proms, and pep rallies. Why do certain high school traditions continue? What causes people to challenge and change traditions?
What do you think about the chapter "titles"? How did they contribute to your reading experience?
In Every Exquisite Thing, a great deal of importance is placed on words and books, and the power they have to change people's lives (The Bubblegum Reaper, Alex's poetry, Pat Benatar lyrics, Scrabble, Booker's constant recommendations). How did books/words change Nanette positively or negatively throughout the book? Did you ever experience a transformative moment of receiving a book?
Booker said there's no such thing as fiction or fictional characters. Do you believe this? What does this say about how you might read Every Exquisite Thing?
Nanette experiments with a return to conformity by speaking in the 3rd person, which is supposed to help her see herself as someone else. How do you think this helped her evaluate her 1st person character? How was it reading a different point of view? Did you notice when she used the 2nd person point of view on page 261 ("I read the entire novel that evening, and if you read it, too, you'll surely see how it relates to what happened my senior year...")?
Who do you think leaves the copy of The Picture of Dorian Gray for Nanette? Why do you think he/she leaves that specific book?
There are many literary allusions to Greek tragedies, and The Catcher in the Rye, and the title even comes from The Picture of Dorian Gray: "Behind every exquisite thing that existed, there was something tragic." What do you think the "exquisite thing" is? And what is the "tragic"?
Booker says that a book gives a reader a window of time of a story and of the characters' lives, and "The story ends where it ends." What do you think of having things left unanswered in books? Are you the type of reader who wants all of the answers? How does that create and effect your group discussion?
Does an author have a responsibility to provide all of the answers in a book? What responsibility does the reader have when the author does not? How does this inform your discussion of a book?
Both of the books end with scenes of the respective protagonists floating in water. How do you feel about Nanette at the end of Every Exquisite Thing compared with how Nanette felt about Wrigley at the end of The Bubblegum Reaper?
What does Matthew Quick's dedication tell you about Nigel Booker's dedication? Is Matthew Quick hinting at the meaning of Booker's dedication?