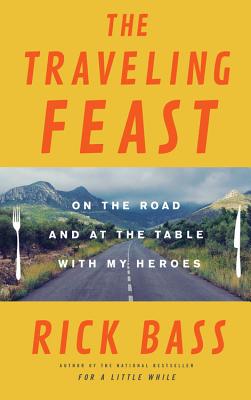 The Traveling Feast
On the Road and at the Table with My Heroes
Hardcover

* Individual store prices may vary.
Other Editions of This Title:
Digital Audiobook (6/4/2018)
Description
Acclaimed author Rick Bass decided to thank all of his writing heroes in person, one meal at a time, in this "rich smorgasbord of a memoir . . . a soul-nourishing, road-burning act of tribute" (New York Times Book Review).

From his bid to become Eudora Welty's lawn boy to the time George Plimpton offered to punch him in the nose, lineage has always been important to Rick Bass. Now at a turning point -- in his midfifties, with his long marriage dissolved and his grown daughters out of the house -- Bass strikes out on a journey of thanksgiving. His aim: to make a memorable meal for each of his mentors, to express his gratitude for the way they have shaped not only his writing but his life.

The result, an odyssey to some of America's most iconic writers, is also a record of self-transformation as Bass seeks to recapture the fire that drove him as a young man. Along the way we join in escapades involving smuggled contraband, an exploding grill, a trail of blood through Heathrow airport, an episode of dog-watching with Amy Hempel in Central Park, and a near run-in with plague-ridden prairie dogs on the way to see Lorrie Moore, as well as heartwarming and bittersweet final meals with the late Peter Matthiessen, John Berger, and Denis Johnson. Poignant, funny, and wistful, The Traveling Feast is a guide to living well and an unforgettable adventure that nourishes and renews the spirit.
Praise For The Traveling Feast: On the Road and at the Table with My Heroes…
"A culinary catharsis...The Traveling Feast serves up a rich smorgasbord of a memoir, truffled with pungent anecdote, sometimes funny, sometimes sorrowful, always savory. The melancholic power of these reunions is heightened by the reader's awareness that some of these literary lions (Peter Matthiessen, Denis Johnson, John Berger) were soon to roar their last. But there's also abundant hilarity, usually provided by Bass's mountain-man approach to the dinner table...A soul-nourishing, road-burning act of tribute."—Liesl Schillinger, New York Times Book Review

"This is a series of stories about travel and food...but it becomes more a story of life morals. Bass is collecting advice and credos from each writer in search of inspiration to move forward in his life and career...Each host's approach to life, love, nature, or time is revealed with quotes that will stick with you."—Ashley Day, USA Today

"At 55, after a divorce that left him reeling, Bass lost his hunger for art--and stopped writing. To rekindle the spark, he reached back to his roots, setting out once more to become a student...The cure took, and this soul-satisfying book is the proof."—O, The Oprah Magazine

"The Traveling Feast is by turns ruminative, hilarious and melancholy."—Jenny Shank, Dallas Morning News

"In this exuberant literary road trip, Bass takes on the role of a roving wordsmith caterer, traveling the country to visit the writers who have inspired him and thanking them by preparing them home-cooked meals...Conversation inevitably flows through a series of wonderful, sincere encounters...Bass ruminates on what makes good writing and great writers while obsessing over his multicourse gourmet feasts with nearly the same devotion to detail...The camaraderie of like-minded literary folk is infectious, and Bass's account of hauling the meat of an elk he had a shot in Montana--now thawing and bleeding through its packaging--through Heathrow airport to David Sedaris's quaint British cottage is a miniature classic. This is a rich bounty of a book."—Publishers Weekly (starred review)

"Bass's reflective, funny, and generous chronicle of culinary adventures and nourishing literary encounters will renew readers' appreciation for stories and storytellers and how literature guides us back 'to some deeper, older place.'"—Booklist (starred review)

"In his latest, fiction and nature writer Bass pens
an entertaining and love-infused gastronomical memoir...Dripping with tasty
anecdotes, literary tales, and great food, this joyful book is delightful."—Kirkus

"This stirring meditation on time, loss, and change--and gratin--tastefully blends road-trip-meets-grocery trip tales from an author's quest to cook for his literary heroes."—Shelf Awareness

PRAISE FOR RICK BASS:

"A literary titan...His world-building is beautiful, crisp, and perfect."
—New York Times Book Review

"Bass's prose is charged with a lyrical intensity rare in American fiction. The beauty of his sentences recalls the stylistic finesse of Cormac McCarthy and Willa Cather."

—Chicago Tribune

"Extravagant...Writing of this quality creates a stillness in the mind."—Time

"One of the very best writers we have."

—San Francisco Chronicle

"A master...A singular voice whose early promise continues to be an enduring gift to readers."—Boston Globe

"Durable and authentic...A writer who can both frighten and amaze."—Jim Harrison

"Both mythic and intimate...A virtuoso."—O, the Oprah Magazine

"Bass can lift a common moment into a shared experience that is universal."—Seattle Times
Little, Brown and Company, 9780316381239, 288pp.
Publication Date: June 5, 2018
About the Author
Rick Bass, the author of thirty books, won the Story Prize for his collection For a Little While and was a finalist for the National Book Critics Circle Award for his memoir Why I Came West. His work, which has appeared in The New Yorker, The Atlantic, Esquire, and The Paris Review, among many other publications, and has been anthologized numerous times in The Best American Short Stories.

He has also won multiple O. Henry Awards and Pushcart Prizes, as well as NEA and Guggenheim fellowships. Bass lives in Montana's Yaak Valley, where he is a founding board member of the Yaak Valley Forest Council.
or
Not Currently Available for Direct Purchase