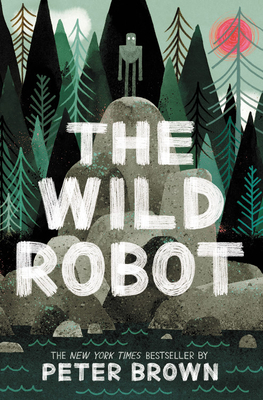 The Wild Robot
Paperback

* Individual store prices may vary.
Other Editions of This Title:
Digital Audiobook (9/7/2020)
Digital Audiobook (4/4/2016)
Hardcover (4/5/2016)
Library Binding, Large Print (1/10/2019)
CD-Audio (4/7/2020)
CD-Audio (4/5/2016)
Compact Disc (4/5/2016)
Paperback, Chinese (3/1/2018)
Hardcover, Korean (7/15/2019)
Prebound (3/5/2019)
Description
Wall-E meets Hatchet in this New York Times bestselling illustrated middle grade novel from Caldecott Honor winner Peter Brown

Can a robot survive in the wilderness?

When robot Roz opens her eyes for the first time, she discovers that she is all alone on a remote, wild island. She has no idea how she got there or what her purpose is--but she knows she needs to survive. After battling a violent storm and escaping a vicious bear attack, she realizes that her only hope for survival is to adapt to her surroundings and learn from the island's unwelcoming animal inhabitants.

As Roz slowly befriends the animals, the island starts to feel like home--until, one day, the robot's mysterious past comes back to haunt her.

From bestselling and award-winning author and illustrator Peter Brown comes a heartwarming and action-packed novel about what happens when nature and technology collide.
Praise For The Wild Robot…
Praise for The Wild Robot:
A New York Times Bestseller
An Entertainment Weekly Best Middle Grade Book of the Year
An Amazon Best Book of the Year Top Pick
An IndieBound Bestseller
An ALA Notable Book for Children
New York Public Library Best Books for Kids Pick
Kirkus Best Children's of the Year Pick
School Library Journal Best of the Year Pick
Bank Street College of Education Best Children's Book of the Year Pick
Sunshine State Young Readers Award List Pick
-
"Brown has written a lively tale that is sure to engage young readers."
The New York Times
"Roz may not feel emotions, but young readers certainly will as this tender, captivating tale unfolds."
The Washington Post
* "[Peter] Brown's picture books are consistent bestsellers and critically acclaimed. Expect readers to go wild for his robot-themed novel."
Booklist, starred review
* "While the end to Roz's benign and wildlife is startling and violent, Brown leaves Roz and her companions--and readers--with hope. Thought-provoking and charming."
Kirkus, starred review
* "This strong debut middle grade novel by the acclaimed picture book author/illustrator is a first purchase for most middle grade collections."
School Library Journal, starred review
* "Brown's middle-grade debut, an uplifting story about an unexpected visitor whose arrival disrupts the animal inhabitants of a rocky island, has a contemporary twist...Brown wisely eschews a happy ending in favor of an open-ended one that supports the tone of a story that's simultaneously unsentimental and saturated with feeling."
Publishers Weekly, starred review
"Roz is not easy to forget."
The Horn Book
Little, Brown Books for Young Readers, 9780316382007, 320pp.
Publication Date: April 7, 2020
About the Author
Peter Brown is the author and illustrator of many bestselling children's books, including Children Make Terrible Pets and The Curious Garden. He is the recipient of a Caldecott Honor for Creepy Carrots!, two E.B. White Read Aloud Awards, a New York Times Best Illustrated Children's Book award, and a Children's Choice Award for Illustrator of the Year. Peter's website is www.peterbrownstudio.com.
1. How does Roz survive? Why is Roz especially good at adapting?
2. Why do the island's animals call Roz "unnatural" and "a monster" (page 51)? How does she win them over? In what ways is it scary to be different?
3. Though robots "don't really feel emotions" (page 8), Roz feels something. What does Roz feel? How do Roz's feelings compare with how animals and people experience emotion?
4. How does Roz become a mother? One of the other gosling moms says, "You'll never be the perfect mother, so just do the best you can" (page 99). How is this advice helpful and true?
5. Why do the bears Nettle and Thorn attack Roz (pages 140–143)? Why does Roz save Thorn (page 144)?
6. Why can't Roz and Brightbill stop wondering about the button on the back of Roz's head? Were you scared when Brightbill pushed it (pages 157–160)?
7. Why does Roz declare her home "a safe place for all" (page 180)?
8. Thinking about her purpose in life, Roz muses, "Perhaps I am simply meant to help others" (page 192). How does Roz go from asking for help to being the helper? How is asking for help an act of courage? How is it a means of survival? What do you think your purpose in life might be?
9. How are animal instincts like computer programs?
10. What does Roz mean when she thanks her friends and family for teaching her "how to live" (page 217)? What does she mean when she later says that the animals taught her "to be wild" (page 262)?
11. Why do the island animals come to Roz's defense at the novel's end? Why does Roz leave the island?
12. How do nature and technology clash in the novel? How do they coexist?
13. How do the illustrations shape your reading of the story? Which illustration do you like best, and why?
14. What does The Wild Robot suggest about the meaning of home?