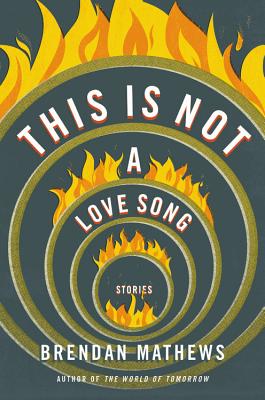 This Is Not a Love Song
Hardcover

* Individual store prices may vary.
Description
A debut collection of moving and darkly witty stories from an "admirably fearless" (New York Times Book Review) writer whom critics have compared to Michael Chabon, E.L. Doctorow, and Dennis Lehane
A Massachusetts Book Award "Must Read" Selection
When marriages, friendships, and families come undone, to what lengths do we go to keep it all together? That question lies at the heart of Brendan Mathews's buoyant and unforgettable debut story collection. A young mother watches as her desperate husband, convinced a hidden poison lurks inside their walls, tears their home apart. Two journalists bruised by romance and revolution, one a survivor of the Bosnian war, trade tales of lost lovers. A father and his sons haggle over the family business during a high-stakes round of golf. And a lovesick circus clown tries to explain the accidents that bound him to a trapeze artist and a witless lion tamer.
If Mathews's novel The World of Tomorrow was an "outsized" entertainment, a "big, expressive debut" (Wall Street Journal), then This Is Not a Love Song, two stories from which have been included in The Best American Short Stories, is glorious proof that he excels equally as a miniaturist. From rock-star flameouts to church burnings to ordinary people trying not to fall out of love, these stories are packed with vivid detail, emotional precision, and deft, redemptive humor.
Praise For This Is Not a Love Song…
"Lovely...Ambitious...A stirring exercise in world building...Mathews invests his characters with vitality and pathos...This is vibrant, risk-taking realism; a slim volume that bursts at its seams."—Taylor Antrim, Vogue

"Each story is appealing and often fascinating...Featuring a variety of both subject and presentation, often in a humorous way, Mathews's collection is an excellent example of how entertaining today's short stories can be."—Winnipeg Free Press

"The emotional exiles of This Is Not a Love Song are as fierce in their desire to love as they are afraid that they're not built for it. Brendan Mathews is wonderful on how visceral and messy our longing for each other can be, as well as on the complexities of class, and worlds as varied as Sarajevo and the circus. These are funny and wrenching stories."—Jim Shepard, National Book Award finalist and author of The Book of Aron

"A collection of stylistically varied stories that highlight the tricky business of emotional investment...This book certainly is not a love song of the homely, sentimental sort. It's realism without cynicism, more of an extended aria for a range of intimacies and attachments that never run smoothly. There's some respite in its humor...Mathews is a restless stylist...An impressive collection from a resourceful writer."—Kirkus Reviews

"Mathews demonstrates in these stories an uncanny ability to inhabit characters with just a few well-crafted sentences. A master impersonator, Mathews employs a variety of voices, capturing the subtle nuances of dialect and pop lingo to explore with psychological acuity the doubt and insecurities that plague these varied individuals...Mathews excels at portraying the emotional pain felt by those without a clear place in the world and the universality of self-doubt. The versatility of literary techniques shows a writer in the process of sharpening his unique voice."—Booklist

"Variety, both in style and subject matter, is a hallmark of Mathews's quirky collection of 10 morally complex short stories...The tormented, misguided protagonists raise common human miseries to a higher power and unconsciously reveal the seedy motivations behind their actions. This is an eclectic, accomplished collection."—Publishers Weekly
Little, Brown and Company, 9780316382144, 224pp.
Publication Date: February 5, 2019
About the Author
Brendan Mathews, a Fulbright Scholar to Ireland, has published stories in Glimmer Train, the Virginia Quarterly Review, and the Cincinnati Review, among other publications, and his fiction has twice appeared in The Best American Short Stories. He lives with his wife and four children in Lenox, Massachusetts, and teaches at Bard College at Simon's Rock.
or
Not Currently Available for Direct Purchase