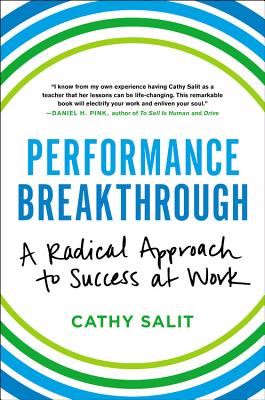 Performance Breakthrough
A Radical Approach to Success at Work
Hardcover

* Individual store prices may vary.
Other Editions of This Title:
Paperback (4/12/2016)
Description
Break through to your peak performance!

Whether you're navigating your way on a new team, expanding your leadership role, or just trying to get heard in a meeting, you're facing the kind of workplace challenge we all run into sooner or later: you need a new performance. In Performance Breakthrough, Cathy Salit presents the revolutionary strategies that she's proven successful through over twenty years' experience custom-creating workshops for powerhouse clients including American Express, Nike, Coca-Cola, and DIRECTV. Artfully blending techniques from theatrical performance with the new science of performative psychology, Salit guides readers through forging new relationships guaranteed to yield greater success and satisfaction. Performance Breakthrough outlines proven techniques, including taking an emotional inventory; crafting new scripts for greater confidence, stronger relationships, and better outcomes; building ensembles; improvising; and listening -- really listening -- including accepting others' criticism and input. No matter what your challenge, Salit's innovative philosophy, case studies, practical exercises, and inspiring advice will help you deliver your own top performance.
Praise For Performance Breakthrough: A Radical Approach to Success at Work…
"I know from my own experience having Cathy Salit as a teacher that her lessons can be life-changing. This remarkable book reveals her theater and improv secrets--and shows how they can electrify your work and enliven your soul."
—
Daniel H. Pink, author of To Sell Is Human and Drive
"
Performance Breakthrough
is a refreshing and fascinating book about how to grow as a person and as a professional. Cathy Salit's vivid storytelling, humor, and wisdom combined with highly creative and practical coaching makes it a must read for anyone who's looking to stretch, learn, and become more of who they really are."—
Susan Cain, co-founder of Quiet Revolution and New York Times-bestselling author of Quiet: The Power of Introverts in a World That Can't Stop Talking
"By viewing our identities and our jobs through the lens of improvisation and performance, Salit shows us how to find the courage to go beyond our self-imposed limits. With compelling stories and exercises that move us, she teaches it as she lives it."
—
Sheila Heen and Douglas Stone, authors of Thanks for the Feedback and Difficult Conversations
"This is an exhilarating book. Cathy Salit shows how we can make ourselves more effective in our relationships with others not by adopting a set of slogans or rigid formulas but by activating the basic human capacity to learn through play, from the outside in, by performing the kind of person we wish to be. In the work place or at home, hers is a liberating approach that will both simplify and enrich your life. Enjoy. And reap the benefits."
—
Mary Catherine Bateson, cultural anthropologist and bestselling author of Composing a Life
Hachette Books, 9780316382489, 272pp.
Publication Date: April 12, 2016
About the Author
Cathy Salit is the CEO and founder of Performance of a Lifetime, a consulting firm specializing in helping leaders and companies with the human side of business and strategy. She is a sought-after speaker and executive coach who has been featured in the Wall Street Journal, Fast Company, and Wired. She lives in New York City.
or
Not Currently Available for Direct Purchase