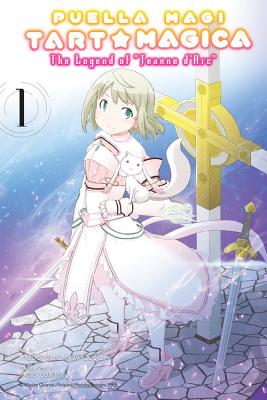 Puella Magi Tart Magica, Vol. 1 (Paperback)
The Legend of Jeanne d'Arc
Yen Press, 9780316383141, 160pp.
Publication Date: April 21, 2015
Other Editions of This Title:
Paperback (7/26/2016)
Paperback (11/17/2015)
* Individual store prices may vary.
Description
Joan of Arc is revered as a hero of the Hundred Years' War and a saint of the Catholic church. But her leadership and strength of character in her time did not escape the notice of Kyubey, who, even in the fifteenth century, sought magical girl candidates for their valuable energies. With her friends and fellow magical girls fighting at her side, Joan fights the English occupiers of France--but will she soon find herself fighting something much more sinister?!
About the Author
Magica Quartet is a team formed of members of anime production studios SHAFT and Aniplex who came together to create "Puella Magi Madoka Magica." Members include Iwakami Atsuhiro, Akiyuki Shinbo, Gen Urobuchi, and Ume Aoki, who is also the creator behind "Sunshine Sketch."