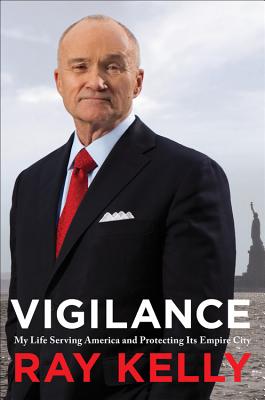 Vigilance (Hardcover)
My Life Serving America and Protecting Its Empire City
Hachette Books, 9780316383813, 336pp.
Publication Date: September 8, 2015
Other Editions of This Title:
Digital Audiobook (9/7/2015)
CD-Audio (9/8/2015)
* Individual store prices may vary.
Description
NEW YORK TIMES BESTSELLER

Two-time New York City police commissioner Ray Kelly opens up about his remarkable life, taking us inside fifty years of law enforcement leadership, offering chilling stories of terrorist plots after 9/11, and sharing his candid insights into the challenges and controversies cops face today.

The son of a milkman and a Macy's dressing room checker, Ray Kelly grew up on New York City's Upper West Side, a middle-class neighborhood where Irish and Puerto Rican kids played stickball and tussled in the streets. He entered the police academy and served as a marine in Vietnam, living and fighting by the values that would carry him through a half century of leadership-justice, decisiveness, integrity, courage, and loyalty.

Kelly soared through the NYPD ranks in decades marked by poverty, drugs, civil unrest, and a murder rate that, at its peak, spiked to over two thousand per year. Kelly came to be known as a tough leader, a fixer who could go into a troubled precinct and clean it up. That reputation catapulted him into his first stint as commissioner, under Mayor David Dinkins, where Kelly oversaw the police response to the 1993 World Trade Center bombing and spearheaded programs that would help usher in the city's historic drop in crime.

Eight years later, in the chaotic wake of the 9/11 attacks, newly elected mayor Michael Bloomberg tapped Kelly to be NYC's top cop once again. After a decade working with Interpol, serving as undersecretary of the Treasury for enforcement, overseeing U.S. Customs, and commanding an international police force in Haiti, Kelly understood that New York's security was synonymous with our national security. Believing that the city could not afford to rely solely on "the feds," he succeeded in transforming the NYPD from a traditional police department into a resource-rich counterterrorism-and-intelligence force.

In this vital memoir, Kelly reveals the inside stories of his life in the hot seat of "the capital of the world"-from the terror plots that nearly brought a city to its knees to his dealings with politicians, including Presidents Bill Clinton, George W. Bush, and Barack Obama as well as Mayors Rudolph Giuliani, Bloomberg, and Bill DeBlasio. He addresses criticisms and controversies like the so-called stop-question-and-frisk program and the rebuilding of the World Trade Center and offers his insights into the challenges that have recently consumed our nation's police forces, even as the need for vigilance remains as acute as ever.
About the Author
With fifty years in public service, Ray Kelly is one of the world's most highly esteemed law enforcement leaders. A forty-three-year veteran of the NYPD, Kelly served in twenty-five different commands before being named police commissioner in 1992. Kelly was again appointed in January 2002 by Mayor Michael Bloomberg, making Kelly the longest serving police commissioner in the city's history. Kelly holds degrees from Manhattan College, St. John's University School of Law, New York University Graduate School of Law, and the Kennedy School of Government at Harvard University.
Praise For Vigilance: My Life Serving America and Protecting Its Empire City…
"In Vigilance, Ray Kelly's humble but powerful memoir, the longest-serving police commissioner in New York City's history sketches a remarkable arc. This is the inspirational story of a milkman's son who worked as an elevator operator to help pay for his college education and then methodically crafted a 43-year career with the New York Police Department that eventually included a law degree, a master's from Harvard's Kennedy School, two different tenures running the NYPD and, most significant, a sustained and successful record defending New York from global terrorism in the aftermath of 9/11."—Washington Post

"[A] blunt, proudly unapologetic memoir... Kelly has spent a half-century protecting Americans, first as a Marine officer, then as a New York cop with two stints as a federal security official in the mix. He is a champion of imaginative and aggressive policing... Justly proud of his department's record, he devotes nearly 50 pages of the book to a meticulous reconstruction of 16 terror plots against the city that were thwarted on his watch."—The Wall Street Journal

"[A] wonderful book."—Seth Lipsky, The New York Post

"The New York Police Department has within the past two decades become quite possibly the premier domestic public-safety agency in the nation. Former police commissioner Ray Kelly's memoir, Vigilance, is partly an attempt to take credit for this administrative miracle - credit that Kelly richly deserves.... Kelly taught New Yorkers to expect more from their police department.... [but] Kelly left an even greater legacy in counterterrorism.... Kelly constructed New York City's counterterrorism strategy and administrative apparatus out of whole cloth."—Stephen Eide, National Review

"Former Police Commissioner Ray Kelly ... is a rare soul. He is the defender, willing to stand watch and be accountable, allowing the rest of us to sleep a little easier.... Much of Mr. Kelly's book is devoted to how the Police Department responded to the terrorist attack of 9/11. It is a riveting read.... Police commissioner of New York City is no ordinary job. It sets the tone for urban policing nationwide."—New York Observer

"As NYC's police commissioner after 9/11, Ray Kelly was on the front lines of two of the most important issues of our time: confronting terrorism and dealing with the issues of race and policing. In this personal and thoughtful book, he weaves together his own life story with the tough decisions he had to make. It's a critically important book for anyone who cares about the justice and security issues we face today."—Walter Isaacson, #1 New York Times-bestselling author of Steve Jobs and The Innovators

"The word 'vigilance' perfectly describes the life and career of Ray Kelly. He writes about how the NYPD reversed course on crime and terror and set the nation's largest, most vulnerable city on a safer and more prosperous path. The book comes at a time when that progress is being eroded, due more to politics than judgment. Vigilance is instructive to law enforcement everywhere, as well as for people who want to lead effective, cohesive teams to achieve better results."—Dana Perino, former press secretary to President George W. Bush and co-host of The Five on Fox News Channel

"At a time when we needed heroes as much as we ever had, Ray Kelly was a hero of his city and his country. Vigilance is his story, finally told in his own words, about everything he did as police commissioner to keep New York City safe in a dangerous world. More than that, it is the story of a great American life."—Mike Lupica, New York Daily News columnist and #1 New York Times-bestselling author

"To this day, I call Ray Kelly 'Colonel' for I was a PFC in the USMC. I have never actually referred to him as 'Commissioner.' Ray has more than earned my deep respect for his example of leadership in one of the toughest jobs in America. This book provides us a meticulously constructed portrait of a leader and a city in the face of unprecedented challenge. It is a compelling must-read for anyone that cares about New York City and the nation. What Ray Kelly has given us with this book is a perspective of enduring value for everyone who resides in or is charged with running any large American city."—David N. Dinkins, 106th Mayor, City of New York

"Vigilance offers an intimate view into the life and career of one of America's finest leaders and how he transformed the NYPD after 9/11 into the world's most effective counter-terrorism police force, which continues to protect New York City today."—Richard A. Clarke, #1 New York Times-bestselling author of Against All Enemies and former National Coordinator for Security and Counter-terrorism
or
Not Currently Available for Direct Purchase