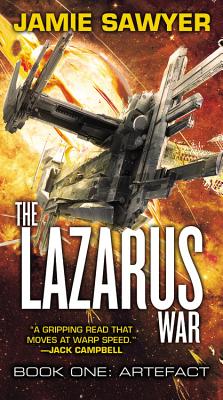 The Lazarus War (Mass Market)
Artefact
Orbit, 9780316386371, 544pp.
Publication Date: February 23, 2016
* Individual store prices may vary.
Description
Artefact is book one of The Lazarus War, an explosive new space adventure series from one of the brightest new stars in science fiction - perfect for fans of The Edge of Tomorrow, Alien and James S. A. Corey's Expanse series. Jack Campbell, author of the Lost Fleet novels calls it "a gripping read that moves at warp speed."
Mankind has spread to the stars, only to become locked in warfare with an insidious alien race. All that stands against the alien menace are the soldiers of the Simulant Operation Programme, an elite military team remotely operating avatars in the most dangerous theatres of war.
Captain Conrad Harris has died hundreds of times - running suicide missions in simulant bodies. Known as Lazarus, he is a man addicted to death. So when a secret research station deep in alien territory suddenly goes dark, there is no other man who could possibly lead a rescue mission.
But Harris hasn't been trained for what he's about to find. And this time, he may not be coming back . . .
Artefact is an action-drenched tale of elite space marines, deep space exploration and galactic empires. Discover The Lazarus War - the thrilling new space opera series from one of the most exciting new voices in science fiction.
About the Author
Jamie Sawyer was born in 1979 in Newbury, Berkshire. He studied Law at the University of East Anglia, Norwich, acquiring a Master's degree in human rights and surveillance law. Jamie is a full-time barrister, practicing in criminal law. When he isn't working in law or writing, Jamie enjoys spending time with his family in Essex. He is an enthusiastic reader of all types of SF, especially classic authors such as Heinlein and Haldeman.

Praise For The Lazarus War: Artefact…
"A gripping read that moves at warp speed."—Jack Campbell

"Gripping, gritty and unsentimental - Sawyer shows us how perilous future war can be."—Michael Cobley, on The Lazarus War: Artefact

"A hostile race of alien biomechs somewhat in the mould of H. R. Giger aliens . . . terrorism, subterfuge and traitors . . . starships sporting particle beam weapons, railguns the size of skyscrapers, laser batteries, missiles . . . And then there are the uber-human super-soldiers clad in powered armour and wielding plasma weapons . . . Is that enough for you? . . . This, dear readers, is the good stuff. Recommended."—Neal Asher, author of the Agent Cormac novels, on The Lazarus War: Artefact

"A highly promising science fiction debut - a fun, gripping adventure story, with a mystery at its core that kept me turning the pages."—Gary Gibson on The Lazarus War: Artefact

"An adrenaline shot of rip-roaring military SF packed with cinematic action sequences and tightly drawn characters."—Stephen Deas on The Lazarus War: Artefact

"Hyper-speed entertainment from a new master of science fiction!"—William C. Dietz

"This novel is fast-paced and stimulating, grabbing the reader at the beginning and never letting go."—Booklist
or
Not Currently Available for Direct Purchase