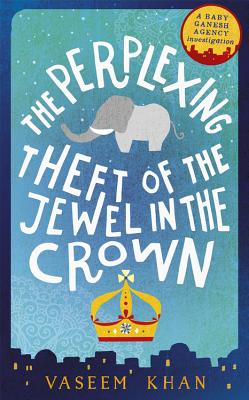 The Perplexing Theft of the Jewel in the Crown (Baby Ganesh Agency Investigation) (Paperback)
Redhook, 9780316386845, 368pp.
Publication Date: August 9, 2016
Other Editions of This Title:
Digital Audiobook (8/8/2016)
Pre-Recorded Audio Player (9/9/2016)
* Individual store prices may vary.
Description
For centuries, the Koh-i-Noor diamond has set man against man and king against king.
Now part of the British Crown Jewels, the priceless gem is a prize that many have killed to possess.
So when the Crown Jewels go on display in Mumbai, security is everyone's principal concern. And yet, on the very day Inspector Chopra visits the exhibition, the diamond is stolen from under his nose.
The heist was daring and seemingly impossible. The hunt is on for the culprits. But it soon becomes clear that only one man -- and his elephant -- can possibly crack this case...

Featuring the most charming crime-solving duo ever to grace the pages of a book, the Baby Ganesh Detective Agency series is a must-read for fans of Alexander McCall Smith.

For more from Vaseem Khan, check out:
Baby Ganesh Agency Investigation
The Unexpected Inheritance of Inspector Chopra
About the Author
Vaseem Khan first saw an elephant lumbering down the middle of the road in 1997 when he arrived in India to work as a consultant. It was the most unusual thing he'd ever encountered and served as the inspiration behind his series of crime novels.
He returned to the UK in 2006 and now works at University College London for the Department of Security and Crime Science where he is astonished daily by the way modern science is being employed to tackle crime.
Praise For The Perplexing Theft of the Jewel in the Crown (Baby Ganesh Agency Investigation)…

p.p1 {margin: 0.0px 0.0px 0.0px 0.0px; font: 14.0px Calibri; color: #323333; -webkit-text-stroke: #323333}
span.s1 {font-kerning: none; color: #000000; -webkit-text-stroke: 0px #000000}
span.s2 {font-kerning: none}



"Smoothly combines an affable lead, a seemingly impossible crime, and an endearing and highly unusual sidekick-a baby elephant named Ganesha.... Fans of Alexander McCall Smith will find a lot to like."— p.p1 {margin: 0.0px 0.0px 0.0px 0.0px; font: 14.0px Calibri; -webkit-text-stroke: #000000} span.s1 {font-kerning: none} Publishers Weekly on The Perplexing Theft of the Jewel in the Crown

"Every bit as captivating as its predecessor. Fans of Tarquin Hall's Vish Puri will rejoice, but so should all mystery lovers."—Booklist on The Perplexing Theft of the Jewel in the Crown

"An entertaining feel-good read in the tradition of Alexander McCall Smith.... Utterly charming."—Guardian on The Unexpected Inheritance of Inspector Chopra

"The deep love for Mumbai and its people - warts and all - that Inspector Chopra shares with his creator infuses the novel from the beginning. The Unexpected Inheritance of Inspector Chopra is certainly a delightful and uplifting crime caper, but it also comes with an edifying dose of serious social comment, with many of Chopra's preoccupations mirroring those of his creator."—The Bookseller on The Unexpected Inheritance of Inspector Chopra

"An enchanting start to a new series."—Woman & Home on The Unexpected Inheritance of Inspector Chopra

"A winning debut...Khan's affection for Mumbai and its residents adds to the novel's charm."—Publishers Weekly on The Unexpected Inheritance of Inspector Chopra

"Debut Mumbai-based 'cosy' - complete with baby elephant - keeps things heart-warming while tackling corruption at the highest levels and violent crime at the lowest. Endearing and gripping, it sets up Inspector Chopra - and the elephant - for a long series."—Sunday Times on The Unexpected Inheritance of Inspector Chopra

"Thought-provoking mystery... promising debut."—Booklist on The Unexpected Inheritance of Inspector Chopra

"Charming."—Marie Claire on The Unexpected Inheritance of Inspector Chopra

"A fantastic and heartwarming read... I can't wait to see what happens next!"—First for Women on The Unexpected Inheritance of Inspector Chopra