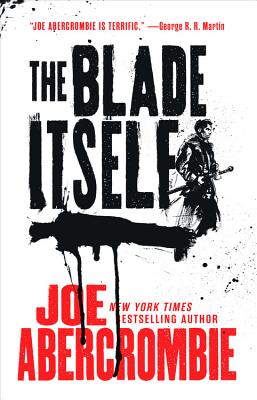 The Blade Itself (The First Law Trilogy #1)
Paperback

* Individual store prices may vary.
Other Editions of This Title:
Digital Audiobook (9/7/2015)
Compact Disc (9/8/2015)
Compact Disc (9/8/2015)
Description
The first novel in the First Law Trilogy and debut fantasy novel from New York Times bestseller, Joe Abercrombie.

Logen Ninefingers, infamous barbarian, has finally run out of luck. Caught in one feud too many, he's on the verge of becoming a dead barbarian -- leaving nothing behind him but bad songs, dead friends, and a lot of happy enemies.

Nobleman, dashing officer, and paragon of selfishness, Captain Jezal dan Luthar has nothing more dangerous in mind than fleecing his friends at cards and dreaming of glory in the fencing circle. But war is brewing, and on the battlefields of the frozen North they fight by altogether bloodier rules.

Inquisitor Glokta, cripple turned torturer, would like nothing better than to see Jezal come home in a box. But then Glokta hates everyone: cutting treason out of the Union one confession at a time leaves little room for friendship. His latest trail of corpses may lead him right to the rotten heart of government, if he can stay alive long enough to follow it.

Enter the wizard, Bayaz. A bald old man with a terrible temper and a pathetic assistant, he could be the First of the Magi, he could be a spectacular fraud, but whatever he is, he's about to make the lives of Logen, Jezal, and Glokta a whole lot more difficult.

Murderous conspiracies rise to the surface, old scores are ready to be settled, and the line between hero and villain is sharp enough to draw blood.

Unpredictable, compelling, wickedly funny, and packed with unforgettable characters, The Blade Itself is noir fantasy with a real cutting edge.
Praise For The Blade Itself (The First Law Trilogy #1)…
"Bloody and relentless."—George R. R. Martin on Best Served Cold

"Bold and authentically original."—Jeff VanderMeer

"Abercrombie has written the finest epic fantasy trilogy in recent memory. He's one writer that no one should miss."—Junot Diaz

"If you're fond of bloodless, turgid fantasy with characters as thin as newspaper and as boring as plaster saints, Joe Abercrombie is really going to ruin your day. A long career for this guy would be a gift to our genre."—Scott Lynch, author of The Lies of Locke Lamora

"Compelling characters, a complex plot, and style to burn."—Strange Horizons

"Pointed, driven, and sharp."—Locus on Red Country

"Magnificent, richly entertaining"—Time on The Heroes

"There is a gritty edge to his world and an awareness of the human cost of violence that is very contemporary."—The Times

"Imagine The Lord of the Rings as directed by Kurosawa."—Lev Grossman, Wall Street Journal on The Heroes

"[Abercrombie has] begun breaking his own rules. And succeeding wildly at it. ... [R]arely has Abercrombie had so much fun while rollicking through his colorful cast's foibles and witty dialogue - and rarely has he dished out so much straight-for-the-heart poignancy."—The A.V. Club

"New, fresh, and exciting."—The Independent (UK)

"Exhilarating... Abercrombie's knack for wit and grit holds your attention throughout, and his eye for character means that there's heart as well as muscle."—SFX (UK)

"Abercrombie writes fantasy like no one else."—Guardian (UK)

"Heroic fantasy without conventional heroes . . . Full of cynicism and wit."—RT Book Reviews
Orbit, 9780316387316, 560pp.
Publication Date: September 8, 2015
About the Author
Joe Abercrombie is the New York Times bestselling author of Red Country and the First Law trilogy: The Blade Itself, Before They Are Hanged, and Last Argument of Kings. He is a full-time writer and occasional freelance film editor who lives in Bath, England with his wife and three children.