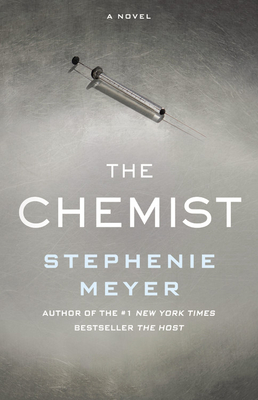 The Chemist
Hardcover

* Individual store prices may vary.
Other Editions of This Title:
Digital Audiobook (11/7/2016)
Paperback (7/11/2017)
Mass Market (5/29/2018)
Hardcover, Large Print (11/8/2016)
Digital Audiobook, Spanish, Castilian (11/3/2021)
CD-Audio (11/8/2016)
Compact Disc (11/8/2016)
Description
In this gripping page-turner, an ex-agent on the run from her former employers must take one more case to clear her name and save her life.

She used to work for the U.S. government, but very few people ever knew that. An expert in her field, she was one of the darkest secrets of an agency so clandestine it doesn't even have a name. And when they decided she was a liability, they came for her without warning.

Now she rarely stays in the same place or uses the same name for long. They've killed the only other person she trusted, but something she knows still poses a threat. They want her dead, and soon. When her former handler offers her a way out, she realizes it's her only chance to erase the giant target on her back. But it means taking one last job for her ex-employers.

To her horror, the information she acquires only makes her situation more dangerous. Resolving to meet the threat head-on, she prepares for the toughest fight of her life but finds herself falling for a man who can only complicate her likelihood of survival. As she sees her choices being rapidly whittled down, she must apply her unique talents in ways she never dreamed of.

In this tautly plotted novel, Meyer creates a fierce and fascinating new heroine with a very specialized skill set. And she shows once again why she's one of the world's bestselling authors.
Praise For The Chemist…
Praise for The Chemist:

"This espionage action story will no doubt tighten Meyer's grip on her devoted readers. Its main character is much like Jason Bourne, to whom the novel is dedicated affectionately.... Meyer knows how to control dramatic tension as skillfully as any of the Bourne movies. The pages turn themselves."—Keith Donohue, Washington Post

"Engrossing.... A terrific ride.... The Chemist is consistently fast-paced fun, especially the way that Alex's scientific genius gives her an array of potions-she's small, but you don't want to get within swiping distance of the rings on her fingers-that verge on the magical."—Charles Finch, USA Today

"Fans will likely tear through The Chemist, just as they did with the Twilight novels and with The Host.... Our heroine is very good at staying alive.... The book hit on an appealing theme. Chris is an expert in her field, one that happens to be male dominated. Her peers are out to get her. She has to watch her back constantly.... With so many popular novels out there featuring unreliable female narrators stuck in various suburbs, it was nice to read about a woman who gets out and has a lot to do."—Meredith Goldstein, Boston Globe

"[Meyer has] an unusual ability to turn genres inside out. The characters in the novel are motivated by love of family rather than by duty to country or abstractions like saving the world. Love gives the adventure meaning, rather than just being a subplot off to the side. Spy fans can be assured that in most respects, The Chemist functions in much the same way as a Bourne or Bond story, complete with mounting body count, cool explosions, stakeouts and betrayals. But changing the proportion of gender in the genre gives the concoction a renewed, and welcome, rush."
—Noah Berlatsky, Los Angeles Times

"A tale of skulduggery, bodice rippery, and shoot-'em-up action unfolds, complete with help from a luscious mistress of disguise who could have stepped right out of a James Bond novel. Rated B for badass."—Kirkus Reviews

"The Twilight mogul moves from blood-sucker romance to heart-stopping drama with a thriller about a kick-ass scientist and ex-government agent on the run."—Angela Ledgerwood, Cosmopolitan

"Here, an exciting heroine (see: female Jason Bourne) knows too much, is a threat, and has one last chance to clear her name."—Steph Opitz, Marie Claire

"It's nice to see a heroine whose greatest asset is her brain, one who can fell brawny hitmen with tiny syringes and weaponized jewelry. Meyer is still a skilled pace-setter, and The Chemist's 518-pages fly by."—Isabella Biedenharn, Entertainment Weekly

"Twilight fans will find another romantic couple to root for, plus the most supernaturally intelligent guard since Rin Tin Tin."
—People

"[A] gripping page-turner."
—Ali Ehrlich, Good Morning America
Little, Brown and Company, 9780316387835, 528pp.
Publication Date: November 8, 2016
About the Author
Stephenie Meyer is the author of the The Chemist, the #1 bestselling Twilight Saga and The Host. She graduated from Brigham Young University with a degree in English literature, and she lives with her husband and three young sons in Arizona.