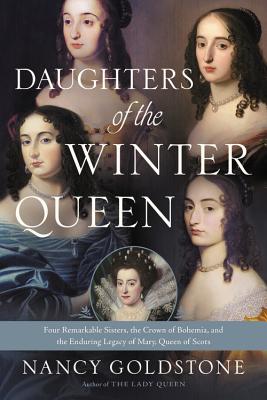 Daughters of the Winter Queen
Four Remarkable Sisters, the Crown of Bohemia, and the Enduring Legacy of Mary, Queen of Scots
Paperback

* Individual store prices may vary.
Other Editions of This Title:
Digital Audiobook (4/9/2018)
Compact Disc (4/10/2018)
Hardcover (4/10/2018)
Compact Disc (4/10/2018)
Description
The thrilling family saga of five unforgettable women who remade Europe.

From the great courts, glittering palaces, and war-ravaged battlefields of the seventeenth century comes the story of four spirited sisters and their glamorous mother, Elizabeth Stuart, granddaughter of the martyred Mary, Queen of Scots.

Upon her father's ascension to the illustrious throne of England, Elizabeth Stuart was suddenly thrust from the poverty of unruly Scotland into the fairytale existence of a princess of great wealth and splendor. When she was married at sixteen to a German count far below her rank, it was with the understanding that her father would help her husband achieve the kingship of Bohemia. The terrible betrayal of this commitment would ruin "the Winter Queen," as Elizabeth would forever be known, imperil the lives of those she loved and launch a war that would last for thirty years.

Forced into exile, the Winter Queen and her family found refuge in Holland, where the glorious art and culture of the Dutch Golden Age indelibly shaped her daughters' lives. Her eldest, Princess Elizabeth, became a scholar who earned the respect and friendship of the philosopher René Descartes. Louisa was a gifted painter whose engaging manner and appealing looks provoked heartache and scandal. Beautiful Henrietta Maria would be the only sister to marry into royalty, although at great cost. But it was the youngest, Sophia, a heroine in the tradition of a Jane Austen novel, whose ready wit and good-natured common sense masked immense strength of character, who fulfilled the promise of her great-grandmother Mary and reshaped the British monarchy, a legacy that endures to this day.

Brilliantly researched and captivatingly written, filled with danger, treachery, and adventure but also love, courage, and humor, Daughters of the Winter Queen follows the lives of five remarkable women who, by refusing to surrender to adversity, changed the course of history.
Praise For Daughters of the Winter Queen: Four Remarkable Sisters, the Crown of Bohemia, and the Enduring Legacy of Mary, Queen of Scots…
"Goldstone's forthright and often witty asides keep this complicated story bowling along at a terrific pace...Lively and well-researched, Daughters of the Winter Queen offers a timely introduction to a turbulent period in Britain's past relations with Europe."—Miranda Seymour, New York Times Book Review

"Goldstone is a master juggler. She tells a good story, always with a delightfully light touch. In the process, extraordinary women are given the attention they deserve."—Gerard DeGroot, The Times of London

"Goldstone is a thrilling narrator of this complicated history. Yet the achievement of a work like this is not merely its command of a vast and dense web of the past, but also its incredible literary merit. Daughters of the Winter Queen is nothing short of page-turning, an exceptional work of scholarship that reads like a favorite novel filled with political intrigue, romantic scandal, and more than one dark-of-night escape."—East Hampton Star

"A fascinating feminist story."—The Coil

"This rich and complex story of a seventeenth century queen who lost her throne, and her four defiant daughters, is compulsively readable. Combining rigorous research with a vivid writing style, Nancy Goldstone illuminates the women who have often been left in the shadows of history, and reminds us that fascination with royalty is nothing new."—Charlotte Gray, author of Reluctant Genius: Alexander GrahamBell and the Passion for Invention and Gold Diggers: Striking It Rich inthe Klondike

"Goldstone (The Rival Queens) once again places a much-deserved spotlight on remarkable women from European history...A compulsively readable account of an otherwise unfamiliar royal family. Goldstone writes with knowledge, humor, and ease--a masterly storyteller who steers clear of overly academic language. Ideal for amateur Tudor historians who wish to be introduced to a lesser-known yet equally fascinating royal family."—Library Journal (starred review)

"Goldstone relates the eminently readable tale of Elizabeth Stuart, dubbed the Winter Queen, and her four lovely, talented daughters...The story of these five women, each remarkable for individual reasons and in her own right, both illuminates and is offset by Goldstone's vividly rendered European backdrop."—Booklist

"Though the narrative could have devolved into a complicated mass of intertwined royal families, Goldstone, a seasoned historian, effectively keeps the lines clear as she relates Elizabeth's repeated, frustrated attempts to secure strong marriages for her children under trying circumstances. Her children's stories are fascinating, as well...A great book for history fans seeking illumination on the connections of European royalty."—Kirkus

"A lively, well-researched group biography...Goldstone presents a captivating story with empathy and humor in a relaxed, entertaining, modern voice."—Publishers Weekly
Back Bay Books, 9780316387897, 496pp.
Publication Date: January 22, 2019
About the Author
Nancy Goldstone is the author of six books including Daughters of the Winter Queen: Four Remarkable Sisters, The Crown of Bohemia, and The Enduring Legacy of Mary, Queen of Scots; The Rival Queens: Catherine de' Medici, Her Daughter Marguerite de Valois, and The Betrayal that Ignited a Kingdom; and Four Queens: The Provençal Sisters Who Ruled Europe. She has also coauthored five books with her husband, Lawrence Goldstone. She lives in Sagaponack, New York.