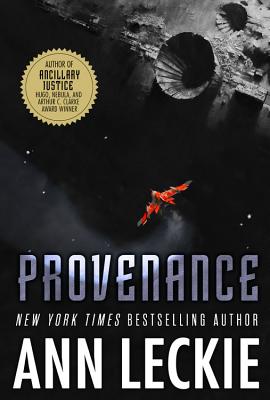 Provenance (Hardcover)
Orbit, 9780316388672, 448pp.
Publication Date: September 26, 2017
Other Editions of This Title:
Digital Audiobook (9/25/2017)
Paperback (7/10/2018)
* Individual store prices may vary.
Description
Ann Leckie returns to the world of her record-breaking Imperial Radch trilogy, which won the Hugo, Nebula, and Arthur C. Clarke Awards, with an enthralling novel of power, privilege, and birthright.
NOMINATED FOR THE HUGO AWARD FOR BEST NOVEL 2018
NOMINATED FOR THE LOCUS AWARD FOR BEST SCIENCE FICTION NOVEL 2018
A power-driven young woman has just one chance to secure the status she craves and regain priceless lost artifacts prized by her people. She must free their thief from a prison planet from which no one has ever returned.
Ingray and her charge will return to her home world to find their planet in political turmoil, at the heart of an escalating interstellar conflict. Together, they must make a new plan to salvage Ingray's future, her family, and her world, before they are lost to her for good.
For more from Ann Leckie, check out:
Imperial Radch
Ancillary Justice
Ancillary Sword
Ancillary Mercy
About the Author
Ann Leckie is the author of the Hugo, Nebula, Arthur C. Clarke, and British Science Fiction Award-winning novel Ancillary Justice, and its Locus Award-winning sequel Ancillary Sword. She has also published short stories in Subterranean Magazine, Strange Horizons, and Realms of Fantasy. Her story "Hesperia and Glory" was reprinted in Science Fiction: The Best of the Year, 2007 Edition edited by Rich Horton.
Ann has worked as a waitress, a receptionist, a rodman on a land-surveying crew, and a recording engineer. She lives in St. Louis, Missouri.
Praise For Provenance…
"There are few who write science fiction like Ann Leckie can. There are few who ever could."—John Scalzi

"More intriguing cultures to explore, more characters to care about, more Leckie to love."—Kirkus

"Character-centered space opera from one of SF's brightest stars."—Library Journal




"A perfect follow-up to the trilogy."—The New York Times

"The trademarks of Leckie's talent are on display, with even more worlds for readers to discover and some teasing overlap with her previous series. But what makes this book is watching Ingray overcome her poor self-esteem and discover who she actually wants to be, demonstrating again the genre's capacity to tell compelling, human stories."—RT Book Reviews




"The intricacies and oddities are a delight.... A thrill for fans of heists and capers."—Washington Post

"A careful look at how no one's immune from politics, even if they think themselves outside the fray . . . A story about the necessity of exploring the edges of the known."—NPR

"An entertaining, thoughtful, and clever entry that both Leckie's new and returning readers can delve into and enjoy."—The Los Angeles Review of Books

"[Leckie] raises provocative questions about identity, family and self-esteem. By the end, both neophytes and longtime Leckie fans are likely to be pleased."—The San Francisco Chronicle




"The trappings of widescreen sci-fi, and the attention to character, to the small moments, to the inner lives of those living through outsized events . . . Just read it."—B&N Sci-Fi and Fantasy Blog

"Complex and beautiful."—SYFY Wire

"If you don't know the Ancillary series by now, you probably should. Ann Leckie's sociopolitical space opera almost singlehandedly breathed new cool into the stereotype of spaceships trundling through far-off systems amid laser battles. ... [Ancillary Mercy] earns the credit it's received: As a capstone to a series that shook genre expectations, as our closing installment of an immersively realized world, and as the poignant story of a ship that learned to sing."—NPR Books on Ancillary Mercy

"This trilogy will stand as a classic of SF for the ages."—Library Journal on Ancillary Mercy

"Powerful."—The New York Times on Ancillary Sword

"The sort of space opera audiences have been waiting for."—NPR Books on Ancillary Sword

"No science-fiction series as descriptive of our current political and cultural moment or as insistent that we open our eyes to it."—Slate on Ancillary Mercy

"A gripping read, with top-notch world building and a set of rich subtexts about human rights, colonialism -- and (yes) hive mind sex."—io9 on Ancillary Sword

"Leckie investigates what it means to be human, to be an individual and to live in a civilized society."—Scientific American on Ancillary Sword