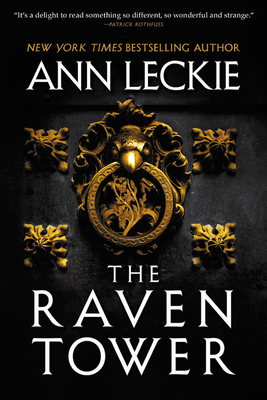 The Raven Tower (Paperback)
Orbit, 9780316388702, 432pp.
Publication Date: October 1, 2019
* Individual store prices may vary.
Description
Gods meddle in the fates of men, men play with the fates of gods, and a pretender must be cast down from the throne in this masterful first fantasy novel from Ann Leckie, New York Times bestselling author and winner of the Hugo, Nebula, and Arthur C. Clarke Awards.
For centuries, the kingdom of Iraden has been protected by the god known as the Raven. He watches over his territory from atop a tower in the powerful port of Vastai. His will is enacted through the Raven's Lease, a human ruler chosen by the god himself. His magic is sustained via the blood sacrifice that every Lease must offer. And under the Raven's watch, the city flourishes.
But the power of the Raven is weakening. A usurper has claimed the throne. The kingdom's borders are tested by invaders who long for the prosperity that Vastai boasts. And they have made their own alliances with other gods.
It is into this unrest that the warrior Eolo--aide to Mawat, the true Lease--arrives. And in seeking to help Mawat reclaim his city, Eolo discovers that the Raven's Tower holds a secret. Its foundations conceal a dark history that has been waiting to reveal itself...and to set in motion a chain of events that could destroy Iraden forever.
About the Author
Ann Leckie is the author of the Hugo, Nebula, Arthur C. Clarke, and British Science Fiction Award-winning novel Ancillary Justice. She has worked as a waitress, a receptionist, a rodman on a land-surveying crew, and a recording engineer. She lives in St. Louis, Missouri.
Praise For The Raven Tower…
"A powerhouse epic of humans and gods at war, deeply imagined and profoundly thrilling. There are echoes of Shakespeare and Le Guin in The Raven Tower, but its strange dark brilliance could only have come from Ann Leckie."—Lev Grossman

"I've been reading fantasy my whole life. After all these years, it's a delight to read something so different, so wonderful and strange."—Patrick Rothfuss

"Leckie's tale takes on a mythic, metafictional quality...and the story's elements weave into a stunning conclusion. This impressive piece of craftsmanship cements Leckie's place as a powerful voice in both SF and fantasy."— Publishers Weekly (starred review)

"Sharp, many layered, and, as always for Leckie, deeply intelligent."— Kirkus (starred review)

"Leckie has created an enthralling and well-realized fantasy world, full of not only magic and gods but also characters representing a broad spectrum of gender and sexuality. Highly recommended for...anyone looking for exciting and boundary-pushing fantasy."— Booklist (starred review)

"The Raven Tower is a unique, intricate fantasy set in a fascinating world of gods who are at once formidable and vulnerable. Original and powerful -- I loved it. Highly recommended for fans of N. K. Jemisin or Guy Gavriel Kay."—Django Wexler

"A gripping story that's one part mystery, one part a new history of the world, The Raven Tower is an incredible fantasy, told by one of the most unique voices I've had the privilege of reading."—S. A. Chakraborty

"Earthsea's elegance meets Sanderson's clever magic in this talon-sharp saga of divinity and revenge. Ann Leckie is unstoppable."—Seth Dickinson