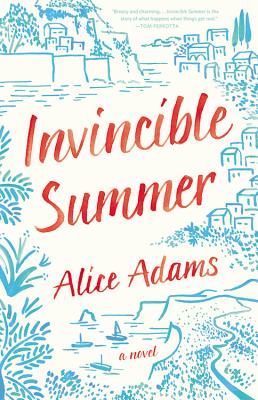 Invincible Summer
Hardcover

* Individual store prices may vary.
Other Editions of This Title:
Digital Audiobook (6/27/2016)
Library Binding, Large Print (8/1/2016)
Compact Disc (7/26/2016)
Paperback (5/9/2017)
CD-Audio (7/26/2016)
Description
Four friends. Twenty years. One unexpected journey.

Eva, Benedict, Sylvie, and Lucien graduate in 1997, into an exhilarating world on the brink of the new millennium. Hopelessly in love with playboy Lucien and keen to shrug off the socialist politics of her childhood, Eva breaks away to work for a big bank. Benedict, a budding scientist who's pined for Eva for years, embarks on a physics PhD, and siblings Sylvie and Lucien pursue more freewheeling existences -- she as an aspiring artist and he as a professional partier. But as their dizzying twenties evaporate into their thirties, the once close-knit friends, now scattered and struggling to navigate thwarted dreams, lost jobs, and broken hearts, find themselves drawn together once again in stunning and unexpected ways.

A dazzling depiction of the highs and lows of adulthood, Invincible Summer is a story about finding the courage to carry on in the wake of disappointment and a powerful testament to love and friendship as the constants in an ever-changing world.
Praise For Invincible Summer…
"Ms. Adams [has a] gift for making her characters so changeable, so vulnerable, so universally familiar.... As they help one another through a long parade of crises, some of them truly character-building, Ms. Adams's story develops an increasing power that can be created only incrementally. And by the novel's end...its message of friendship, love and loyalty hits home."
—
Janet Maslin, New York Times
"Moving.... Bittersweet and compassionate.... Adams casts a keen eye on that slow shock of the 20s, when even the most exceptional young people discover they are just...people, with jobs and partners decided as much by happenstance as by desire."—
Sophie McManus, Washington Post
"[An] irresistible debut novel.... A crackerjack storyteller who deeply inhabits her characters-deploying pitch-perfect dialogue to poignant and hilarious effect-Adams uses the conventions of the form to examine larger ideas about class and commerce, art and science, friendship and family at the time of the most recent
fin de siècle.
"—
Joanna Rakoff, New York Times Book Review
"A testament to the power of friendship and love, this is a beautiful coming-of-age story about the intimacy of long-term relationships against the changing landscape of time."
—
Elizabeth Kiefer, Refinery 29
"Easy yet not insubstantial, this debut is a sweet toast to enduring friendship."
—
Meredith Turits, ELLE
"Like life, this breezy, charming novel about four college friends deepens and darkens as it moves through the years, presenting its characters with challenges and choices that test them in ways their younger selves couldn't imagine. INVINCIBLE SUMMERis the story of what happens when things get real."—
Tom Perrotta, author of Little Children and The Leftovers
"A sophisticated yet fun novel about four friends venturing into adulthood. Alice Adams does a magnificent job of describing the way life's heartbreaks and ecstasies unfold over the course of 20 years."
—
Elin Hilderbrand, author of The Rumor
"Adulthood has never been so endearing."
—
Steph Opitz, Marie Claire
"INVINCIBLE SUMMER goes down as smoothly as the steady flow of wine knocked back by its disarming characters as they make their way not only into adulthood but through the last two decades of financial boom and bust, London's rave scene, and the Higgs boson particle. Be forewarned, though: It packs a punch. Alice Adams has important things to say about our times and the meaning of family."
—
Anne Korkeakivi, author of An Unexpected Guest
"INVINCIBLE SUMMER is a novel that will have you running for the phone to call your old friends and reconnect. Alice Adams is a beautiful storyteller. She deftly weaves the ties that bind four friends over the course of their youth and into middle age with powerful threads of emotion. I loved the world of this book, and how Ms. Adams wrote the passing of time through her characters with delicacy and truth."
—
Adriana Trigiani, bestselling author of All the Stars in the Heavens
"[Adams'] characters are nearly impossible not to root for, and she captures their often troubled dynamics with tremendous empathy and charming wit.... Breezy with substance; an absorbing summer read."
—
Kirkus Reviews
"Adams movingly depicts the tough steps we take into adulthood."
—
Good Housekeeping
"Dreamy Pisceans will delight in Adams' novel."
—
Cosmopolitan
"Adams does an incredible job [of] conveying life's ups and downs with both humor and compassion, [and] shows herself to be especially skilled at crafting charming, empathetic (albeit troubled) characters you can't help but cheer on."
—
Sadie L. Trombetta, Bustle
"A fun book about friendship."
—
Catherine Mallette, Fort Worth Star Telegram
"Perfect for the beach, but it's got some substance as well.... Think of this as
The Big Chill
for millennials."—
Deborah Dundas, Toronto Star
"In Adams' rollicking beach read, romantic love ensnares and eludes, but friendship is the anchor amid the storms of life."
—
Virtuoso Life
"Growing up and growing apart from friends is an inevitable-and bittersweet-part of life, one that has been poignantly captured in INVINCIBLE SUMMER.... With beautiful attention to detail and keen observations on life, love and even finance, Adams has crafted a delightful novel that is as insightful as it is breezy."
—
Hope Racine, BookPage
"[A] remarkable debut...both smart and readable."—
Largehearted Boy
"An interesting and thoughtful character study that examines the finer points of long-term friendship."
—
Rebecca Vnuk, Booklist
"Both a breezy read as well as one that challenges all who come across it."
—
Adam Vitcavage, Volume 1 Brooklyn
"Will keep your nose stuck in the pages until the sun sets on your breezy summer day."
—
YourTango.com
"It's a tale as old as time, but Adams' spin is fresh and makes you want to send an emotional text to all of your college friends."
—
Lydia Mansel, Elite Daily
"A bittersweet debut, with echoes of
One Day
...."—
Patricia Nicol, Sunday Times (UK)
Little, Brown and Company, 9780316391177, 320pp.
Publication Date: June 28, 2016
About the Author
Alice Adams is half Australian but has lived in England for most of her life, growing up in a house without a TV and as a result becoming a voracious reader. Career-wise, she's done everything from waitressing to investment banking, and in addition to a BA in philosophy, she has a multitude of geeky math, finance, and computer qualifications. She lives in North London but escapes into the wilderness as often as possible. Invincible Summer was her first novel and she's hard at work on her next one.
or
Not Currently Available for Direct Purchase