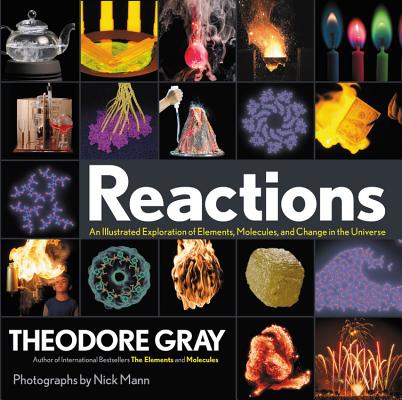 Reactions (Hardcover)
An Illustrated Exploration of Elements, Molecules, and Change in the Universe
Black Dog & Leventhal, 9780316391221, 240pp.
Publication Date: October 17, 2017
* Individual store prices may vary.
Description
The long-awaited third installment in Theodore Gray's iconic "Elements" trilogy. The first two titles, Elements and Molecules, have sold more than 1.5 million copies worldwide.
With
Reactions
bestselling author Theodore Gray continues the journey through our molecular and chemical world that began with the tour de force
The Elements
and continued with
Molecules
. In
The Elements,
Gray gave us a never-before-seen, mesmerizing photographic view of the 118 elements in the periodic table. In
Molecules
, with the same phenomenal photographic acumen, plus beautifully rendered computer generated graphics, he showed us how the elements combine to form the content that makes up our universe, from table salt to oxygen to the panoply of colors and smells that surround us.
At last, we've reached Reactions, in which Gray once again puts his photography and storytelling to work demonstrating how molecules interact in ways that are essential to our very existence. The book begins with a brief recap of elements and molecules and then goes on to explain important concepts the characterize a chemical reaction, including Energy, Entropy, and Time. It is then organized by type of reaction including chapters such as "Fantastic Reactions and Where to Find Them," "On the Origin of Light and Color," "The Boring Chapter," in which we learn about reactions such as paint drying, grass growing, and water boiling, and "The Need for Speed," including topics such as weather, ignition, and fire.
About the Author
Theodore Gray
is the author of the recently released
Reactions
as well as
The Elements
,
Molecules
and
Theodore Gray's Completely Mad Science: Experiments You Can Do At Home, But Probably Shouldn't
. He is the creator of the bestselling iPad apps "Elements" and "Molecules," which have both been named "App of the Week" by Apple and was Director of "Disney Animated" (also honored by Apple as "iPad App of the Year"). Gray appeared on stage with Steve Jobs several times in his capacity as a software creator. He also co-founded Wolfram Research, Inc., makers of the widely-used software Mathematica and the Wolfram Alpha website. He lives in Urbana, Illinois.
Nick Mann is the photographer of The Elements: A Visual Exploration of Every Known Atom in the Universe and Molecules: The Elements and the Architecture of Everything. Aside from having photographed more elements, molecules, and reactions than probably anyone in the world, he is an accomplished landscape, sports, and event photographer. He also lives in Urbana, Illinois.