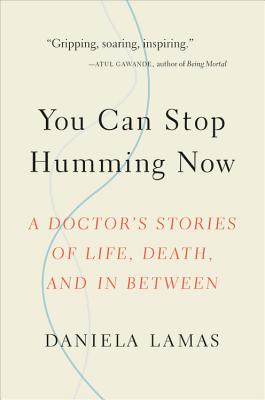 You Can Stop Humming Now
A Doctor's Stories of Life, Death, and in Between
Hardcover

* Individual store prices may vary.
Other Editions of This Title:
Digital Audiobook (3/26/2018)
Description
For readers of Atul Gawande and Jerome Groopman, a book of beautifully crafted stories about what life is like for patients kept alive by modern medical technology.

Modern medicine is a world that glimmers with new technology and cutting-edge research. To the public eye, medical stories often begin with sirens and flashing lights and culminate in survival or death. But these are only the most visible narratives. As a critical care doctor treating people at their sickest, Daniela Lamas is fascinated by a different story: what comes after for those whose lives are extended by days, months, or years as a result of our treatments and technologies?

You Can Stop Humming Now, Lamas explores the complex answers to this question through intimate accounts of patients and their families. A grandfather whose failing heart has been replaced by a battery-operated pump; a salesman who found himself a kidney donor on social media; a college student who survived a near fatal overdose and returned home, alive but not the same; and a young woman navigating an adulthood she never thought she'd live to see -- these moving narratives paint a detailed picture of the fragile border between sickness and health.

Riveting, gorgeously told, and deeply personal, You Can Stop Humming Now is a compassionate, uncompromising look at the choices and realities that many of us, and our families, may one day face.

"Gripping, soaring, inspiring."-Atul Gawande, author of Being Mortal
Praise For You Can Stop Humming Now: A Doctor's Stories of Life, Death, and in Between…
"Daniela Lamas is the real thing. Her voice is wry, compassionate, sometimes doctorly, and sometimes not. And she's written a gripping, soaring, inspiring book about the sickest people on the planet. It's an important story too -- about not only death, but also survival. Read it. You'll see things you've never seen. You'll be moved. And you'll discover a voice you want to hear more from."—Atul Gawande, author of the international bestseller Being Mortal

"Critical illness is a matter life and death. Or is it? This is a book about medicine at the margins. Daniela Lamas explores liminal conditions of life hanging in the balance between life worth living and fates worse than death. You Can Stop Humming Now is participatory journalism at its best, a compelling investigation of chronic critical illness that will spark a national conversation about the plight of ICU survivors."—Ira Byock, MD, author of Dying Well and The Best Care Possible

"Dazzling... [Lamas] effortlessly captures the rhythm and mayhem of modern medicine... Warmth and humanity radiate from every page.....The patients in this book have something important to say, and so does the author. We should all be listening."—USA Today

"Exceptionally humane and well-crafted essays."—Harvard Magazine

"In the early years of her practice, Lamas learns the hard way that medicine requires as much heart as science. Her empathetic, beautifully crafted accounts from inside the ICU recall the work of Atul Gawande."—Hamilton Cain, Oprah.com

"Heart-rending and inspiring"
—Kirkus (Starred Review)

"This thoughtful, reflective, and beautifully rendered book examines the costs of modern medicine. Readers who enjoy books by Oliver Sacks and Atul Gawande, or Paul Kalanithi's When Breath Becomes Air will find this volume moving and provocative."—Library Journal (Starred Review)

"Medicine's miracles are everywhere to behold. But what about the day after? Lamas explores a world that few have ever contemplated -- how we live after the dramatic save by the technological prowess of modern medicine. This eye-opening book reveals the gains and the costs -- both to the body and to the spirit -- of altering nature's predestined course. In turns anguishing, gripping, and hopeful, You Can Stop Humming Now is a must-read for anyone contemplating what medicine holds in store for us."—Danielle Ofri, MD, PhD, author of What Patients Say, What Doctors Feel

"This is a rare and wonderful book, filled with insight, warmth, and a deep humanity that hits us with real emotion rather than sentimentality. If Daniela Lamas is as good a doctor as she is a writer, her patients are very lucky indeed."—Jeff Lindsay, author of the Dexter series

"Daniela Lamas writes with grace and compassion about her patients who survive, but do not quite escape, critical illness. Her wonderful book is an essential addition to the debate over how hard medicine should push to keep people alive. I highly recommend it for doctors, patients, or anyone interested in the knotty issues affecting medicine today."—Sandeep Jauhar, author of Intern and Doctored

"You Can Stop Humming Now is a book about what happens after the medical miracles, an originally conceived and evocatively written set of stories of lives which can only be lived because impossible decisions are made and fantastic technologies deployed. With the understanding of a medical specialist, with narrative brilliance and emotional wisdom, Daniela Lamas takes us into the human complexities that follow on heroic extreme high-tech medicine."—Perri Klass, Professor of Journalism and Pediatrics, New York University

"Dr. Daniela Lamas writes from the medical borderlands -- from the boundary between the human body and machines and between the living and the dead. These stories about her patients are written with a light touch, yet raise big, timely questions about who we are in our bodies and who we want to be, and how far we want medical interventions to take us. You Can Stop Humming Now is essential reading on what it means to be human in an age of medical technology. I couldn't put it down."
—Alexandria Marzano-Lesnevich, author of The Fact of a Body

"Daniela Lamas is the real deal. She combines a big heart, powerful intellect, and passionate dedication to her patients with the gifted writer's ability to tell a compelling story. She sees the fundamental problems inherent in a health care system that has not fully considered the ethical implications of all that is now possible with high-tech medical care. Through her personal crusade to understand the impact of medical treatment on her patients' lives, she challenges the notion that a longer life is necessarily a better life. I couldn't put it down."—Richard Besser, MD, President and CEO, Robert Wood Johnson Foundation
Little, Brown Spark, 9780316393171, 256pp.
Publication Date: March 27, 2018
About the Author
Daniela Lamas is a pulmonary and critical care doctor at the Brigham & Women's Hospital and faculty at Harvard Medical School. Following graduation from Harvard College, she went on to earn her MD at Columbia University College of Physicians & Surgeons, where she also completed internship and residency. She then returned to Boston for her subspecialty fellowship. She has worked as a medical reporter at the Miami Herald and is frequently published in the New York Times. This is her first book.
or
Not Currently Available for Direct Purchase